Challenging Asia's Skyscraper Addiction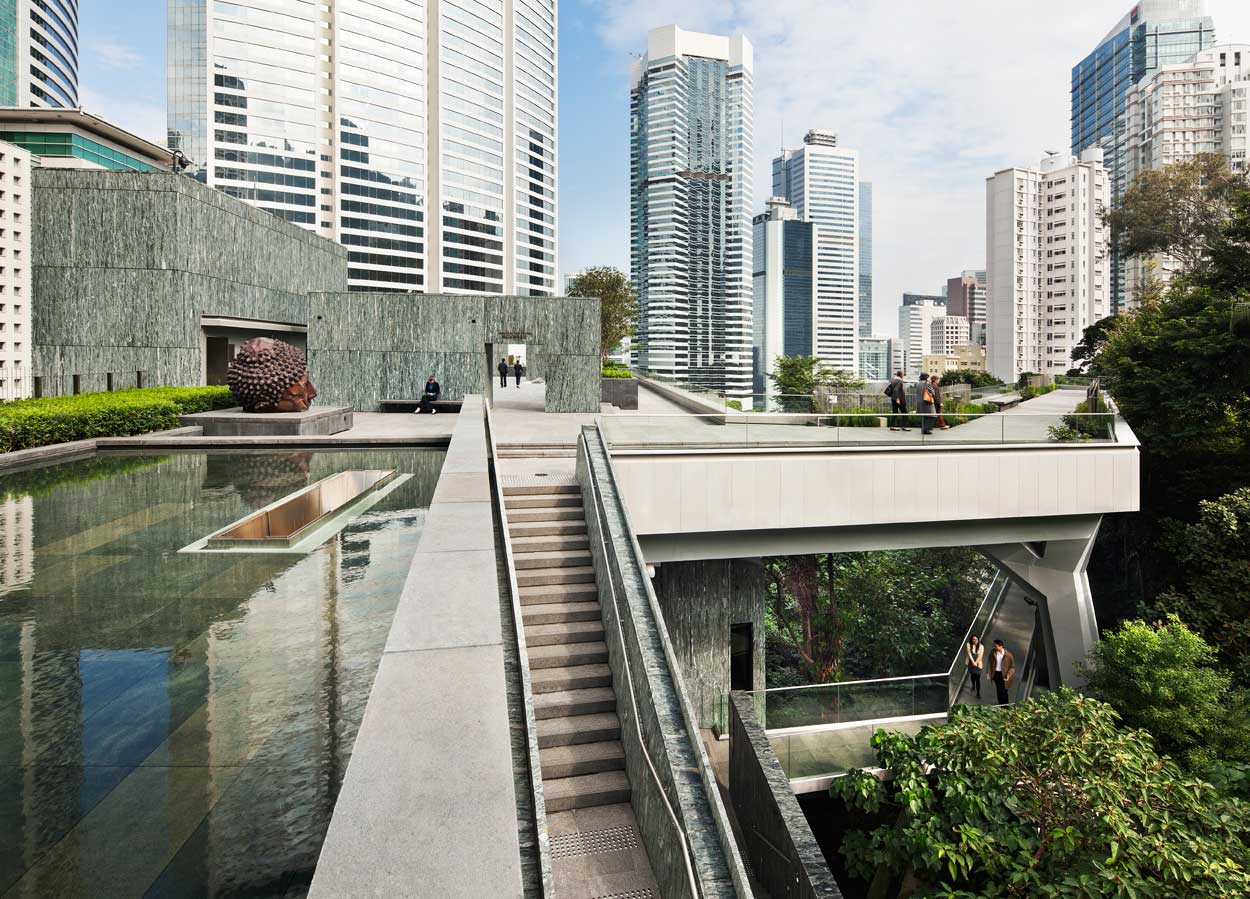 Tall buildings in Hong Kong's Financial District surround the Asia Society Hong Kong center (Michael Moran/OTTO)
In recent decades, the spread of urban development has filled Asia's major cities with soaring skyscrapers, including iconic buildings like the Shanghai Tower, Taipei 101, and Kuala Lumpur's Petronas Towers.
From China to Malaysia and points in between, modern architectural design on the continent has become synonymous with sky-high vertical structures. But according to the award-winning architects Tod Williams and Billie Tsien, modern design doesn't necessarily require towering buildings — a philosophy echoed in their designs that utilize horizontal space. Consider the Asia Society Hong Kong Center, which was completed in 2012: Williams and Tsien transformed the site's natural, jungle-like landscape and historic structures into a functional space for offices, exhibitions, and performances.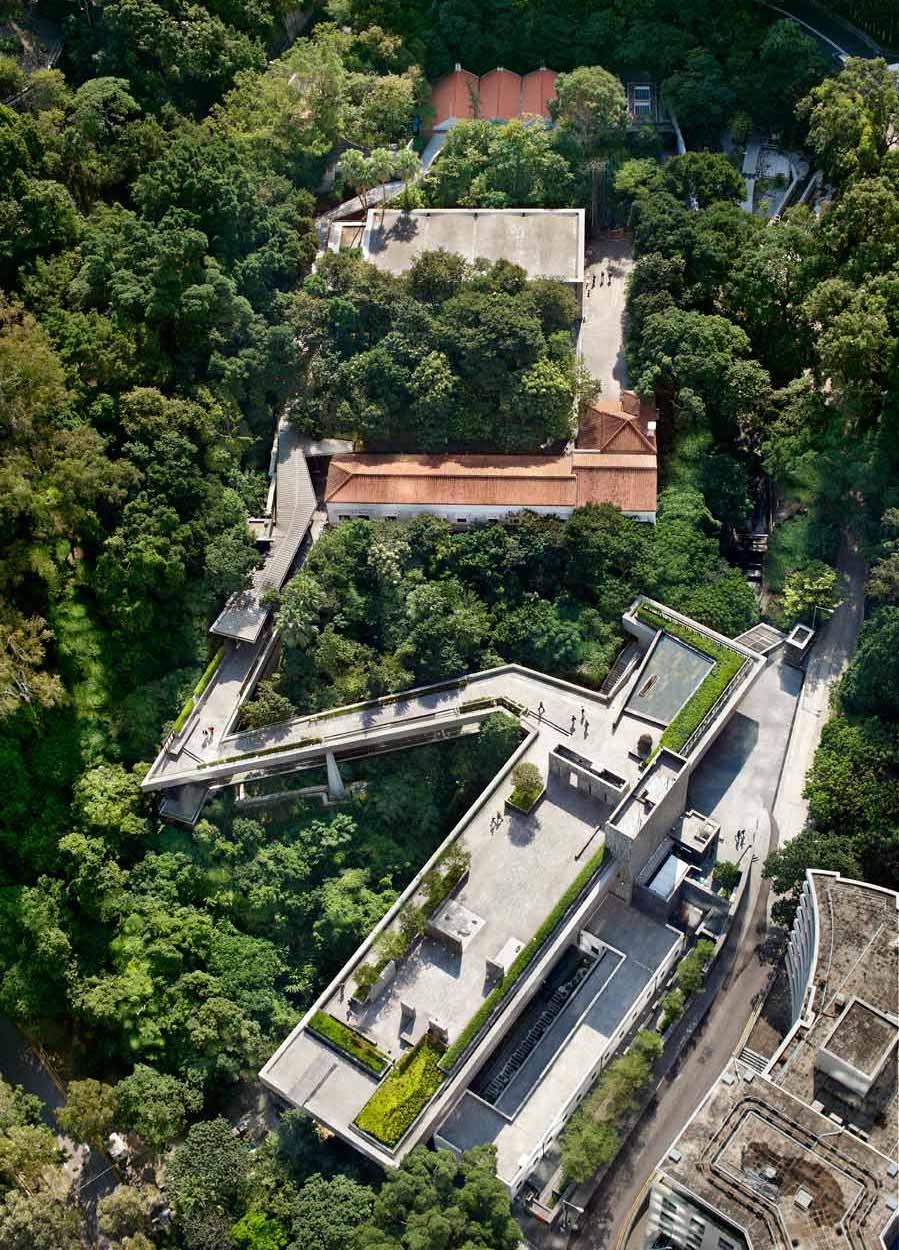 An aerial view of the Asia Society Hong Kong center's surrounding space shows how much of the natural environment was preserved (Michael Moran/OTTO)
"In many ways Hong Kong is such a civilized city," said Tsien, during an appearance with Williams last week at Asia Society in New York. "So the idea that there was something so wild and untamed in the center of a city that seems so controlled was really, really, exciting."
Williams added that their plan was to build "a horizontal garden" in what is otherwise mostly a "vertical city."
The uniquely juxtaposed space quickly became well-used by the organziation, and was also recognized by the American Institute of Architects as recipients for one of the 2016 Institute Honor Awards for "combining historical buildings from the British colonial period with an angular footbridge and a glass-wrapped modern pavilion." 

Towering skyscrapers serve as a backdrop for the Asia Society Hong Kong center (Michael Moran/OTTO)
Skyscrapers have become a common sight in many of Asia's biggest cities in large part because of rapid urban development. Between 2011 and 2014, various reports found that China erected a new skyscraper every five days — a pace illustrated by the construction of an entire 57-story building in just 19 days. A 2013 report by the Council of Tall Buildings and Urban Habitat found that 45 percent of the world's tallest buildings were located in Asia. Also in 2013, a record-breaking 53 skyscrapers over 656 feet high were completed on the continent, representing 74 percent of the overall world figure for the year.
Williams and Tsien say their entire body of work aims to be a counterpoint to these newer structures in the region. "[Many designs] don't always care about context and place," says Williams. "They too easily fall prey to the desire to imitate first world designs."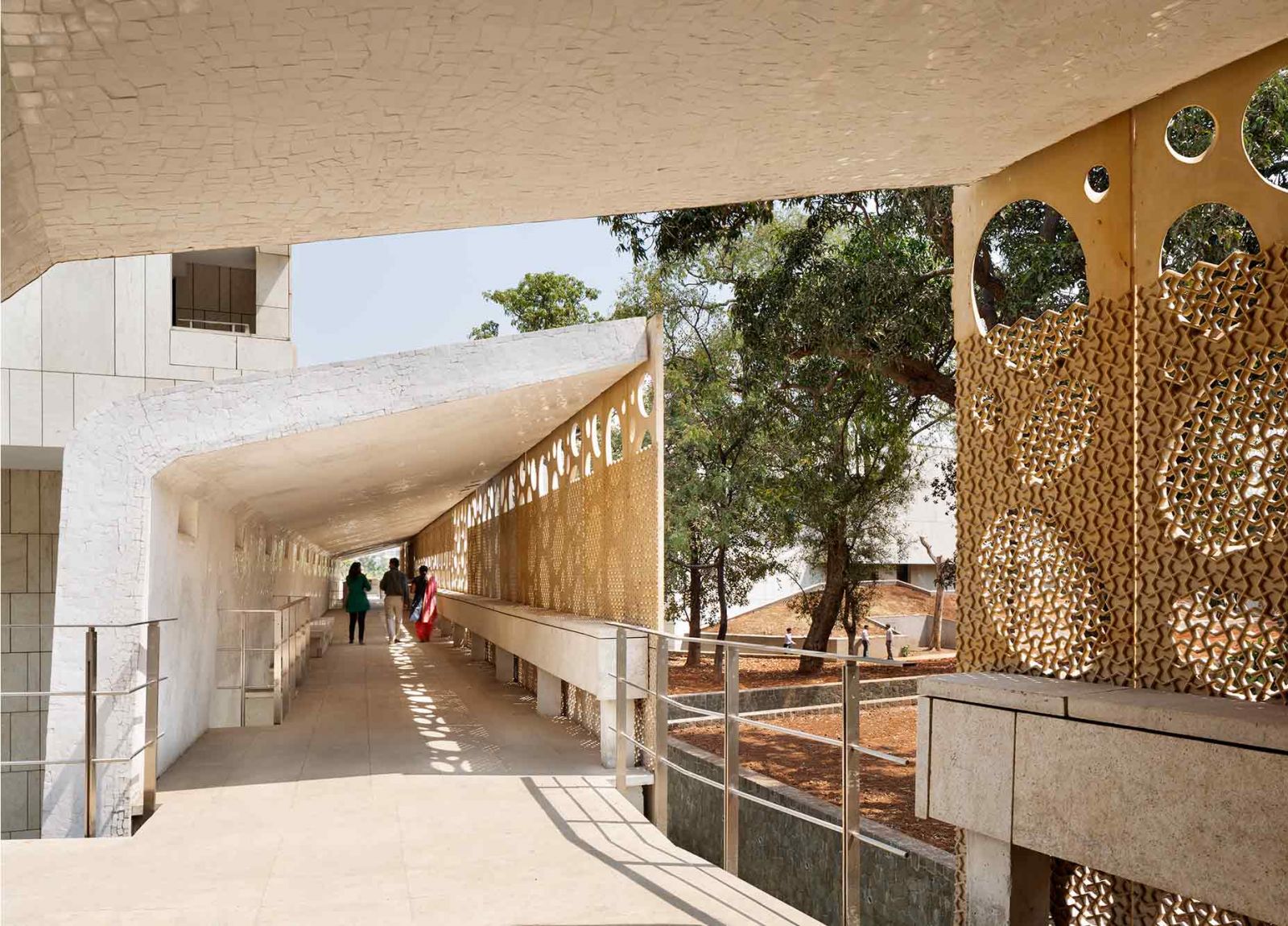 Williams and Tsien's project for Tata Consultancy Services in Banyan Park, Mumbai, India (Michael Moran/OTTO)
The architects say that part of their ability to build structures true to their design principles comes from saying "no" to projects that would lead to modern high-rises.
"It is easier to know what you don't want to do then what you want to do. And by saying 'no' you start to help define your life," Tsien said during the event. "Over time what we felt in our work, what we can contribute to the world is work that is for institutions and non-profits. So we really started to say 'no' to work that is more commercial."
Watch the complete video of Williams' and Tsien's appearance at Asia Society below: