Carl Minzner: China's Legal System Risks 'Hard Landing'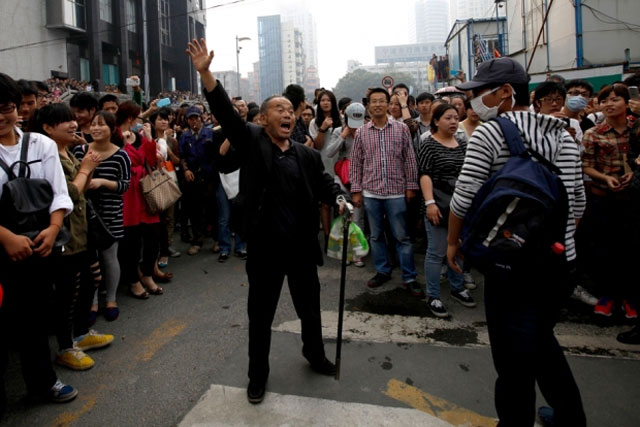 Before a security crackdown, a demonstrator protests the construction of a 55.9 billion yuan (US$8.9 billion) chemical plant in Ningbo, Zhejiang province, on October 28, 2012. (AFP/Getty Images)
Since China has opened up its economy, popular support for legal reform and rule of law has grown considerably. Authorities have sought to channel popular demands for justice in the court system. But, as Fordham University law professor Carl Minzner writes in ChinaFile, China "may indeed be at a tipping point." Chinese authorities are reconsidering legal reforms that they themselves enacted, possibly creating a "backlash" and social and political turmoil.
…They have sought to close down rhetoric (constitutionalism), channels (court trials), and social forces (lawyers) that activists had used to mobilize for greater change. And they have reasserted control over state actors (judges and courts) who might have been tempted to forget the realities of Communist Party control.
But China may very well steer the other way. Bo Xilai's public trial, President Xi Jinping's vow to uphold the rule of law, and a new State Council white paper that emphasizes the need to improve judicial proceedings has given hope for reform. Authorities "have moved to downgrade the power of the CCP political-legal apparatus…Top party leaders have issued new calls for applying rule-of-law principles to the task of upholding social stability."
If implemented, such changes might represent a tipping point in Chinese legal reform. Central authorities may have recognized that if China is to solve its pressing problems, it will need meaningful institutions that can place independent checks on official power and provide bottom-up channels for citizen participation.
Minzner goes on to say that China "might be on the verge of a complex transition that parallels developments in South Korea and Taiwan during the 1970's and 1980's," where "authoritarian powerholders pursued gradual political reform, opened the isntitutions of government to increasing levels of external civic pressure, and slowly but successful shifted to more liberal systems of government." However, he cautions,
... it remains uncertain that China will steer such a hopeful course. The CCP's ruling elite could end up rejecting reform rather than embracing it. If so, China in the twenty-first century might resemble nineteenth-century Russia more than twentieth-century South Korea or Taiwan.
Minzner argues, "despite the recent official turn against legal reforms, most activists still hope for (and seek) gradual reform of the Chinese state. They do not desire a radical upheaval that would shatter it." He warns that if China does not build "open legal and political channels" that are responsive to citizen grievances and pressures, it will "not simply tip into transition, but rather plummet into cataclysm."