Can Women Affect the Outcome of India's Elections?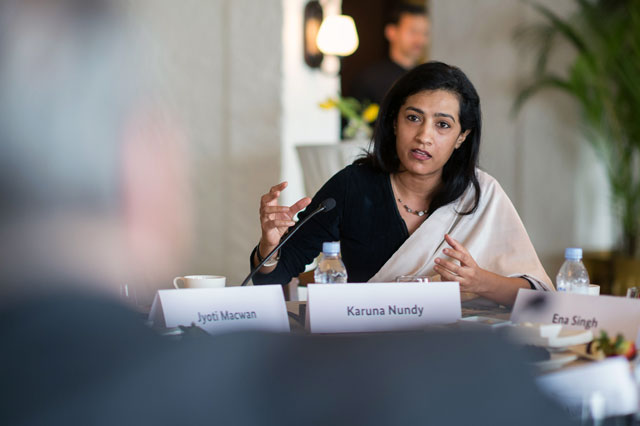 Shown here on February 6, 2014, Indian Supreme Court lawyer Karuna Nundy is a co-author of the six-point Womanifesto 2014 document. (Guido Bergmann/Bundesregierung via Getty Images)
Soon after the brutal gang rape and ultimate death of a 23-year-old female student in Delhi, the question many of us asked in public fora and private discussions was: will women continue to come together and insist that the politicians pay attention to their demands? Could there be a national manifesto that parties would have to adopt?
For most of 2013, it was not clear that such an aspiration would become reality. To be sure, much progress has been made. Stalking and harassment are now designated specifically as punishable crimes. Prosecution of such cases is far more speedy than ever before, and even well-known leaders in society such as the editor of the highly respected magazine Tehelka have been charged with sexual harassment crimes. But a feeling remained that wholesale change, in both social norms and governmental policies, was nowhere on the horizon.
I was disappointed that even major national polls and research establishments hadn't conducted any research about women's attitudes or about general attitudes toward women. None of the major polls, from Pew to Lok Foundation, asked a single question about the women question. And all of this was in spite of the fact there are some very powerful women leaders at both regional and national levels.
So I was pleasantly surprised to learn that some 70 women activists, including Supreme Court lawyers and actors, have come together to create a six-point platform called Womanifesto 2014. As they launched their clearly articulated manifesto, they made it very apparent that the days of condescending behavior and patronizing attitudes are well over. Rather than asking for "protection" which continues to give the upper hand to the man, these women are asking for economic freedom.
With women comprising almost 49% of the population, it is now up to them to turn the election into a statement about the power of women.
Embedded, via Scribd: Womanifesto 2014