Book Excerpt: 'The World of Persian Literary Humanism' by Hamid Dabashi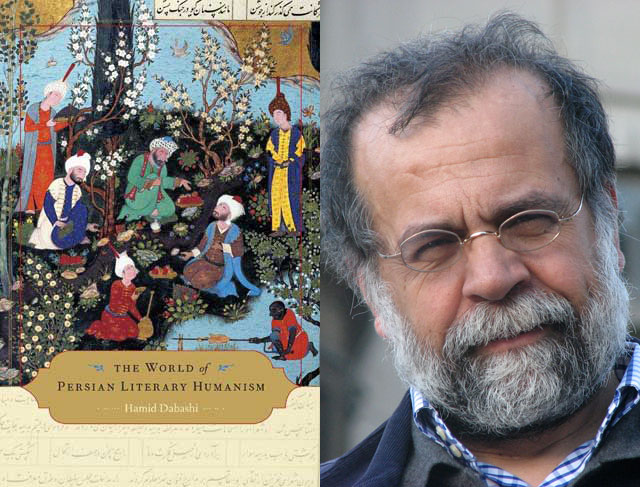 L: The World of Persian Literary Humanism' by Hamid Dabashi (Harvard University Press, 2012). R: The author (Golbarg Bashi).
In his latest book,The World of Persian Literary Humanism, scholar Hamid Dabashi explores how 1,400 years of Persian literature has taken up the fundamental question of what it means to be human. Removed from the language of scripture and scholasticism, Persian literary humanism occupies a distinct universe of moral obligations in which "a judicious lie," as the 13th-century poet Sheyk Mosleh al-Din Sa'di writes, "is better than a seditious truth."
Hamid Dabashi is Hagop Kevorkian Professor of Iranian Studies and Comparative Literature at Columbia University. The author of 25 books, he will read from and discuss The World of Persian Literary Humanism at Asia Society New York on Thursday, November 29. For those who can't attend the program in person, a live webcast will be available on AsiaSociety.org/Live at 6:30 pm ET.
---
Persian literary humanism (Adab) is a narrative institution unto itself, irreducible to any metaphysical certainty that is Zoroastrian, Manichean, Jewish, Christian, Hindu, Buddhist, Gnostic, agnostic, or above all Islamic in origin and destination — though all these religious traditions, in one way or another, lend their mores and metaphors to its creative and effervescent making. That this literary humanism developed almost simultaneously with Islamic scholasticism (from jurisprudence and theology to philosophy and mysticism) was the result of a social and intellectual history that afforded one otherworldly and the other worldly audacity. What also makes literary humanism historically anchored and yet immune to reductionist historicism is its classical juxtaposition against Islamic scholasticism. Literary humanism and Islamic scholasticism have been posited as the two legs, the yin-yang, of medieval intellectual history — well beyond the boundaries of the Muslim world and into Christendom.  
In my reading of Persian literary humanism, I will mark it as being distinctly at the opposite end of Islamic scholasticism, informed by but categorically irreducible to it, if by no other force than by virtue of the critical factor of the primacy of language and the fragility of the subjects (in plural) that have occasioned it. The principal language of Islamic scholasticism was Arabic; Persian literature was in Persian — a constitutionally noncanonical language when placed next to the canonized Arabic. The systematization of religious learning into Islamic scholasticism, which extended from theology to jurisprudence and from there to philosophy and mysticism, had an entirely different vision of the world than that of literary humanism. Their location adjacent to each other marked their differences even more clearly.
---
Electronically reproduced by permission of the publisher from The World of Persian Literary Humanism, by Hamid Dabashi, Cambridge, Mass.: Harvard University Press. © 2012 The President and Fellows of Harvard College.