Book Excerpt: Orville Schell and John Delury on China's Path to 'Rejuvenation'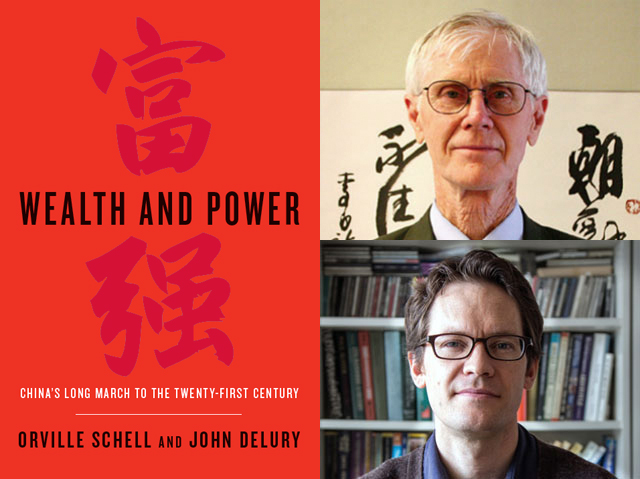 "Wealth and Power: China's Long March to the Twenty-first Century" (Random House, 2013) by Orville Schell (top) and John Delury.
In their upcoming book, Wealth and Power: China's Long March to the Twenty-First Century, Center on U.S.-China Relations director Orville Schell and Yonsei University's John Delury tackle the intricate questions on how China, a nation historically beleaguered by revolution, civil war, and foreign occupation until just a few decades ago, has since regained its momentum and global status. Schell and Delury selectively rely on two themes — wealth and power — in outlining their historical narrative on modern China.
Join the two authors for a discussion and audience Q&A at Asia Society New York on Tuesday, July 16, Asia Society Northern California on Wednesday, July 31, and Asia Society Southern California on Thursday, August 1. Each program will be followed by a book signing. In New York, Schell and Delury will be joined by China historian Jonathan Spence for the Wealth and Power book launch event on July 16, and in San Francisco on July 31 the discussion moderator will be Thomas B. Gold, Professor of Sociology, UC Berkeley.
An excerpt from Wealth and Power: China's Long March to the Twenty-First Century appears below.
---

A longer version of this story originally appeared on Asia Blog partner site ChinaFile, a new online magazine from Asia Society's Center on U.S.-China Relations.
If any of the makers of modern China who agonized over their country's enfeebled state and dreamed of better times during the past century and a half could have visited Beijing's Pangu Plaza today, they would hardly believe their eyes. Pangu's preening thirty-nine-story office tower, capped by a massive figurative dragon head in stone, stands high above the fourth ring road, like the king on an oversized chessboard, looming over three luxury apartment buildings and a hotel. Each apartment building is crowned with four ultramodern courtyard-style houses with roofs that open mechanically to the sky. And the lavish Seven Star Hotel at the end boasts inlaid Italian marble floors, personalized butler service, and a vast underground parking garage chock-full of Aston-Martins, Ferraris, Rolls-Royces, and Bugattis. Just across the street lies the sprawling Olympic Park, with its translucent National Aquatic Center changing colors at night like a giant pinball machine, and the National Stadium, better known as the Bird's Nest, whose sinuous metallic superstructure is also illuminated after dark to look like a fantasy from another planet. It was here that the Chinese government kicked off the 2008 Summer Olympic Games with an opening ceremony as spectacular as any in history, the stuff of reveries such as neither Liang Qichao nor Lin Yutang could ever have dreamed. Yet here it was in granite, steel, and light, a manifestation in spectacular form of the People's Republic of China's new wealth and power. And, Pangu Plaza is only one small piece of the ever-startling tableau of progress that has issued forth from Deng Xiaoping's bold blueprint for "reform and opening up." It was he, the grand progenitor of this new affluence, who struck the spark that lit this latter-day capitalist prairie fire by telling his people in the 1980s that it was "all right for some people to get rich first" and even that "to get rich is glorious."
When Jiang Zemin inherited the status of paramount leader from Deng upon his death in 1997, he emphasized not just "development" (fazhan, 发展) but also China's need to "rejuvenate" (fuxing, 复兴), the latter a freighted word that harked back to Sun Yat-sen's call in 1894 to "reinvigorate" (zhenxing, 振兴) the country and even further back to Feng Guifen's hope in the 1860s that the Qing Dynasty would enter a period of "mid-dynastic revival" (zhongxing, 中兴).1 As Jiang summed up the logic of modern Chinese history for delegates to a meeting celebrating the seventieth anniversary of the CCP in 1991, "All endeavors by the Chinese people for the 100 years from the mid-twentieth century to the mid-twenty-first century are for the purpose of making our motherland strong, the people prosperous, and the nation immensely rejuvenated."2
Jiang's successor as president and party secretary during the 2000s, Hu Jintao (also handpicked by Deng), carried forward the torch illuminating the way to national wealth and power. "History and reality tell us that 'Backwardness incurs beatings by others,'" he told visitors from Taiwan's New Party in 2005, citing an old Chinese saying, luohou jiuyao aida (落后就要挨打).3 "China was bullied by foreign powers in modern times," he said. "A major reason for that was that China was chronically poor and weak during that period. Since then, the great rejuvenation of the Chinese nation has become the unswerving goal that each Chinese generation has striven to realize."4
And when Xi Jinping   finally took to the stage in the Great Hall of the People in 2012 to face the cameras as head of the new Politburo Standing Committee—the seven men who would rule 1.35 billion people for the next five years—he proclaimed, "Since its founding, the Communist Party of China has made great sacrifices and forged ahead against all odds. It has rallied and led the Chinese people in transforming the poor and backward Old China into an increasingly prosperous and powerful New China, thus opening a completely new horizon for the great renewal of the Chinese nation."5
A fortnight later, Xi and the rest of the new Standing Committee went on a high-profile pilgrimage to view an exhibition at the National Museum, on the east side of Tiananmen Square, called "Road to Rejuvenation" (fuxing zhi lu, 复兴之路), which tells modern history as a morality tale, with China rising from the humiliations of the nineteenth century to a restoration of greatness in the twenty-first century. Xi used the occasion to pledge that he would do his part to continue the realization of this "Chinese dream" (Zhongguo meng, 中国梦). As the state press agency, Xinhua, reported: "Citing a sentence from one of Mao Zedong's poems ... Xi said the Chinese nation had suffered unusual hardship and sacrifice in the world's modern history. 'But the Chinese people have never given in, have struggled ceaselessly, and have finally taken hold of their own destiny and started the great process of building the nation,' he emphasized. 'It has displayed, in full, the great national spirit with patriotism as the core.'"6 As Xi, echoing his precursors down through the decades, later elaborated, "To realize the great revival of the Chinese nation, we must preserve the bond between a rich country and a strong military, and strive to build a consolidated national defense and a strong military."7 And when he was also appointed state president in March 2013, Xi returned to this idea of a "Chinese dream" that now he described as belonging to "the whole nation as well as every individual." And to realize this long-cherished dream, he said, the country must take "the Chinese way," which he proclaimed as being "socialism with Chinese characteristics."8
Like a set of genes that is firmly implanted on a genome and is then faithfully transmitted from generation to generation thereafter, DNA coding for this dream to see China restored to greatness and a position of respect has been reexpressing itself over and over since Confucian scholars with Legalist tendencies such as Wei Yuan first began fretting over the Qing Dynasty's early nineteenth-century decline. And it began to be articulated with even greater urgency as reformers like Yan Fu first left for Europe. Upon arriving in London in 1877 to study British thinkers and unravel the riddle of the West's superiority and China's backwardness, Yan wrote home from London with wonder: "It is no exaggeration to say that more has been accomplished [here] in a hundred years than in the previous millennium. As the states have become daily richer, their defenses have become ever more formidable ... The power or weakness of a state depends on various sources of wealth, and if one wishes to enrich the state, one must expand the people's knowledge and improve its economic system."9 Alas, at the time the increasingly desperate warnings of men like Yan Fu fell largely on deaf ears.
Today, however, after weathering a century and a half of "domestic rebellion and foreign aggression," China has finally learned how to borrow effectively from the West. With the skylines of the Central Kingdom's countless boomtowns bristling with high-rise buildings, China now boasts the world's second-largest economy and a rapidly expanding military, and its diplomats increasingly throw their weight around the world. Power has at last begun to flow in wealth's trail eastward. Instead of being forced to sign humiliating "unequal treaties" and endure endless foreign exploitation, Chinese are forging plans of their own abroad in which they are the initiators and financiers of projects across all Africa, Latin America, and even North America. At home, they are putting astronauts in space, launching aircraft carriers, building supercomputers... the list is long and keeps growing.
After the collapse of the Soviet Union, when China was still recovering from the aftereffects of 1989, Deng Xiaoping cautioned the next generation of leaders to "avoid the limelight." But today there is wealth to consume and power to wield, and not a few Chinese are both pleased and proud to have the opportunity to be at last tempted by the prospect of joining in on this long-withheld "great power" exercise.
---
---
This chapter is an excerpt adapted from Wealth and Power: China's Long March to the Twenty-first Century, by Orville Schell and John Delury. Copyright © 2013 Orville Schell and John Delury. Reprinted courtesy of Random House.