The Best Way to View Asia Society Content on Your Mobile Device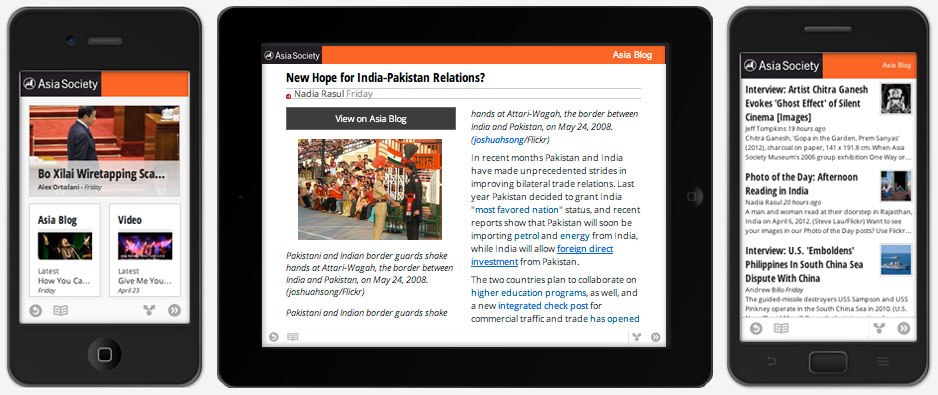 Google Currents allows you to view Asia Society blog posts and videos on your iPhone, iPad or Android device.
We're happy to announce that Asia Blog now has its very own mobile edition, designed specifically for use on iPads, iPhones and Android devices. Google Currents, an app that made its debut late last year, offers mobile users an easy and convenient way to view Asia Society blog posts and videos wherever you may be. Many other organizations — such as NPR, The Atlantic and Slate — also have Google Currents editions, so the app can be your one-stop spot for mobile news consumption. Synced content is also available offiline, which is great for plane rides or underground commutes to work.
Here's a little bit more about Google Currents from the people who created it:
We've worked with more than 150 publishing partners to offer full-length articles from more than 180 editions including CNET, AllThingsD, Forbes, Saveur, PBS, Huffington Post, Fast Company and more. Content is optimized for smartphones and tablets, allowing you to intuitively navigate between words, pictures and video on large and small screens alike, even if you're offline.

To get started, simply download the app and choose the publications you want to subscribe to for free. You can also add RSS, video and photo feeds, public Google+ streams and Google Reader subscriptions you're already following. In addition to consuming your favorite media, you can also use the trending tab to discover related content that matches your tastes.
You can access Asia Society's mobile edition directly here. And, you'll be happy to know that Google Currents is now available internationally.
Please take a look at the following introductory video to Google Currents and then take our edition for a test drive. If you are already a Google Currents user you can find us in the News section of the Library. Let us know what you think in a comment!