Aung San Suu Kyi Tops Asia Blog's Person of the Year 2011 Poll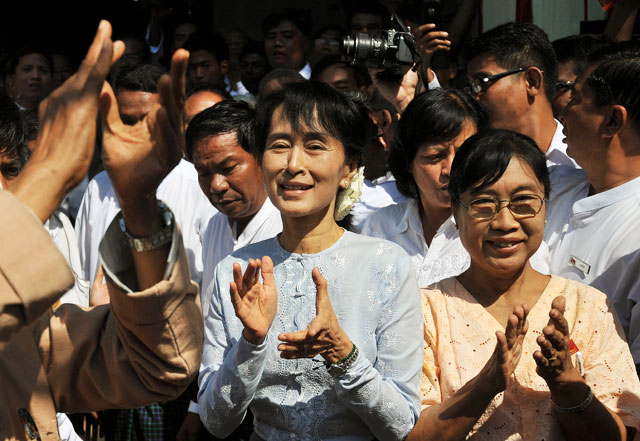 Myanmar democracy icon Aung San Suu Kyi (C) applauds during a ceremony to unveil her National League for Democracy (NLD)'s new signboard at the NLD headquarters in Yangon on January 9, 2012. (Soe Than Win/AFP/Getty Images)
The people have spoken and the votes are in. We finally have the results for our Asia's Person of the Year 2011 poll.
A few weeks ago, we asked you to vote for the individual who has had the most impact in Asia last year from a list of 13 contenders from across Asia. Burma/Myanmar's leading pro-democracy opposition leader Aung San Suu Kyi won with about 66% of the votes, the Japanese rescue crews came in second with nearly 10% votes and the Chinese dissident artist Ai Weiwei followed in third place with 7.5% of the votes.
Up until the last two days of voting, the Japanese rescue crews were leading the poll before Aung San Suu Kyi overtook them with an astounding 522 votes. 
Coincidentally, Aung San Suu Kyi is also being honored with Asia Society's Global Vision Award at the 2011 Awards Dinner Wednesday night. The Global Vision Awards are presented to outstanding leaders who have demonstrated vision, creativity and strength in their respective fields. While Aung San Suu Kyi won't be present at the Awards Dinner, she will make her acceptance speech through a video message which you can find at Asia Blog tomorrow night. 
Although we are aware that our poll on Asia Blog is in no way scientific or an accurate reflection of global perceptions and the Global Vision Award honorees are selected by an autonomous committe, we secretly like to believe that our poll has some impact on the decision to honor Aug San Suu Kyi with the Global Vision Award!
Other influential Asians appearing in the poll included Chen Guangchen, Yingluck Shinawatra, Anna Hazare, Liu Xiaobo, Homare Sawa, Benigno "Noy Noy Aquino III, Filep Karma, Japanese rescue crews, Robin Lim, Li Na and Manny Pacquiao.