Audio: Expert Says Timing of Obama's Myanmar Visit 'Exactly Right'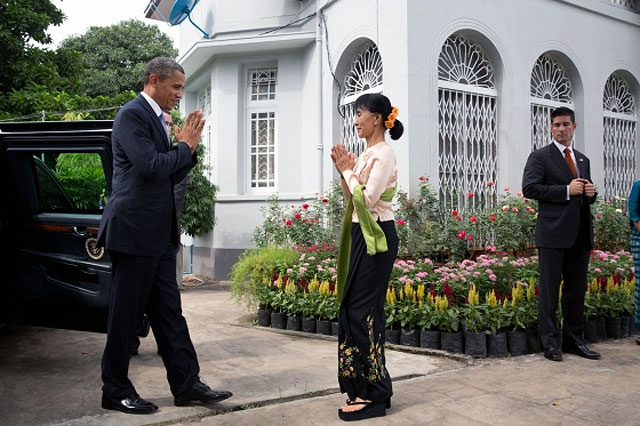 U.S. President Barack Obama is greeted by Aung San Suu Kyi during a stop at her private residence in Yangon on November 19, 2012. (Pete Souza/U.S. Department of State)
President Barack Obama visited Southeast Asia over the weekend, and Asia Society Vice President of Global Policy Programs Suzanne DiMaggio provided an insider's perspective to several media outlets on the trip. Below are some excerpts from DiMaggio's appearance on WYNC's Brian Lehrer Show, as well as the full audio.
This was the first international trip that President Obama took following his re-election two weeks ago. Although the visit to Southeast Asia risked being overshadowed in the news by the escalating conflict in Gaza and China's leadership transition, DiMaggio praised the timing of the trip.
The timing to go to Myanmar was exactly right. There are some significant changes underway in that country that are quite stunning. Probably most visible is the fact that Aung Sung Suu Kyi is now an elected member of the country's parliament. So I think this is what good diplomacy is all about, not only meeting with your friends, who you share a long alliance with, but also with those countries where you can actually play a role in pushing human rights, pushing democratization, and so forth. So I think that was the goal of the trip, to help cement the reform process underway.
Before joining the President, Secretary of State Hillary Clinton made a stop in Australia, where the U.S. recently deployed marines who will jointly train with other militaries in Thailand, Malaysia, and Indonesia. On that, DiMaggio spoke of the U.S. strategy to strengthen its alliances and expand military exercises in the region. Given the ongoing territorial disputes in the South China Sea, DiMaggio emphasized that while a nascent American military buildup will likely increase tensions with the Chinese, "it's reassuring many of our Asian allies."
Listen to the complete segment:
DiMaggio has also been quoted on the Obama trip by Bloomberg News, USA Today, and NPR.