Asia Society's Young Afghan Leaders Take Position on Afghanistan's Future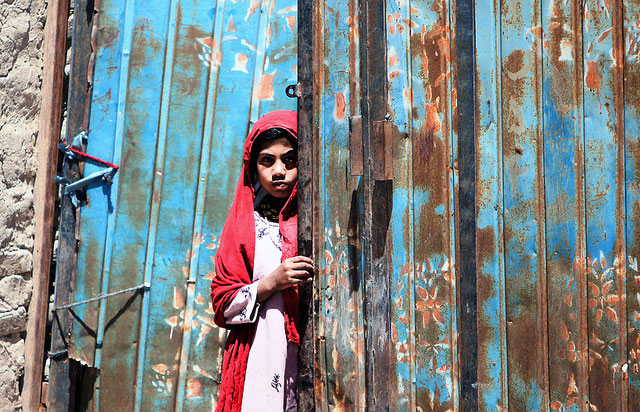 An Afghan child peers around a door as U.S. Marines conduct a route assessment near Helmand River Valley in Nawa-I-Barakzayi District, Afghanistan on April 27, 2012. (Lance Cpl. Alexander Quiles/U.S. Marine Corps Official Page/Flickr).
Asia Society's Afghanistan 21 Young Leaders Initiative (AYLI 21), a non‐partisan and non‐political group of young Afghans who have come together, in their words, "who share common values and beliefs to address the social economic and political issues in Afghanistan."
To that end, AYLI21 has prepared a position paper for presentation at the Tokyo Cooperation Conference on Afghanistan in Tokyo on July 8, 2012. The conference brings together the Afghan government, international donors and civil society to set the framework for future assistance to the Afghan state.
The group, part of Asia Society's broader Asia-wide young leader initiative called Asia 21, feels that there is a disconnect between their government's development strategies and its translation into action. As such, the AYLI21 initiative wishes to impress upon the Tokyo Conference the importance of convincing ordinary Afghans how this conference is different from its predecessors.
The Afghan Young Leaders Initiative presents the following recommendations to the participants of the Tokyo Conference:
With the completion of the 2014 Transition process in sight, the Government's self-reliance road map should focus on the realities of government capacities for spending and proper management of projects and the international community's disbursement of financial commitments. The government's economic transition plan cannot be achieved if those realities are not met and mutually agreed upon at the Tokyo Conference.
We believe that the key economic drivers of Afghanistan lie within the country's abundant agriculture, natural resources, water management, mining, trade and transport opportunities; therefore, there should be a specific focus to revive these sectors economic vitality in order to guarantee the country's sustainable development.
The Government self-reliance road map should provide clear investment opportunities by providing a consistent and adaptive enabling environment for local and foreign investors that should be builton the experience of the past decade.
While a coherent plan for implementation is not visible within the Afghan government's documents, for effective results, Afghans should not remain the victim of a duplication of efforts; moreover, the government should eliminate parallel structures within the existing government structure as well as aid delivery institutions.
Building upon a cohesive planning process by government, donors should provide long-term funding commitments, soft conditionality, and adhere to strictly a practical aid management policy.
Aid does not cause development; therefore, the government should build the necessary infrastructure and institutions during the Transformation Decade in order to align itself to long-termand concessional loans.
Delivery of services at the sub-national level in a balanced and prioritized way, to boost confidence building and peace-building process, must find itself on top priority of government, with donors directly contributing to it.
To tackle growing corruption, specific measures and benchmarks should be laid out both for government and the international community to undertake; that would not necessarily create additional institutions and mechanisms as has been witnessed, but to make the current institutions and mechanisms work better with the support of a strong political will.
It must be noted that ignoring regional political and security factors would adversely affect our economic relations in the region and lower our potentials of economic benefits. Any disconnect with regional partners has the potential of generating an imbalance in our regional diplomatic relations,with which our nation's security and stability are so intricately connected. Therefore, attaining a comprehensive approach towards improving the country's regional economic cooperation is of immense importance.
Afghanistan's rapid population growth rate of 2.8% and demographic pressures are issues of concern, especially in light of existing security and socio-economic challenges. A national census is non-existent and the population is estimated to increase to 82 million by 2050. A long-term strategy to balance population vs. sustainable socio-economic growth is required today.
Afghanistan has seen various large-scale international conferences, which produced ambitious visions on paper yet rarely followed-up in practice. We strongly suggest that a proper follow-upmechanism be established to ensure the promises delivered upon from both the Afghan Government and its international development partners.
The Government of Afghanistan should identify a unified and formal process of planning that is visionary, results-oriented, evidence-based, and practical in response to the needs and capacities of the country. We would like to reiterate the establishment of an Economic Planning Commission as a national overarching policy and planning institution that would not be ministry-driven. The Commission should enable the government to provide leadership of the planning process and to take ownership of all planning efforts. The Economic Planning Commission should serve as a policy and strategic think tank for the President and his or her cabinet.
Download the Afghanistan 21 Young Leaders position paper:
English version
Pashto version
Dari version