Asia Society Remembers Art Historian Michael Sullivan, 1916-2013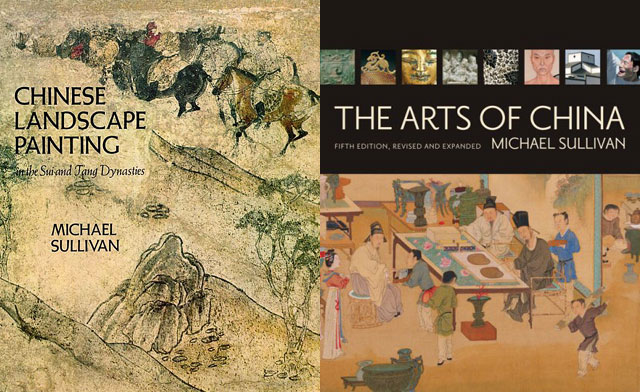 Two of the late Michael Sullivan's works on Chinese art are "Chinese Landscape Painting: In the Sui and Tang Dynasties" (U. of California Press, 1980) and the seminal "Arts of China" (U. of California Press, 5th edition, 2009).
Asia Society notes the passing of art historian Michael Sullivan, a pioneer in the field of modern Chinese art history and criticism who died September 28 in Oxford, England at the age of 96.
Sullivan graduated from the University of Cambridge in 1939 and lived in China from 1940–1946, serving with the International and Chinese Red Cross before teaching in Chengdu. He received his PhD from Harvard University in 1952 and taught in the University of Singapore before returned to London in the 1960s to teach at the School of Oriental and African Studies. Sullivan was Head of the Department of Oriental Art at Stanford University from 1966 to 1984 and then became a Fellow by Special Election at St Catherine's College, Oxford.
Sullivan was the author of several major scholarly works, among them The Birth of Landscape Painting in China (1962) and The Arts of China (1973; 5th edition, 2009).
Asia Society Museum Director and Senior Vice President of Global Arts and Cultural Programs Melissa Chiu remembers Sullivan:
Michael Sullivan has been one of the most important Chinese art scholars of our time. His Arts of China, first published in 1973, is in its fifth edition and he was author and editor of many other books. His contribution to the field was to make Chinese art accessible to a wider audience, at the moment that the field was expanding to include an appreciation of modern and contemporary art. He will best be remembered for his scholarship on modern Chinese art. One of his most useful publications for my own research on contemporary Chinese art was Art and Artists of Twentieth-Century China, published in 1996. This book tackled many of the periods in the twentieth century that no other scholars had dealt with in depth, especially the 1950s through the 1980s.

Sullivan had an intellectual curiosity that allowed him to see the value of artistic expression no matter what the period. I last saw Michael here in New York last March at a dinner in his honor during Asia Week. He was jovial and generous in his praise for other scholars. It is not often that a scholar gets to play a major role in establishing a new field of academic enquiry. Michael Sullivan was a pioneer in laying the foundations for the study of Chinese modern art in the West.
Video: Michael Sullivan lectures on Chinese ink painting