Asia Society President Vishakha Desai to Step Down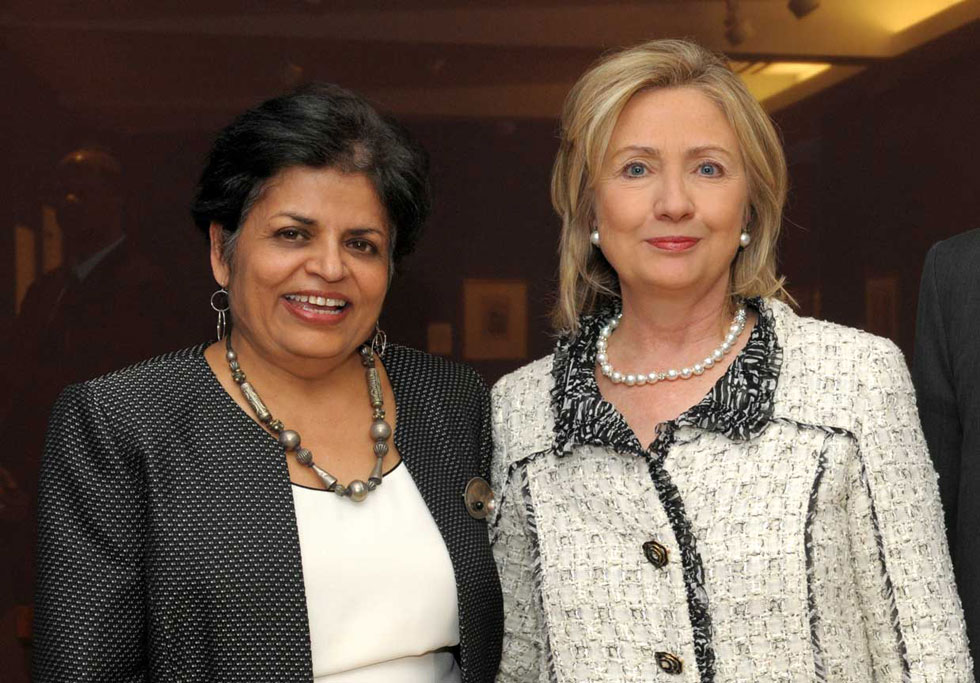 Outgoing Asia Society President Vishakha Desai (L) and Hillary Clinton on February 18, 2011 at Asia Society New York. (Elsa Ruiz/Asia Society)
In a private staff meeting Tuesday at Asia Society New York, Vishakha Desai, president of the global non-profit organization since 2004, announced plans to leave Asia Society and pursue other professional opportunities. The news went public over night when The New York Times published this report:
After 22 years with the Asia Society, Vishakha N. Desai, 63, will step down as president and chief executive in September, the society is to announce on Wednesday. Ms. Desai will join the Guggenheim Foundation as a senior adviser for global policy and programs, a new consulting position. She is also talking with several universities to develop an initiative focusing on the intersection of culture and international relations. "The time is right," Ms. Desai said in an interview, adding that she had overseen the development of two new multimillion-dollar buildings, one in Hong Kong and another in Houston. During her tenure the Asia Society also expanded its New York headquarters and established new offices in India and South Korea. "It's more about changing the direction of my life," Ms. Desai said.
More information about Desai — who said she also plans to work on a book — can be found in the official press release on her departure.
UPDATE: The following is the note Desai sent to Asia Society staff regarding her plans to step down:
To the Asia Society Family:
With deeply mixed emotions, I am writing to inform you of my decision to step down as President of the Asia Society after a tenure of eight years and after twenty-two years altogether with this exceptional institution.
Several months ago I began preliminary discussions with Henrietta and Ronnie about some exciting future possibilities for the next phase of my professional life. I am happy to announce that part of my time will be devoted to the Guggenheim Foundation in the newly-created position of Senior Advisor for Global Policy and Programs. I am also talking with several prominent universities about teaching courses on "culture and international relations" and advising academic presidents on international opportunities. And I will finally have time to write my book, tentatively entitled, "Daughter of India."
The Co-Chairs and I have agreed that my last day will be September 1, 2012. You will be hearing more from them soon about the transition plans and the search process.
This has been truly a landmark year for the Society. In the past two months, we have inaugurated two magnificent buildings in Hong Kong and Houston and completed an ambitious strategic plan. It has been a privilege to preside over the institution during this time of dramatic transformation. It is the right time to close my chapter and open the way to new leadership at the Asia Society.
I will leave the institution with a smile in my heart and a lump in my throat. I am smiling, borderline grinning, when I think of all we have accomplished together. I leave it to Ronnie and Henrietta to highlight those accomplishments in their own communication. None of this would have been possible without the extraordinary dedication of the staff and caring generosity of our trustees over the last two decades.
When I think about not working with you, planning programs or devising fund raising strategies, I realize how much I will miss all of you. We have had amazing high points and our share of challenges too, but there has not been a day in the last two decades that I have not felt privileged to be associated with this wonderful institution. Each and every one of you has breathed life into our mission and brought exceptional dedication to our cause. I feel truly blessed to have been your partner, your cheerleader, and your representative to the external world.
With warm regards,
Vishakha 
If you would like to leave a message for Desai as she enters the next phase in her career, please do so in a comment below. Thanks!