Asia Society Names Josette Sheeran New President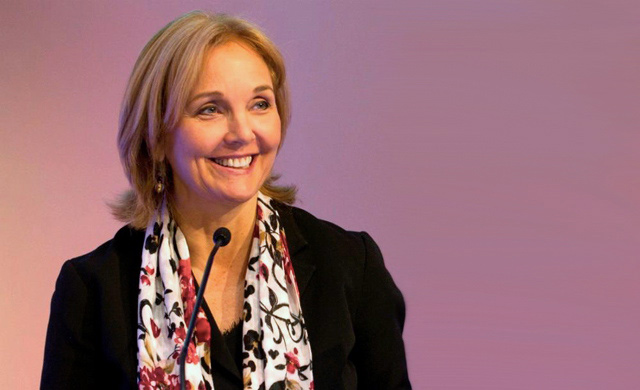 New Asia Society President Josette Sheeran. (U.N. World Food Programme)
Meet New Asia Society President Josette Sheeran in Photos and Videos
NEW YORK, May 21, 2013 — Today Asia Society announced the appointment of Josette Sheeran, the Vice Chair of the World Economic Forum, as the seventh president and CEO of the institution. Sheeran will assume the office on June 10.
"Josette Sheeran is a proven executive with a long and successful record of global leadership, and far-reaching diplomatic experience with the nations of Asia," Asia Society Board Co-Chairs Henrietta Fore and Ronnie Chan said in a joint statement. "We are delighted that she will be Asia Society's next president at this time of continued growth for our organization."
At the World Economic Forum, which hosts the annual Davos and Davos in China gathering of world leaders, Sheeran has helped advance global initiatives and global, regional and industry agendas such as Grow Africa, which has attracted $4 billion in investment commitments to end hunger and malnutrition in Africa. This spring she also served at the Harvard Kennedy School as a Fisher Fellow in the Future of Diplomacy.
"I would like to thank Josette on behalf of the World Economic Forum for her achievements in transforming the Forum into an even more essential player in Global society," said Klaus Schwab, founder and executive chairman of the World Economic Forum. "We wish her all the best for this critical role and are confident it will create a strong partnership between the World Economic Forum and the Asia Society."
Prior to her tenure at the World Economic Forum, Sheeran was executive director of the United Nations World Food Programme (WFP), appointed by U.N. Secretary-General Kofi Annan in 2006. There she was responsible for managing the world's largest humanitarian organization, leading a team of 13,000 people in more than 70 countries, and managing an annual budget of more than $3 billion — including $1 billion in Asia.
Under Sheeran's leadership, the WFP increased its donor base to more than 100 nations, and became the first global institution to include the so-called BRIC countries and the gulf states among its top 10 donors. She put in place historic reforms of food aid, helping cut the cycle of hunger and malnutrition by purchasing nutritious food directly from developing world farmers. She also instituted emergency protocols that helped the WFP improve its ability to save lives and livelihoods in disasters and emergencies, most notably in Pakistan, the Philippines, Afghanistan, Haiti and in the Horn of Africa.
Sheeran has also held senior positions in the U.S. government, and in those positions she conducted high-level diplomacy with virtually every nation in Asia. As U.S. under secretary of state for economic, business, and agricultural affairs, she led new State Department initiatives which supported economic transformation and reconstruction in Afghanistan and Central Asia and with APEC and ASEAN. Earlier she served for five years as deputy U.S. trade representative, conducting negotiations across Asia, including with China, Australia, Singapore, India, Korea, and Japan.
"Josette Sheeran is a builder — a leader who has grown institutions at every step," said Fore, the Asia Society board co-chair. "As Asia Society sets a course for its own growth — across the arts, policy, business and education — she will be a great champion and leader of this critical organization."
"Josette Sheeran's appointment marks the beginning of an exciting new era for the Asia Society, underscoring our leadership in building bridges between the east and west," said Chan. "She has built a global reputation for the kind of dynamic leadership that will benefit our organization in the years to come."
"I am very honored to be selected to lead the premier institution connecting Asia to the world and the world to Asia," said Sheeran. "It will be a great privilege to play a central role in the explosion of exchanges between east and the west — in diplomacy, arts and culture, and in education. The Asia Society trustees and staff are renowned and respected for their deep knowledge and quality of work in these areas. I believe we will be able to leverage those qualities to bring the institution to new heights."
In 2011, Forbes named Sheeran the world's 30th most powerful woman; Foreign Policy has listed her among its top 100 women on Twitter; and Sheeran's TED Talk on ending world hunger has been viewed more than one million times. Sheeran is a member of the Council of Foreign Relations and has served on its Washington Advisory Board. She has received several honors for her leadership in the fight against hunger and malnutrition: she was awarded Japan's Nigata International Food Award; named Commandeur de l'Ordre du Mérite Agricole by the government of France; and received Brazil's highest civilian award, the Grand Official Order of the 'Rio Branco,' from President Lula Da Silva. Sheeran was also honored by the Huffington Post with its "Game Changer" award in 2011, along with Liberian President Ellen Sirleaf Johnson and economist Esther Duflo.
"The Asia Society's mission is more compelling than ever, and Josette, with her global leadership experience,  is the right leader at the right time for such a renowned institution," said Dr. Judith Rodin, president of the Rockefeller Foundation.  "I look forward to partnering closely with Josette to make progress on the critical issues facing Asia and the world."
Several Asia Society trustees weighed in on Sheeran's selection.
"Our conversations with Josette, and comments from many people with whom she has worked, quickly convinced us she had the experience, energy and personality to achieve the ambitious goals the board has set for the Asia Society president," said Lewis B. Kaden, who headed the presidential search committee.
"I believe Josette's vast global leadership experience is just right for Asia Society as we continue our mission of cultural, policy and business linkage with Asia and the world," said Frank Brown, chief operating officer of General Atlantic.
"We are thrilled that Asia Society has attracted such a world class leader," said Harold McGraw III, chairman, president and CEO of McGraw Hill Financial. "Josette brings a wealth of experiences and operational capabilities."
"Josette has lived and worked in a global world and understands the opportunities and challenges this presents, particularly for Asia Society, as it becomes truly trans-Pacific," said Lulu Wang, CEO of Tupelo Capital Management. "She has successfully led complex organizations and her clear-thinking, focus and warmth has won her the respect of her internal as well as external stakeholders. We look forward to welcoming her to the Asia Society family."
Asia Society is the leading educational organization dedicated to promoting mutual understanding and strengthening partnerships among peoples, leaders and institutions of Asia and the United States in a global context. Across the fields of arts, business, culture, education, and policy, the Society provides insight, generates ideas, and promotes collaboration to address present challenges and create a shared future.
Founded in 1956 by John D. Rockefeller 3rd, Asia Society is a nonpartisan, nonprofit institution with headquarters in New York, major centers in Hong Kong and Houston, and offices in Los Angeles, Manila, Mumbai, San Francisco, Seoul, Shanghai, Sydney, and Washington, D.C. 
Media Contacts
Elaine Merguerian 212-327-9313, elainem@asiasociety.org
Alex Ortolani 212-327-9295, aortolani@asiasociety.org