Asia Society Global Council Member Tommy Koh: Safe Water is a 'Human Right'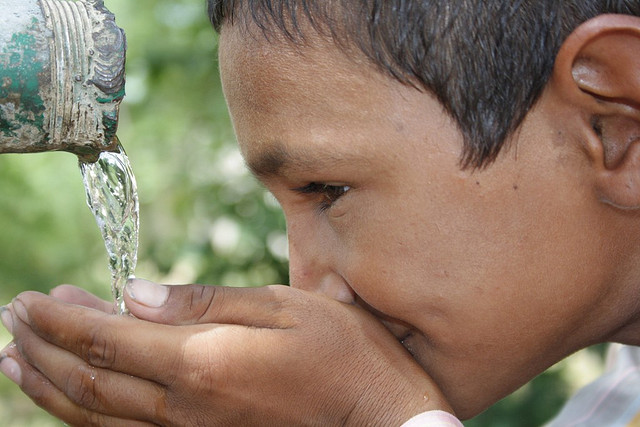 Clean drinking water from rainwater harvesting tank in Tilonia, India. (Barefoot Photographers of Tilonia/Flickr)
Late last week Asia Society Global Council member and Singapore's Ambassador-at-Large Tommy Koh published an op-ed in the Straits Times on water security and the lessons he's learned as chairman of the Singapore International Water Week (SIWW), a five-day summit that concludes today in Singapore.
Koh's piece makes it clear that Asia faces major water-related challenges in the 21st Century — including the conflicts that arise from disputes between unfriendly neighbors, agricultural and industrial pollution, and waterborne diseases from inadequate wastewater facilities. As these challenges only become more pressing with Asia's ever-expanding economic development, the SIWW has gained more and more support from stakeholders who are looking for solutions, and the event has gotten bigger every year since its founding in 2008.
Koh is well situated to address issues surrounding access to safe water. In addition to chairing the 2012 SIWW, he served as Chairman of Asia Society's 2009 Leadership Group Report Asia's Next Challenge: Securing the Region's Water Future and has also been Chairman of the Asia Pacific Water Forum.
"There is a need to change mindsets about water," Koh writes in the June 30 opinion piece. He suggests promoting a culture of water conservation, especially in countries where water is free or subsidized. The pricing for water should be transparent, so the people are more mindful about using water efficiently.
But the onus isn't just on ordinary people. Koh also points out that many of the inefficiencies in facing water security stem from a lack of governance, which can lead to high rates of leakage, theft, corruption and incompetence. The solution would be good governance, based on transparency, integrity, and accountability. This would require some type of water minister, since water security is an issue that cuts across the responsibilities of numerous ministries which may not individually deal with such responsibilities efficiently. If a minister cannot be established, Koh suggests, "a high-level coordinating mechanism, at Cabinet level, to deal with water, sanitation and wastewater. Water should be treated holistically and not with a silo approach."
However, he adds, the solution doesn't have to come from the public sector alone. Koh points out examples from both public and private sectors that have been shown to provide effective solutions for water problems in their respective regions.
Lastly, Koh strongly emphasizes that safe drinking water should be treated as a human right, one that people should demand from their governments. "There is no country in Asia which is too poor to provide a few litres a day of safe drinking water to all its citizens," Koh said, "if there is a political will to do so."
For the full article, visit the Straits Times.