Asia Must 'Seize the Momentum' of International Women's Day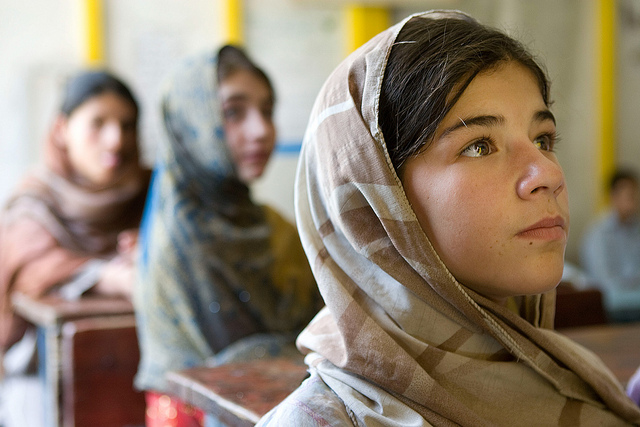 Girls attending school in Afghanistan. (Asian Development Bank/flickr)
On March 8, International Women's Day, women from around the globe celebrate progress and demand changes for greater equality.
Ongoing at the United Nations, thousands of government officials and civil society experts are gathered for the two-week-long 57th Commission on the Status of Women meetings. Member states are expected to reach final conclusions on the elimination and prevention of all forms of violence against women and girls.
And just today, U.S. President Barack Obama signed the expanded Violence Against Women Act at the White House with hundreds of advocates who have worked tirelessly to reauthorize the act to strengthen the criminal justice system's response to crimes against women, including domestic violence, sexual assault and trafficking.
While the world recognizes the severity of violence against women and its consequences of compromised national security, lowered productivity, and a weakened justice system, we have a long way to go to attain gender equality.
In the fast changing Asia-Pacific region, dramatic improvements have occurred in women's health and education over the last few decades thanks to increased investments in human development. Women's participation in the economy also increased, although the vast majority of the female workforce in Asia is still in agriculture with the trend of moving into manufacturing and services.
The rapid growth in the region brings opportunity and new challenges. Feminization of migration comes with increased vulnerabilities for women, including trafficking, violence and sub-normal working conditions. In female-dominated manufacturing industries, gender-based discrimination remains prevalent and organized voices continue to be silenced. Even for women with good education in the service industries, glass ceilings have hardly been touched.
New faces of women leaders — such as South Korea's first-ever elected female president Park Geun-hye, Thailand's first-ever female prime minister Yingluck Shinawatra, and the widely admired Myanmar democracy icon Aung San Suu Kyi — have given hope to better governance and inclusive policy making. Nevertheless, women's representation in government, whether as civil servants or elected officials, has not made much progress. In post-conflict and peacemaking negotiations, such as in Myanmar, women are rarely at the table.
There are solutions.
Asia Society's Women Leaders of New Asia initiative aims to create a robust network of women leaders from different generations throughout the Asia-Pacific region, featuring existing and promising female leaders and presenting a united voice for better and inclusive solutions. As the World Bank finds in its World Development Report on Gender Equality and Development in 2011, women's collective voices can change policy choices and make institutions more representative of a range of views, which also leads to better outcomes and policymaking.
Asia's growth also brings new possibilities and resources to the women. Smart businesses are exploring new ways to incorporate gender equality into their corporate strategy. Public and private sectors are learning new ways to forge partnerships for better economic development outcomes. Innovation and technology are being used to enable gender equality and social change.
As we commemorate women's achievements today, we must seize the momentum. After all, as Hillary Rodham Clinton famously said in 2010, "No country in the 21st century can advance when half the population is left out or left behind."