Are American Palates Turning Japanese?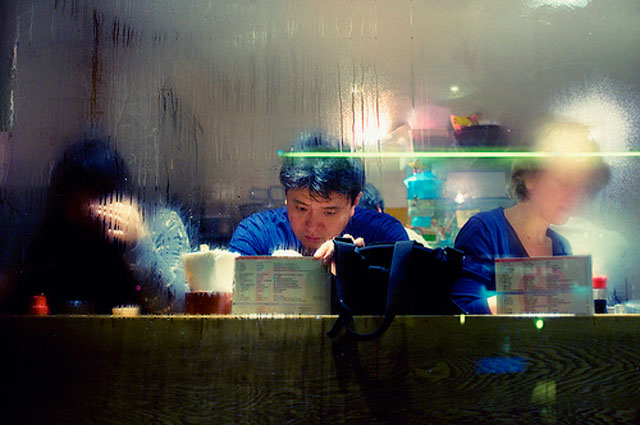 Customers studying a menu at a Japanese restaurant. (christophe HUE/flickr)

Asia Society has previously reported on ramen trends in the United States and maintains an archive of Asian foods and recipes.
In New York City, culinary crazes seem to come and go every season. But one trend has persisted to the point where it has all but transformed the food scene — the (re)discovery of Japan. Not only sushi nowadays, but izakaya-style dining, okonomiyaki, takoyaki, and bento box restaurants are mainstays of the New York and broader American restaurant cultures. Even when "dining in," consumers continue to blaze trails, utilizing exotic ingredients such as shirataki, burdock root, and konyaku in home cooking. Compared to 10 years ago, Japanese food has become ubiquitous on and off the menu.
One explanation for the spike in popularity is the concerted effort by Japanese companies to expand distribution and production networks into overseas markets. The reasons are several. Despite the energies behind "Abenomics," the Japanese economy is still rocky. With the population (consumer market) continuing to shrink, there's nowhere to go but abroad if companies want to maintain growth. Corporate tax rates, at 41% the highest among G20 countries, also contribute. The necessity of overseas expansion, the appeal of lower taxes and overseas consumer confidence associated with Japanese products puts the game in Japan's favor and flavor.
So we find ourselves in the middle of both a culinary shift and a new era of Japanese cuisine and products in the U.S. But what kinds of Japanese foods are Americans consuming that they weren't, say, five or 10 years ago?
HI-CHEW: Over the past several months you may have noticed this item for sale at your local convenience store. Offered in a variety of flavors, this taffy-like sweet has experienced an explosion of popularity, leading to the development of a production facility in Orange County, North Carolina, announced in September, 2013. While the proliferation of this Japanese confection may be simply due to people liking the product, its penetration of U.S. markets was undoubtedly through concentrated and targeted efforts. The good news is that Morinaga America, Inc, the producers of HI-CHEW, are "always looking for opportunities to introduce more of Morinaga's products in the U.S. market in the future," says Director and COO Senior Vice President Teruhiro Kawabe. In a nutshell, this means we should be seeing more Morinaga products soon. No complaints here; personally, I'm hoping that their caramel and biscuit line make it to the United States.
Confectionary: Not so long ago the thought of finding red bean confections, mochi, or Japanese-style sweets in generic grocery markets or convenience stores was practically inconceivable. Now you can find mochi, daifuku, dango and other types for sale all over. So far the trends have been relegated to the left and right coasts, where Asian American populations and youth culture make this type of food trend possible. But with the rise of independent bakers specializing in Asian-style sweets, as well as websites like Rakuen, it may not be long before some trends permeate the nation, and everyone has access to red bean and chestnut cakes.
Tea — and more specifically, Itoen: As with the above, you may have noticed a proliferation of tea products in stores lately. It's not just Snapple or Lipton anymore! Itoen has taken the market by storm with its "Tea's Tea" line, which offers a refreshing alternative to more familiar flavors. Even better, many of the products aren't super-sweet. Particularly exciting is the arrival of mainstream bottled milk tea: Itoen's Matcha Green Tea Latte and their Black Tea Latte bring Japanese café culture to the masses of America. Not just something found in big coastal cities, Itoen is infiltrating U.S. markets slowly but surely (apparently it's retailed in places like Kansas City, Kansas!).
Fresh noodles: In recent years the East Coast has seen a boom in the noodle business. Everyone wants to eat ramen. What with ramen restaurants, ramen burgers, and even Ramen Lab (a place where people used to gather around to learn about and eat ramen), demand for quality and texturally appealing noodles is on the rise. As fresh noodles (be they spaghetti, linguini, ramen or chow mein) are usually tastier and absorb more flavor than the dried alternative, fresh news is good news. From here on out in America, it's not just Top Ramen for dinner anymore.
Mushrooms: Yes, that's right, mushrooms. It's been slow in coming — but at last Japanese mushroom varieties have gone mainstream in the U.S., thanks to efforts by Hokto-Kinoko Inc. In 2006 this company established a state-of-the-art specialty mushroom facility in San Marcos, California. This means that Americans can now enjoy fresh King Trumpet (Eyringii), Maitake (Hen of the Woods), Brown Beech (Bunashimeji) and White Beech (Bunapi®) mushrooms. Not only tasty, these are relatively low-cost and easy to incorporate in a variety of Eastern and Western dishes.
House Foods products: House Foods America specializes in two sectors — curry roux and tofu products. House's "Vermont" and "Java" curry roux is known for its sweeter, milder flavor typical of Japanese-style curries, which makes it (more or less) universally appealing. American consumers continue to discover the ease and tastiness of this product (which enjoys a long cultural history in Japan) as it becomes widely available in broader flavors and in generic supermarkets. As for House's tofu sector, in the past decade this white brick has gained widespread popularity and appeal. Little explanation is needed — safe to say, tofu is no longer just for health nuts.
What's next?
What's on the horizon for Japanese food trends in the United States? It's not just about production and distribution but about promoting that unique "Japanese atmosphere." Maid Cafes have already come to New York City and with a "Cat Café" (no, not a café where you eat cats — rather, a regular café that just happens to have cats around for petting) opening in Boston, places like New York or San Francisco won't be outdone for long. My personal bet is on artisanal shaved ice — complete with handmade syrups, creams, mochi and jellies. If you've ever had this kind of shaved ice, you know that it's delicious winter or summer and something that could be big.
While the American diet remains a proverbial melting pot, the past several years have brought a decidedly Japanese taste to the culinary scene. And with Japanese food manufacturers hopping overseas, it won't be surprising if American palates only become even more accustomed to this formerly exotic cuisine.
Asia Society New York will be hosting "The Ramen Burger Effect," a panel discussion and tasting reception about the latest Japanese American food sensation, on Wednesday, December 18.