Andrew Billo: 'Forward-Looking Approach' Needed in South China Sea Dispute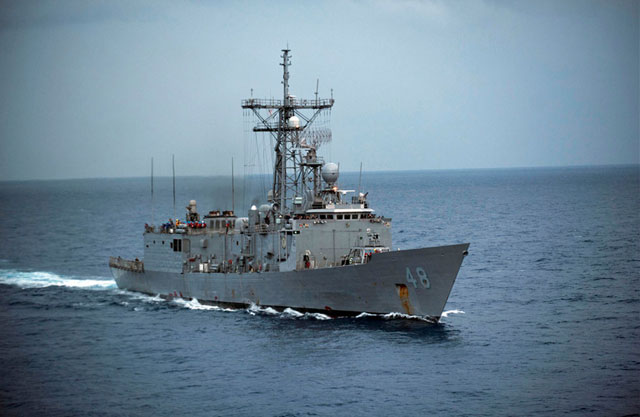 The USS Vandegrift cruises the South China Sea on Oct. 15, 2012. (U.S. Navy/Flickr)
Territorial spats over the waters and islands of the South China Sea have sparked major regional concerns over the last several months. Today Andrew Billo, assistant director of policy programs at Asia Society New York, weighs in with a new opinion piece for Global Observatory about the recent maritime disputes and the key steps necessary to address and foster cooperation among the U.S., China, and ASEAN countries.
At Asia Society New York, Billo programmed a three-day conference on the South China Sea in March of this year. For Global Observatory, he writes:
Reviewing the history of the last three decades, regional governments have often found reason to adopt more conciliatory postures, in spite of occasionally coming to blows. China, for one, has often recited Deng Xiaoping's 1979 statement favoring "setting aside disputes, and pursuing joint development," and further, it has emphasized the achievement of a "peaceful rise" as put forth by senior party official Zheng Biajin in 2003.

While the rhetoric is significant, management of the dispute rests on a combination of respect for international law, further strengthening of economic cooperation, strong domestic policy, transparent diplomacy, and more effective military engagement. But none of these areas are sufficient independently for achieving a peaceful outcome.

For the region's smallest countries, creating conditions favorable to cooperation is of even greater importance. In April of this year, Singapore's Prime Minister Lee Hsieng Loong said at a visit to the White House that Singapore would "help America engage in the region, constructively, productively, and in a way that fosters stability and prosperity of all the countries."
Click here to read Billo's entire op-ed.