After Peshawar Attack, Warnings Against Chasing 'Wrong Demons'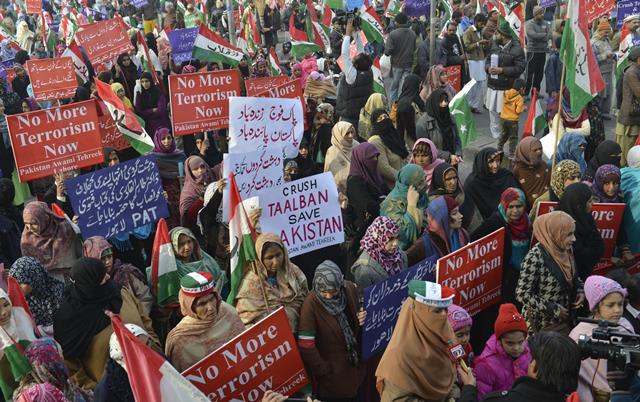 Pakistan Awami Tehreek (PAT) activists rally for the victims of the Peshawar school massacre, in Lahore on December 21, 2014. Al-Qaeda's regional branch on December 21 said its hearts were 'bursting with pain' over the Taliban's massacre at a Pakistan school and urged the militants to target only security forces. (Arif Ali/AFP/Getty Images)
Two Asia 21 Young Leaders have called for major changes in Pakistan following last week's Taliban shooting in Peshawar, which killed more than 130 students of the Army Public School and College.
Nadia Naviwala, an instructor of U.S. Foreign Policy at National Defense University in Islamabad, writes in the Express Tribune that the Pakistani government has a mandate to act, but that it should not chase "the wrong demons." The recent announcement that the government will execute 500 prisoners convicted of terrorism-related charges "satisfies a public baying for blood," but will not solve "problems today or alleviate the threat of future attacks."
"What Pakistan needs," Naviwala writes, "is intelligence-sharing and cooperation between domestic security agencies, police reaching out to communities to improve relations and, therefore, intelligence-gathering, effective perimeter security and quick response teams in case of lapses, proper investigations that produces evidence that can be used in court, and a functioning criminal justice system that produces convictions."
For Yasser Latif Hamdani, a lawyer in Lahore, Pakistan's intolerance of minorities is a major cause of terrorism. Writing in the Daily Times of Pakistan, Hamdani sees "unprecedented unity and resolve in the country to fight and hit back," but cautions against a response that would only address the symptoms of the problem.
"Making a break from terrorist and militant organizations is not enough," he writes. "We must also root out the mindset. If we as a nation are serious about dealing a deathblow to terror we also have to take to task organizations calling for violence against minorities." Pakistanis should not distinguish between "good terrorists" and "bad terrorists," he continued, nor "have two different standards for innocents in Peshawar and innocents in Mumbai."