After Afghanistan, How Should the US Approach South Asia Strategy?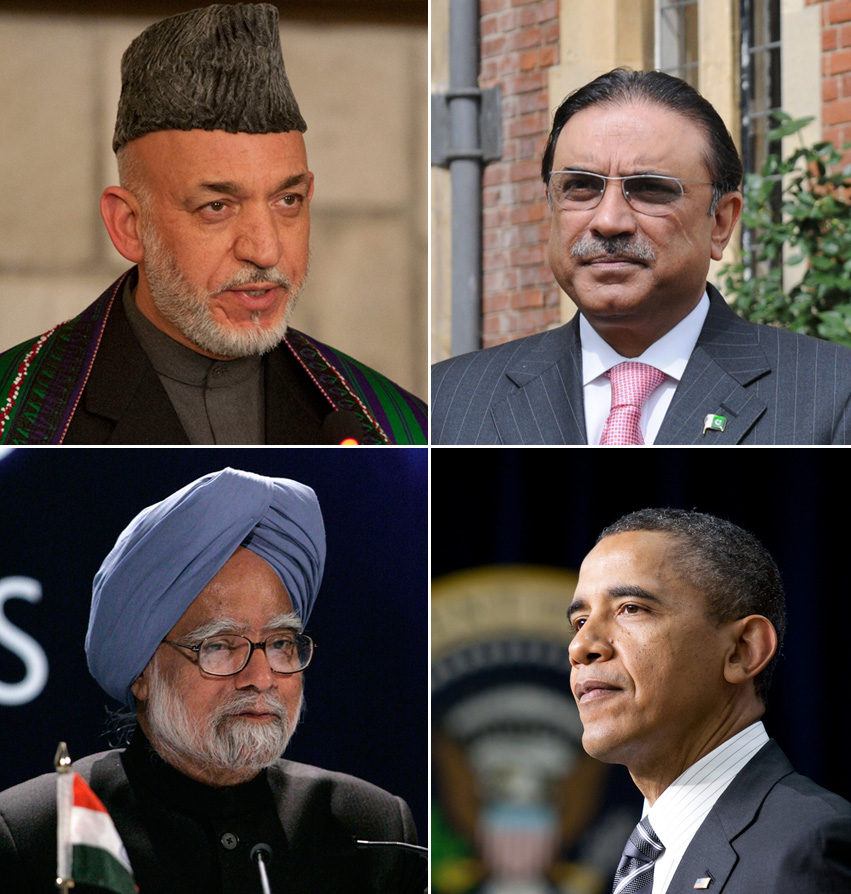 Clockwise from top left: Hamid Karzai, President, Afghanistan; Asif Ali Zardari, President, Pakistan; Barack Obama, President, United States; Manmohan Singh, Prime Minister, India. (Secretary of Defense, The Prime Minister's Office, US Department of Labor and London Summit/Flickr)
Is an integrated, strategic U.S. policy on South Asia possible, given the competing demands of short-term priorities and the differing perspectives of policy makers dealing with Afghanistan, India, or counter-terrorism? What insights can alumni of U.S. policymaking from past administrations offer to whichever U.S. administration takes office in 2013? Does the United States have enough expertise, and do decision-makers make good use of it? How has the machinery of U.S. policymaking toward South Asia evolved?
U.S. policy toward South Asia has changed over recent decades. After 40 years dominated by Cold War priorities, the 1990s saw a greater focus on regional security. The growing profile of Indian-American and Pakistani-American communities highlighted the people-to-people links between the United States and the region. The U.S.-India relationship took off, driven by economic ties and greater political cooperation, and Washington announced it was "de-hyphenating" India and Pakistan policy. After 9/11, South Asia became directly important to U.S. security goals with a new emphasis on counterterrorism and stabilizing Afghanistan. As the contemporary emphasis moves toward supporting transition in Afghanistan, there will be renewed debate about the form and focus of U.S. policy.
As a Bernard Schwartz Fellow, I am leading a team working to produce a report on U.S. policy in South Asia after the 2014 drawdown in Afghanistan. We are reaching out to a range of experts including current U.S. and South Asian policy makers, business leaders, journalists, and academics. As authorities on U.S. foreign policymaking, what do those individuals who have worked on South Asia policy in past Administrations believe are the most important elements of a balanced South Asia policy? How can Washington generate better long-term policy toward this important region? Through dozens of interviews over the coming months, we hope to gain insights that will shape an Asia Society report to be released later this year — just in time for the transition.
There are a multitude of policy reports on South Asia out there, so what can the Asia Society offer that is different? One crucial aspect — and a core feature of the Asia Society's work — is the focus on collaboration and education. Expertise matters, as does curating and connecting knowledge from diverse perspectives. Asia Society reaches across borders to connect different communities around Asia and the United States. Its growing policy work is designed to ask deep questions — and promote better-informed thinking — about the United States and Asia. I hope this forthcoming report will be one further example of this approach.
More information about Asia Society's project on U.S. Policy Toward South Asia can be found here.