Afghanistan Untold: Multimedia by Augstin Pictures, MediaStorm and Asia Society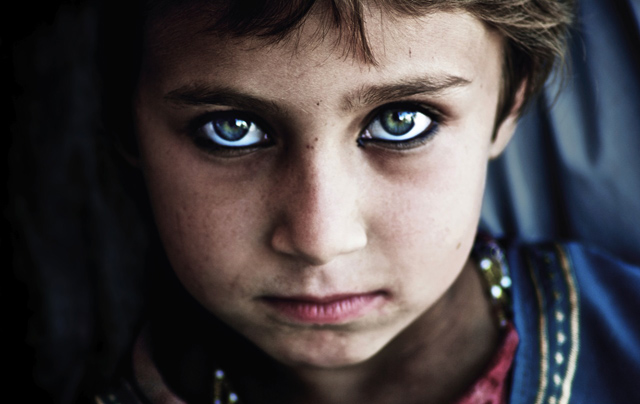 A Pashtun girl in a village in eastern Afghanistan. (Lukas Augustin)
As the war in Iraq winds down, another continues to rage on. Since the September 11 attacks, the war in Afghanistan has cost thousands of lives and billions of dollars. And although all foreign troops are scheduled to leave by the end of 2014, instability and violence continue to plague the region.
Over the past decade, the media has inundated us with images of violence, war and despair — but how many of us can actually say we have a deeper, richer understanding of the Afghan people, their culture, their aspirations, their struggle to find a voice after 30 years of political rivals using their backyards as battlefields?
This year a few multimedia pieces have told the story of Afghanistan with dignity through its peoples, cultures, traditions and history.
A month ago, filmmakers Lukas and Salome Augustin produced Afghanistan-touch down in flight, a series of stunning intimate video portraits of daily life in Afghanistan, which has captivated more than 400,000 people across 150 countries.
I asked Lukas and Salome to answer a few questions about their inspiration and motivation behind their work. While on assignment, they were kind enough to answer them below. Below that, you can also watch renowned photojournalist Seamus Murphy's A Darkness Visible: Afghanistan and explore Asia Society's Homeland Afghanistan website.
I hope these multimedia pieces give you another perspective on this complex region. If you'd like to include any others in this list, please add them in the comment field below.
Were you surprised by the overwhelmingly positive response to the video? Why do you think the piece went viral?
Lukas: We initially published the video through one of the biggest newspapers in Germany. We then just uploaded the film on Vimeo and a few days later it was selected for "staff picks" and then got a lot of attention by other film makers through the Vimeo network. These and our friends and contacts on Facebook and Twitter made the film become viral. This video was an experiment. We didn't know how people would react on a film that has no narrative and that doesn't fit into the category of a classical documentary or photojournalistic genre. We knew people had a very different view on Afghanistan from the media so we were curious to see how they would react.
Why did you choose to focus on aspects of every day life and the people of Afghanistan instead of the war?
Salome: First, Afghanistan is big news in the West. But the focus is predominantly on the ISAF forces, on the threat of the Taliban or on the bad human rights situation but we see very little of everyday life. One reason is that it is not easy because of the security situation. But since Lukas lived there for more than two years and has the advantage of knowing the local language and culture we had access to meet many Afghans in their homes or on the street.
Second, we think there has been so much negative news from Afghanistan that it has stigmatized the country and also the view of the Afghans on how they see themselves. Now as we get so much response from Afghans in the country and also in exile we realize we took the right way. Many of them told us that they were moved to tears or realized that there is a beauty and a richness in the country that they had forgotten. This is a sign of hope and as journalists I think it is also our responsibility to show not just the dark side of the moon. As one looks at the faces you can see that people have gone through a lot. So we didn't want to exclude the war but to add another dimension to the reality we get from daily news.
What impacted your editorial decision making of what to include and what not to?
Lukas and Salome: We knew we won't use a narrator but we therefore needed even stronger pictures that would keep the attention of the audience. We didn't want to make another comment but rather create a space for the audience to touch down in Afghanistan and see for themselves. At the same time not just showing the beauty but also the pain and the destruction not necessarily externally but internally.
The soldier near the palace for example a strong man at the same time crying. A beautiful landscape but when you look at the people you can see melancholy and the traumas that many of them have. In the end our goal was to portrait the people on eye-level without putting them in a box.
The film was a tribute to your inspiration — Gayle. Who was she and how did she affect you?
Lukas: Gayle was a good friend of mine. She was a physiotherapist who trained an Afghan staff to access some of the most excluded people in this part of the world: the disabled. She was always a very joyful person but was of course also challenged being a foreign single lady in a very conservative country. As a Christian she had faith in God and out of that relationship had a strong inner peace and loved the people not based on how they treated her. One morning, on her way to the office, she was shot by the Taliban. According to her wish she is now buried in the British cemetery in Kabul. I really admire her and want to treat the people of Afghanistan in a similar way.
What was your perception of Afghanistan when you first started working for humanitarian organizations? How have your views changed?
Lukas: First I felt foreign. I knew Afghanistan only from the media and expected much more destruction and I had my own picture of what a war-torn country would look like. I didn't expect traffic jams or big wedding halls and people that are so hospitable. I also learned the big difference of relief and long-term development. Through the years I focused on looking at the potential and how to build up capacity rather than just focusing on what doesn't work. For example there are so many young people who are eager to learn and to study. Many get up early in the mornings to attend extra classes before going to school.
When your husband (who was your fiancée at the time) wanted to show you around in Afghanistan, what was your reaction, what were you expecting to see and how did your perceptions change?
I was very excited to see the country and the people that Lukas told me a lot about and which has had a big impact on him. I grew up in Tanzania and worked for two years in Burma, but I had never been to the Middle East or Central Asia. This three-weeks trip truly enriched me in many ways. I was not sure what to expect but I was hoping to get an insight of daily women and family life. I was touched by the honest hospitality. One early morning we tried to find a place to catch the sunrise. A very poor family let us climb on their roof. After shooting, we were invited for breakfast and with 10 other people on the floor we shared three eggs, some raisins and a loaf of self-made bread. For sure this was not our last trip to Afghanistan.
Between 1994 and 2010, photojournalist Seamus Murphy visited Afghanistan 14 times to document people caught, time and again, in political turmoil. Produced by MediaStorm, the project was quite an undertaking, with 30-plus hours of interviews, 26,000 images and nine months of production, according to producer Eric Maierson.
In 2009, Murphy came to Asia Society to discuss his work thus far. 
Asia Society launched Homeland Afghanistan this year, a website that tells the story of Afghanistan through 75 video episodes featuring experts as well as hundreds of archeological finds, paintings, literary works, music, photographs and documentary films.