From East to West: The Quest for Chinese Export Porcelain with Western Themes
VIEW EVENT DETAILS
A special talk by His Excellency Mr Paulo Cunha-Alves, Ambassador of Portugal
Asia Society Australia and the VisAsia Council will host a special talk by His Excellency Mr Paulo Cunha-Alves, Ambassador of Portugal. 

Chinese porcelain decorated with Western subjects represents a specific area in the porcelain trade of the East Indies Company. At its basis are engravings, drawings, paintings and many other sources of inspiration which, especially during the eighteenth century, were shipped to China where they were then copied by Chinese artists and emerged as porcelain objects commissioned by Europeans and Americans.
Ambassador Cunha-Alves will present on this topic, which is the subject of his recent publication From East to West: The Quest for Chinese Export Porcelain with Western Themes, at the Art Gallery of New South Wales for members of the VisAsia Council and the Asia Society Australia members.
The program is a part of Asia Society Australia's partnership with the NSW Art Gallery and VisAsia Council.

Date: Friday 18 August 2017
Time: 5-6pm
Venue: Prints & Drawings Study Room, Lower Level 2, Art Gallery of New South Wales
About the speaker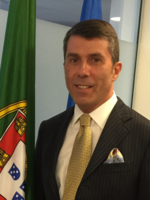 Paulo Cunha-Alves is a Portuguese diplomat who has previously served in Belgium, Mozambique and in the United States, being presently ambassador to Australia, New Zealand and some Pacific Island States. He has a BA and a Masters both in International Relations from the University of Lisbon.
Due to the capacity of the venue, places are limited to 18 guests. By invitation. 
---
Presented in partnership with:
Event Details

Add to Calendar
20170818T070000
20170818T080000
UTC
Asia Society: From East to West: The Quest for Chinese Export Porcelain with Western Themes
---