China
China's Evolving Ties with the Middle East
Lindsey Ford and Max Hill
August 8th, 2019
"The Arab world is strategically located and blessed with abundant energy resources. With our strong complementarity and converging interests, [we] must synergize our development strategies in pursuit of our respective dreams of rejuvenation."
President Xi Jinping
Section One
Overview
The Middle East is playing an increasingly important role in China's push toward global superpower status. Although China has had cultural and trade ties in the Middle East for centuries, the region was a peripheral factor in Chinese foreign policy for most of the twentieth century. Under Xi Jinping, however, China is executing a new westward pivot. With nearly half of China's oil imports and significant flows of trade and citizens moving to and from the region, relations between the Middle East and the Middle Kingdom have taken on new geostrategic importance.
Xi Jinping first highlighted his plans to deepen China–Middle East ties in a speech to the China–Arab States Cooperation Forum in 2014, calling for new collaboration under the rubric of China's Belt and Road Initiative (BRI). Sitting astride critical sea lines of communication, Middle Eastern countries have emerged as important connectivity points in the BRI, linking China to the broader Eurasian continent. China is heavily investing in maritime ports, free trade zones, and digital infrastructure in countries ranging from Israel to the United Arab Emirates (UAE). China has also emerged as the largest source of foreign direct investment (FDI) in the Middle East, providing a vital influx of investment in a region looking to modernize and diversify beyond its reliance on energy production.
"Whether or not China has a clear picture of its strategic endgame in the region, one thing is certain: Beijing will be a central player in the future of the Middle East."
Although China's expanding presence in the Middle East is motivated by economic calculations, it nonetheless offers strategic opportunities for Beijing. China's emphasis on noninterference, state-led economic development, and regional stability resonates with many autocratic leaders in the Middle East, allowing China to promote its "alternative" model of great power leadership. As the United States debates its long-term engagement in the region, Beijing has also sought out new opportunities to burnish its image as a provider of global public goods, including support for UN peacekeeping operations in Lebanon and funding for reconstruction assistance in Syria and Libya. Meanwhile, leaders in Saudi Arabia and the UAE have come to view China as an important source of political leverage and advanced military equipment. And for China, Middle Eastern partners can provide valuable political support on sensitive issues such as its One-China policy and even political silence on the treatment of Uighur Muslims in Xinjiang.
In the past decade, Beijing has significantly expanded its diplomatic ties with countries in the Middle East. China has sought to cement new partnerships with Israel and the Gulf States, while also maintaining long-standing political, economic, and military ties with Iran. Thus far, Beijing has managed to successfully navigate regional rivalries and disputes. However, as geopolitical tensions in the Gulf increase, China may find that it is unable to continue this diplomatic balancing act.
What remains uncertain about China's growing presence in the Middle East is whether it has a strategic vision for the future of its role in the region. Beijing's focus on avoiding entrapment or repeating the perceived mistakes of American engagement show it has little appetite to step into a larger leadership role today. But it has made tentative efforts at more proactive regional diplomacy — such as promoting a new Israel-Palestine peace plan — that suggest it may not be completely adverse to a more active role in the future. Indeed, as China accrues deeper economic interests in the Middle East, a key question will be whether it can avoid such a path. Middle Eastern partners seem to have accepted China's economic opportunism and laissez-faire approach for the moment, but China may not be able to stay at an arm's length from regional geopolitics indefinitely. Whether or not China has a clear picture of its strategic endgame in the region remains unclear, but one thing is certain: Beijing will be a central player in the future of the Middle East.
Section Two
Economic & Energy Ties
ENERGY TIES
China's resurgence in the Middle East has been driven by its search for reliable energy supplies. China became a net energy importer in 1993; over the next two decades, it surpassed the United States as the world's largest importer of petroleum. This steady and persistent growth in energy requirements has transformed China's presence and relationships in the Middle East. Energy exports to China have become vital for many Middle Eastern suppliers. As of 2018, China was the top export destination for four Gulf countries, namely Iran, Kuwait, Oman, and Saudi Arabia, largely due to China's growing energy demand.
China's most significant Middle Eastern energy partner is Saudi Arabia, which accounts for nearly a third of its petroleum imports from the region. Although Russia surpassed Saudi Arabia in 2016 as China's largest oil supplier, the steady increase in Chinese demand for Saudi oil has not abated. Between 2000 and 2009, Chinese imports from Saudi Arabia increased sevenfold. Iraq has also emerged as an important supplier for China. Chinese oil imports from Iraq have doubled in the past decade as Iraqi oil fields have come back online. By 2018, Iraq was China's third-largest source of oil imports. While the preponderance of China's energy imports from the Middle East is petroleum, Qatar plays a unique role as China's only significant source of liquefied natural gas (LNG) in the region. Qatar has a near monopoly on Middle Eastern LNG supplies and provides China with nearly 20% of its global LNG imports. 
Concerns about the vulnerability of its energy supply routes from the Middle East, as well as regional instability, have motivated China to diversify its energy sources in recent years. This has included investing in oil pipelines across Central Asia, seeking new suppliers in Africa and Latin America, and increasing energy imports from Russia. China has also invested heavily in efforts to diversify its energy mix — it invested $125.9 billion in renewable energy in 2017 alone. Although these efforts have somewhat reduced its proportional reliance on Middle Eastern energy, they will not offset the ongoing aggregate increase in Chinese energy demand. The International Energy Agency's (IEA) projections for China's oil consumption in 2040 forecast a 57% increase from 2016 levels, suggesting the mutual energy dependence between China and its Middle Eastern partners will only deepen.
China's Energy Mix and Imports from the Middle East
China's New Role in Middle East Energy Production
China's energy relationships in the Gulf are no longer simple, one-way trade relationships. China is now a major player in global energy markets in its own right, particularly in downstream production processes. As a result, the energy partnerships between China and Persian Gulf nations have become far more complex, integrated, and valuable to both sides. In its bid to secure more reliable energy sources, China has been aggressive in investing in upstream industries, seeking to establish joint ventures between Chinese and Middle Eastern energy companies, and investing in new energy exploration projects. In Iran, for example, China is the main source of financing for energy exploration and extraction, where it has invested billions of dollars in the North Azadegan and Masjid-i-Suleiman oil fields. It has also gained a stake in the UAE's energy production, securing a $1.6 billion contract from the Abu Dhabi National Oil Company (ADNOC) in July 2018 for new oil and gas exploration. Since 2011, the state-owned China Petroleum Engineering and Construction Corporation (CPECC) has also been the biggest contractor involved in rebuilding Rumaila, Iraq's largest oil field. 
China's Growing Refinery Sector
China now has the world's second-largest oil refinery capacity, with a domestic refinery industry that, at a capacity of 14.5 million barrels per day, is now second only to the United States. As Gulf States like Saudi Arabia work to diversify their energy sector into downstream production, they are aggressively courting joint investments that would provide them with a stake in China's refinery sector. China, in turn, has leveraged these investments to secure greater access rights to Gulf oil fields. During Crown Prince Mohammed bin Salman's recent trip to Beijing, Saudi Aramco agreed to build a $10 billion oil refinery in Liaoning province in partnership with China's Norinco and Panjin Sincen. Middle Eastern countries are also partnering with China in developing some of the world's largest new refineries. For example, Saudi Aramco is investing in a refinery and petrochemical facility in the city of Zhoushan, while Kuwait is jointly building a refinery in Zhanjiang with state-owned Sinopec. The UAE also recently gained a stake in China's downstream energy markets, with ADNOC signing a $12 billion agreement for the joint development of oil refineries and shipping ventures with China's Wanhua Chemical Group.
China & U.S. Refinery Capacity
ECONOMIC COOPERATION
China published its first Arab Policy Paper in 2016, outlining a new "1+2+3" strategy to expand China's economic footprint in the Middle East. While acknowledging the continued centrality of energy cooperation, this paper outlines a multipronged push into new sectors, including trade and investment agreements, physical and digital infrastructure cooperation, and collaboration in emerging fields such as nuclear energy, satellites, and "green" technologies. Three elements of China's new 1+2+3 approach are particularly notable: foreign direct investment, infrastructure development, and technology cooperation.
China as the Arab World's New Financier
The past decade has seen a massive influx of Chinese FDI into the Middle East. In 2008, China's financial presence in the region was miniscule. Reporting indicates only 1% of Chinese FDI was earmarked for the region in 2008. Fast forward to 2016 and China became the largest foreign investor in the Middle East, pledging $29.5 billion to Arab countries. According to an assessment by the Arab Investment and Export Credit Guarantee Corporation, China now holds approximately one-third of the entire FDI stock in the Middle East. And these numbers continue to grow. As an important source of finance and loan opportunities, China is enhancing its influence among Arab countries that are eager for greater capital. In a 2018 speech to Arab leaders, Xi Jinping pledged to offer up to $20 billion in loans for reconstruction needs in the region, as well as establishing a Chinese-Arab bank consortium with up to $3 billion in dedicated funding for regional assistance. Countries in the region have also looked to China to finance activities including support for government operations and even sovereign debt payments. In August 2017, for example, the government of Oman borrowed $3.55 billion from Chinese banks to cover its budget deficit for the fiscal year.
China Fuels Infrastructure Boom and Trade Hubs
Infrastructure development is another high-profile element of China's economic push into the Middle East. The Middle East's strategic location, as a crossroad between continents, makes the region a key hub for Chinese trade. Approximately 60% of Chinese exports to Europe, Africa, and the Middle East pass through the UAE. China is also now the largest trading partner for several countries in the region, including Iran, the UAE, and Saudi Arabia. The region's geographic importance is reflected in the growing role it plays in China's Belt and Road Initiative (BRI). In the past several years, Chinese state-owned enterprises (SOEs) have secured deals to manage or develop some of the most strategically important real estate in the Middle East, including a 25-year agreement to operate Israel's Haifa port, which happens to be a routine replenishment stop for the U.S. Sixth Fleet and Israel's submarine fleet. Similarly, a Chinese consortium is investing billions in the Omani port of Duqm, a strategic location to which the Indian, UK, and U.S. navies have all secured military access agreements. In 2018, the value of Chinese investment and construction projects in the Middle East and North Africa was second only to those in Europe, even outstripping BRI investments in the rest of East Asia.
The most significant element of this China-fueled infrastructure boom is the establishment of new "trade hubs" that now dot the Middle East. These initiatives often combine port developments with free trade or investment zones, smart city infrastructure, and manufacturing and logistics facilities. In Egypt, for example, Chinese developers are helping Egyptian authorities establish a new Suez Canal Economic Zone (SCZone), which Egyptian authorities tout as an international logistics hub that will be "fully integrated with China's BRI." In Oman, Chinese companies plans to invest $10.7 billion in the development of a new China-Oman industrial park within the Special Economic Zone (SEZ) of Duqm. Meanwhile, in the UAE, China's East Hope Group is exploring a $10 billion investment in the Kalifa Industrial Zone in Abu Dhabi, while the Alibaba Group has announced plans to build a $600 million "Tech Town" near Dubai's Jebel Ali port.
China and the Digital Silk Road
The Chinese infrastructure boom in the Middle East is not just physical. China is providing the backbone for the Middle East's digital infrastructure. As Middle Eastern countries seek to modernize their economies, they are turning to China for many of their technological requirements. In turn, the Gulf region has become a key node in China's Digital Silk Road. In the UAE, Chinese tech giants, such as Huawei and China Telecom, have started to work on a number of joint projects, ranging from 5G and telecommunications networks to research and development (R&D) partnerships and Smart Cities.
Middle Eastern countries are investing heavily in technology and Chinese companies are capitalizing on the opportunity to expand their market access. Chinese companies have secured 5G deals with all of the Gulf Cooperation Council (GCC) countries, including the UAE and Saudi Arabia. As of February 2019, Huawei had signed 30 5G commercial contracts across the globe. Nearly one-third of these are in the Middle East. Most notably, Huawei is collaborating with the UAE's Etisalat to develop a new 5G network consisting of 300 5G towers in the Emirates. The Chinese company also released its 5G-enabled Mate 20 X smartphone in the UAE in July 2019. 
Chinese technology firms have also played an instrumental role in laying the foundations of the Middle East's communication network. Chinese companies built, operate, or co-own at least nine submarine cables in the region. Huawei Marine alone has been involved in the construction of four cables in the region, setting off alarm bells in Washington, where security analysts worry that China will try to gain access to the vast amounts of data and information that pass through the cables. In the midst of growing international pressure on Huawei's business, Huawei Technologies decided in June 2019 to sell its ownership of Huawei Marine. Nonetheless, another Chinese company, Hengtong Optic-Electric, has already signed a letter of intent to purchase the submarine cable business. 
For the space component of China's Digital Silk Road, China has found an open market for its BeiDou navigation system (BDS) in the Middle East as well. Beidou's first overseas Center of Excellence opened in Tunisia in April 2018, with an explicit focus on expanding Beidou's satellite system in the Middle East and North Africa and providing training for Arab experts.   
Finally, Chinese companies are also securing partnerships with retailers in the region. Alipay, a Chinese mobile payment system, made its first inroads in the Middle East in January 2018 when several luxury Israeli stores began accepting Alipay in an effort to cater to the growing number of Chinese tourists. The UAE's Network International has followed suit and begun installing Alipay on mobile devices. 
But it is Israel that has emerged as China's most important technology partner in the region. China has long prioritized tapping into Israel's world-leading technology sector, and Chinese investment has become a particularly important source of financing for Israeli startup companies. Recent reports suggest Chinese companies have invested approximately $1.5 billion in 300 Israeli technology companies over the past five years. However, U.S. concerns about the potential transfer of sensitive technologies to China may complicate this growing relationship. U.S. National Security Advisor John Bolton reportedly raised the issue with his counterpart during a January 2019 visit to Tel Aviv. Israel is exploring the creation of a screening mechanism, similar to the Committee on Foreign Investment in the United States, to oversee foreign investments in sensitive economic sectors, highlighting the degree to which this has become a political concern.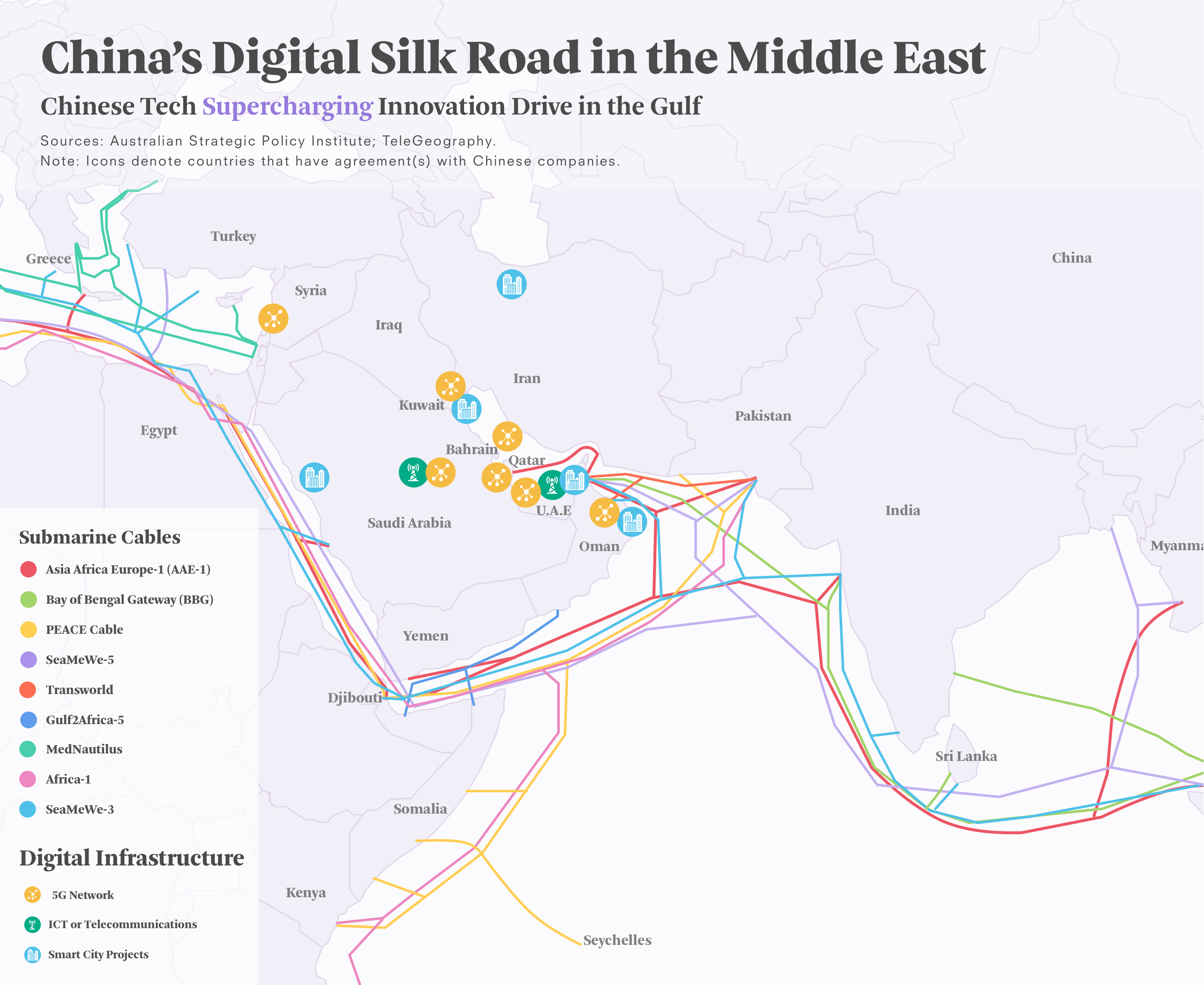 Section Three
Strategic & Diplomatic Relations
As China has expanded its economic ties in the Middle East, the pace of Chinese diplomacy has accelerated. Over the past several years, China has established new strategic partnerships with several countries in the Middle East and North Africa. Four of these partners — Egypt, Saudi Arabia, Iran, and the United Arab Emirates — have been designated as "comprehensive strategic partnerships," denoting relationships that are of particular importance for Beijing. Xi Jinping has made two trips to the region since assuming office, first in 2016 — with visits to Egypt, Saudi Arabia, and Iran — followed by a trip to the UAE in 2018. Each of these visits included significant new pledges of cooperation, such as a joint investment fund with the UAE; a $20 billion credit line for reconstruction in Arab states; a China-Arab Technology Transfer Center; and the establishment of joint laboratories for agricultural development, information and communications technology (ICT), and medical research. More broadly, our analysis of regional diplomacy shows that Xi has hosted at least 14 state visits with Middle Eastern leaders during his first five years in office, as compared to the 11 visits hosted by his predecessor, Hu Jintao, between 2008 and 2013. This uptick in state visits has been accompanied by a remarkable 50% increase in cabinet-level visits, with at least 53 such visits taking place since Xi assumed power.   
CHINA-MIDDLE EAST BILATERAL VISITS, JOINT EXERCISES, AND NAVAL DEPLOYMENTS
CHINA'S DIPLOMATIC BALANCING ACT
China's Middle East strategy, to the extent that it exists, has been one of economic opportunism overlaid with political neutrality. However, this strategy requires China to engage in a careful geopolitical dance, working to balance its engagement with longtime strategic partners such as Iran, even as it deepens ties to newer partners, including Israel and the Gulf States.
In 2016, for instance, Xi successfully navigated a geopolitical landmine, visiting both Iran and Saudi Arabia during a major diplomatic dispute between the two rivals. Just weeks before the visit, the Saudi government executed a Shiite cleric, and in response, a group of Iranians ransacked the Saudi Embassy in Tehran. Xi, nonetheless, managed to sidestep the feud, securing major economic and political agreements with both countries. Xi has been assiduous in his efforts to assure Tehran of the durability of their strategic ties even as China's partnerships in the Gulf region have deepened. During his 2016 visit, for example, Xi published an article in an Iranian newspaper, stating, "since the inception of our diplomatic ties in 1971, the China-Iran relationship has stood the test of international changes and maintained a momentum of sound and steady development."
Indeed, China's engagement in the Gulf has not abated the closeness of the Beijing-Tehran relationship. China remains not only Iran's closest trading partner, but also an important source of military equipment and political support. Thus far, Beijing has successfully sustained this relationship while enhancing diplomatic ties with rival powers in the Middle East. But as geopolitical tensions in the region reach a boiling point, China's nonaligned approach may come under greater strain.
Saudi Arabia: Oil and Geopolitics
Saudi Arabia and China have long-standing ties, particularly in the energy sector. China is Saudi Arabia's largest oil export market. During recent bilateral visits, the two countries agreed to significant joint investment arrangements between state-owned energy companies that will further integrate their energy markets. Increasingly, however, these two regional heavyweights see a broader strategic convergence in their bilateral relationship. Beijing recognizes Riyadh's political heft not just in the Gulf region but also in the wider Arab world, while Riyadh sees Beijing — now its largest source of FDI and largest trading partner — as central to its Vision 2030 economic strategy.
Since 2016, Xi Jinping has conducted three visits with Saudi King Salman bin Abdulaziz and Crown Prince Mohammed bin Salman, the latest in February 2019 when he hosted the crown prince for a state visit to Beijing. Beyond head of state visits, Saudi Arabia has received at least eight cabinet-level visits by Chinese officials since 2013, a number only exceeded by exchanges with Israel. Recent visits have produced an array of financial commitments aimed at better integrating the Chinese and Saudi economies, including at least $75 billion of promised investments on projects such as oil refineries, energy exploration and extraction, petrochemicals, e-commerce, and armed drone manufacturing. Notably, Saudi Arabia also recently committed to a $10 billion investment in Gwadar port — a strategic Pakistani port run by Chinese companies — suggesting that as China opens up investment in the BRI, bilateral coordination in third-party countries may become an emerging area of collaboration for Riyadh and Beijing.
The United Arab Emirates: the Belt and Road Nexus
Whereas Saudi Arabia's partnership with Beijing is anchored in energy and geopolitical calculations, the China-UAE relationship is firmly rooted in trade and investment ties. With the establishment of the BRI, the China-UAE partnership has skyrocketed. The UAE serves as the Middle East's financial and trade hub, making the country a critical gateway for Chinese products and Belt and Road investments. Cooperation between China and the UAE began to take off following the conclusion of a new strategic partnership in 2012. A visit by Crown Prince Sheikh Mohammed bin Zayed to Beijing followed in 2015, paving the way for Xi Jinping's visit to the Emirates in July 2018, the first visit by a Chinese leader in 29 years. During this visit, Xi and his counterparts signed 13 wide-ranging memoranda, highlighting the expanding scope of the bilateral relationship. The agreements covered several areas of cooperation, including new joint ventures between national energy firms, access for the first Chinese state-owned financial firm in Abu Dhabi's international financial center, a partnership agreement to develop the world's largest solar project, and new e-commerce initiatives. Crown Prince bin Zayed recently concluded another visit to Beijing in July 2019, further cementing the increasingly close partnership with a commitment to work toward tripling bilateral trade volume by 2030.
Central to the China-UAE strategic partnership is shared investment in the UAE's special "zones," including free trade zones, financial "free zones," and new "smart city" hubs. Chinese companies rely on many of these hubs as their entry point into the broader Middle East, and China is investing heavily in their development. For Emirati leaders, the development of these hubs is a central element of the country's long-term strategy to cement its status as a global trade hub like Singapore. China has become a critical source of capital investment, skilled labor, and technology. At the UAE's largest free trade zone — the Dubai Multi-Commodities Center — registrations of Chinese companies grew by 46% annually over the past five years.
Chinese Exports to the Middle East
Iran: the Old Friend and Strategic Standby
Iran is one of China's oldest and most enduring partnerships in the Middle East. Although China participated in the Joint Comprehensive Plan of Action (JCPOA) negotiations to limit Iran's nuclear program, it has nonetheless remained one of Tehran's most reliable economic and diplomatic partners. For both China and Iran, their strategic partnership provides an important means of circumventing Western pressure — providing China with a reliable source of oil less vulnerable to Western sanctions, and providing Iran with a reliable energy market and partner less willing to accede to Washington's demands. Beijing has also been one of Iran's most important and long-standing military partners, providing training, technology transfers, and arms sales that have allowed Tehran to substantially advance its defense capabilities. During Xi's time in office, China and Iran have conducted seven cabinet-level exchanges. Notably, this number equals Chinese exchanges with Saudi Arabia in the same time period. The signature of the JCPOA agreement and lifting of Western sanctions in 2016 provided China with a clear path to further expand ties with Tehran. Xi visited Iran shortly after sanctions were lifted and signed 17 agreements with President Hassan Rouhani, pledging a tenfold increase in the annual bilateral trade flow to $600 billion by 2026. More recently, China has strongly opposed the Trump administration's withdrawal from the JCPOA and made clear its intent to continue purchasing Iranian oil and defy U.S. sanctions, a significant step given China's status as Iran's largest oil export market.
Israel: China's Startup Partnership
One of the most notable elements of China's Middle East diplomacy is its rapidly expanding relationship with Israel, a partnership Israeli Prime Minister Benjamin Netanyahu has described as a "marriage made in heaven." Netanyahu made his first visit to Beijing in 2013, and there has since been a steady stream of diplomatic exchanges between the two countries. While these visits have been accompanied by new agreements in finance and trade, as well as agriculture and healthcare, it is technology cooperation that has emerged as the touchstone of the bilateral relationship. Since 2015, Chinese and Israeli leaders have exchanged annual visits, with sizable business delegations in tow, to support a flagship Innovation Summit between the two countries. During Netanyahu's 2017 visit to Beijing, the two countries formally codified their relationship as a "Comprehensive Innovation Partnership" — a label that appears unique to Israel in China's strategic partnership lexicon. In addition to technology cooperation, these high-level exchanges have catalyzed numerous new trade and investment agreements. According to reports, Netanyahu's 2017 visit resulted in 10 new cooperation agreements, estimated at about $25 billion, including a commitment to establish free trade zones between the countries and a "fast-track" agreement to facilitate joint investment. The results have been notable. Chinese investment in Israel has been steadily rising; estimates suggest Chinese investment in Israel's technology sector increased ten-fold between 2015 and 2016. Similarly, Israeli exports to China jumped by 63% in the first eight months of 2018 alone.
Section Four
Security & Military Cooperation
The bedrock of China's Middle East engagement is economic, but it is nonetheless slowly expanding military and defense ties with countries across the region. To a large extent, this reflects China's growing comfort with using its military as a tool to exert global influence and reach. In the Middle East, as elsewhere, China has expanded military sales, security cooperation activities, and defense engagements over the past decade. However, China's presence in the Middle East and the Indian Ocean also reflects the degree to which protecting China's overseas interests and citizens has become an important mission for the People's Liberation Army (PLA). China's 2011 evacuation of more than 35,000 Chinese citizens from Libya, its first large-scale overseas evacuation, demonstrates the growing domestic pressure Beijing faces to ensure it can protect Chinese citizens in high-risk regions such as the Middle East.
Military Diplomacy
China has become increasingly comfortable with leveraging its military as a foreign diplomatic tool, conducting high-level exchanges, military education, port visits, and joint exercises with foreign partners. Since 2008, China's military diplomacy in the Middle East has steadily increased, largely due to the People's Liberation Army Navy's (PLAN) near-continuous naval presence in the Indian Ocean in support of the Gulf of Aden counter-piracy campaign. China's recent establishment of an overseas military facility in Djibouti is likely to further expand its ability to conduct training and military exchanges with Middle Eastern partners in the future.
Since the PLAN's Gulf of Aden operations began in 2008, China has conducted at least 16 official port calls (i.e., "friendly visits" as opposed to routine replenishments) with 10 Middle Eastern countries. Similar to other foreign powers, China uses these visits to improve public relations, as well as to curry favor with countries with which it may be seeking enhanced access, economic agreements, or strategic partnerships. During these port calls, PLAN crew members meet local officials, play sports with the host navy, and offer humanitarian assistance and medical care to the public. Beyond port calls, China has also increased high-level military visits to the Middle East. During the past decade, the highest-ranking member of the Chinese military, the Central Military Commission (CMC) vice-chairman, has visited the region on at least five occasions. Notably, three of these five visits were to Saudi Arabia, reflecting the importance Beijing places on obtaining strategic influence with Riyadh.
Counterterrorism
Counterterrorism cooperation is the primary focus of China's defense and military engagement with Middle Eastern partners. This focus reflects the Chinese Communist Party's (CCP) deep-rooted fears about domestic instability and the dangers of the "three evil forces" of terrorism, extremism, and separatism. It also reflects China's effort to leverage international partnerships, especially with Muslim-majority nations, to enhance the legitimacy of its treatment of various domestic ethnic and religious groups. Chinese leaders have worked to justify the extreme repression of Uighur Muslims, for example, through the rubric of global counterterrorism efforts, referring to its Xinjiang campaign as the "Strike Hard Campaign against Violent Terrorism," and labeling the province as "China's Syria."
Growing violence in China's western provinces in recent years has only deepened the CCP's desire to more aggressively pursue counterterrorism partnerships abroad.  These partnerships can help CCP leadership exert greater control over domestic groups, by facilitating greater tracking and even repatriation of targeted individuals under the pretext of "countering extremism." Over the past four years, China has signed cooperative counterterrorism agreements with Iran, Qatar, Saudi Arabia, the United Arab Emirates, and Egypt. In 2016, China and Saudi Arabia also conducted a joint counterterrorism exercise, China's first such joint exercise in the region. These cooperative arrangements facilitate greater information sharing, joint training, and, particularly important to China, repatriation of suspects in many cases. As such, while they may enhance international efforts to capture dangerous extremists, they also improve China's ability to track and arrest citizens deemed as dangerous to the state.
Arms Sales
Weapons sales have emerged as perhaps the most notable, and certainly the most lucrative, element of China–Middle East defense ties. According to a 2018 Pentagon report, China is the world's fastest-growing arms supplier. It also notes that the Middle East has become China's most important market for foreign arms sales, eclipsing sales to the rest of Asia. While the United States remains the largest supplier of military technology to the Middle East, China has carved out an important niche market by selling specific capabilities that Middle Eastern states are unable to purchase elsewhere: armed drones and precision-strike weapons. Because China is not a signatory to global arms control agreements such as the Missile Technology Control Regime (MTCR) or the Wassenaar Arrangement, it has been able to develop a near monopoly on the sale of these types of capabilities in the Middle East.
According to data from the Stockholm International Peace Research Institute, over two-thirds of China's foreign sales of armed drones have been made to countries in the Middle East and North Africa. This trend is only set to accelerate. During King Salman's 2017 trip to Beijing, the two countries signed an agreement to open a factory in Saudi Arabia for the production of 300 CH-4 drones.
With wealthy Middle Eastern states eager to continue modernizing their defense capabilities, and with the U.S. Congress balking at weapons sales in the region, Chinese defense manufacturers may be able to further expand their foothold. There are already signs that Chinese companies are focusing more seriously on sales to the Gulf region and may begin tailoring capabilities more specifically for this lucrative market. For example, the China Shipbuilding Industry Corporation (CSIC), creator of China's first domestically produced aircraft carrier, announced in 2018 that it would establish its first overseas office in Dubai.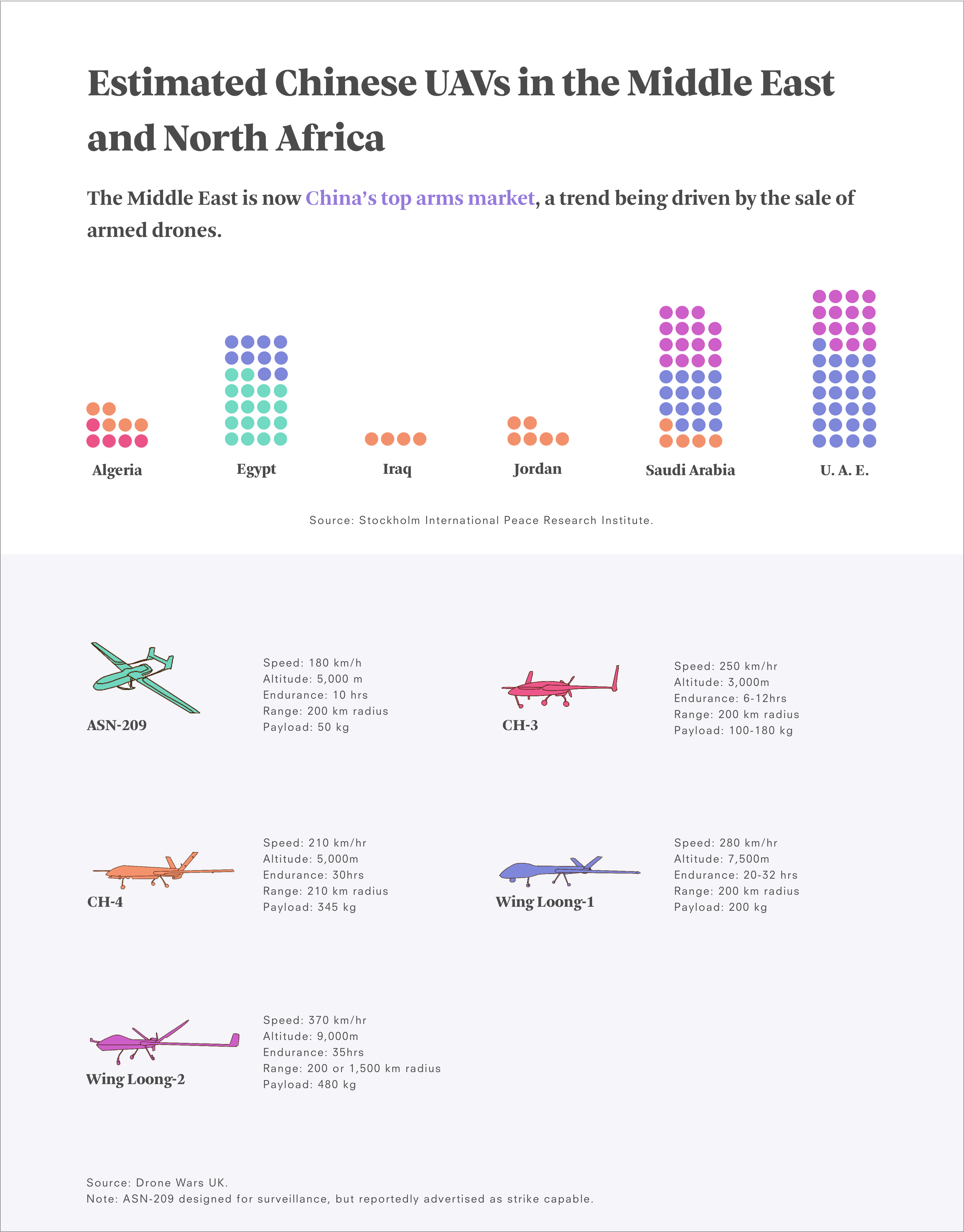 Section Five
People-to-People Ties
Under Xi Jinping, Beijing has put a newfound emphasis on bolstering people-to-people ties as a means of expanding China's regional influence and soft power. In the Middle East, these efforts are an important element of building support for the BRI. Chinese leaders often point to the close "civilizational ties" established by ancient Silk Road trading routes to emphasize China's long-standing presence and friendships in the Middle East.
In each of Xi Jinping's Middle Eastern visits, he has rolled out a series of new art, cultural, educational, and media partnerships aimed at enhancing China's regional influence. In a speech to the Arab-China Forum in 2016, for example, Xi invited 1,500 Arab political leaders to visit China and offered to provide 10,000 scholarships and 10,000 "training opportunities" to citizens of Arab countries. He also pledged to facilitate "mutual visits" for 100 think tank experts and 10,000 artists, to strengthen ties between working professionals in China and the Middle East. Similarly, during a 2018 speech to the same forum, Xi announced new media initiatives, including the launch of a new China-Arab press center and an e-library portal. Xi's 2018 visit to the UAE also featured the inauguration of a new, annual UAE-China culture week, which featured events such as the Arabic publication of Xi Jinping's writings and a glitzy film festival featuring appearances by well-known Chinese film stars.
Education initiatives and exchanges have also been an important aspect of China's soft power offensive. As China's importance as a trading partner grows, Middle Eastern governments have become increasingly interested in featuring Mandarin instruction in their schools. In 2018, the UAE Ministry of Education announced new plans to offer Chinese-language classes at 100 different high schools in the country, as well as increasing opportunities for university students to study abroad in China. Meanwhile, during Crown Prince Mohammed bin Salman's February 2019 visit to China, the two countries signed an agreement to include Mandarin instruction as a part of the educational curriculum at all levels of schooling. China has also focused on expanding joint research initiatives at Middle Eastern universities. For example, Beijing's Tsinghua University and Tel Aviv University signed an agreement to establish a $300-million research center to foster the joint study of nanotechnology and other emerging innovations.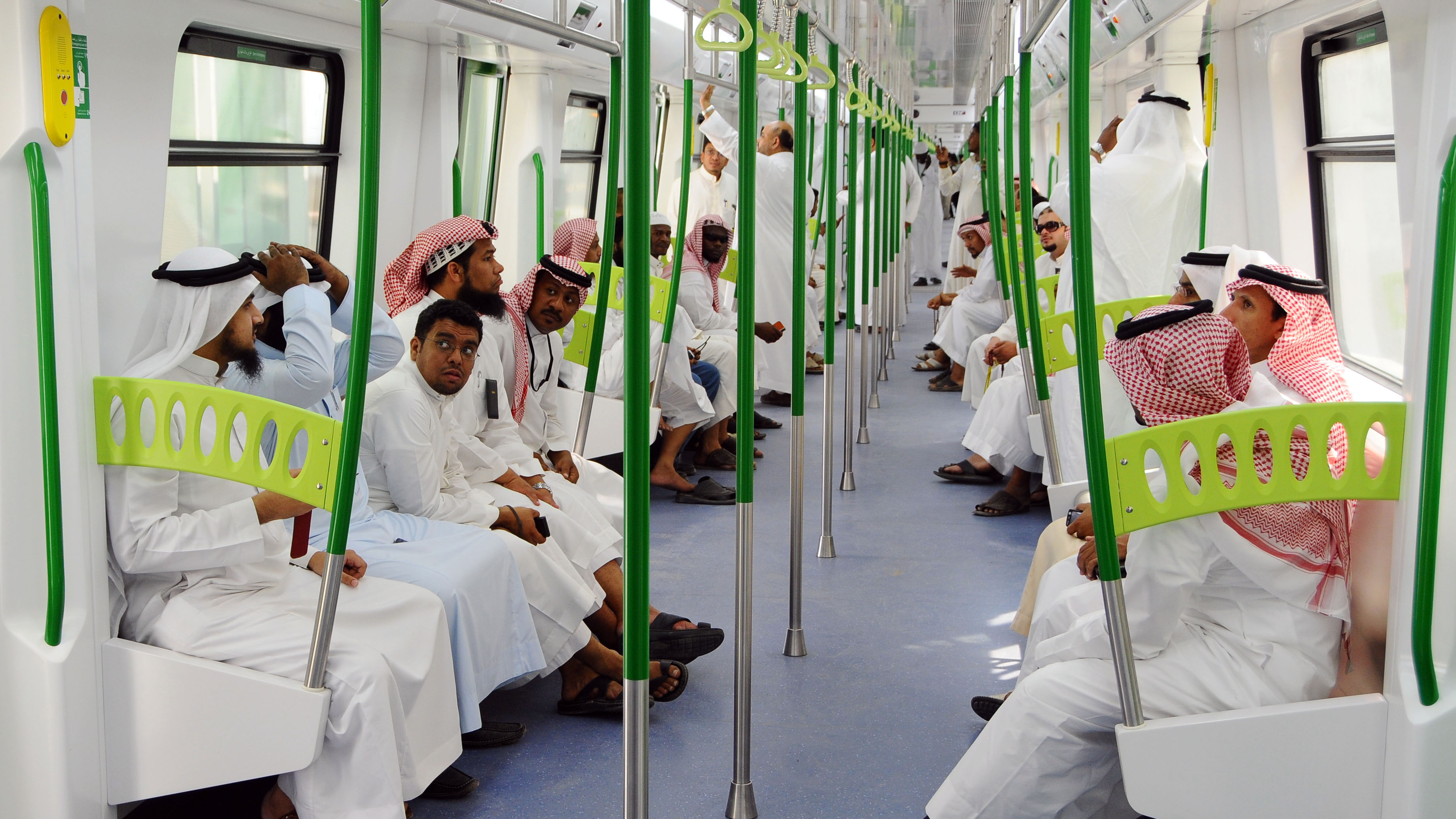 Chinese Workers and Tourists
China's expanding investment and economic presence in the Middle East has led to a surge of Chinese workers and tourists visiting the region, especially the Gulf countries. The most prominent location for Chinese visitors is the UAE, with 1.3 million Chinese traveling there in 2017 alone — a 45% increase from 2013 levels. The increase in the number of Chinese workers has been similar, with 300,000 Chinese nationals now living in the UAE. These trends are not unique to the UAE but reflect a widespread influx of Chinese citizens living in and traveling to the Middle East. Other top destinations for Chinese tourists and workers include Israel, Saudi Arabia, and Iran. According to the UN World Tourism Organization, the number of Chinese residents visiting Israel increased nearly six-fold between 2012 and 2017, from 19,633 up to 114,068. Both Iran and Saudi Arabia experienced a 300% increase in Chinese visitors in the same time period, reaching 74,663 and 61,315 visitors in 2017, respectively.
Reflecting the economic value of this surge in Chinese visitors, some Gulf States have begun taking active steps to encourage greater Chinese tourism. The UAE, for example, introduced a new visa-on-arrival policy for Chinese nationals in 2016, after which the country saw a significant bump in annual visits. Similarly, in an effort to reach a target of 600,000 Chinese hotel guests by 2021, Abu Dhabi's tourism authority has partnered with the Chinese Tourism Academy to certify 20 hotels based on their ability to cater to Chinese clients.
Chinese Visitors to Select Middle Eastern Countries
Hajj Diplomacy and Religious Affairs
China's relationships with Middle Eastern partners are an important element of its efforts to manage domestic religious affairs. Since 1955, the government has allowed Chinese Muslims to participate in the Hajj pilgrimage, in an effort to gain greater legitimacy in the eyes of the country's 20 million Muslims and reduce potential unrest. Although the annual number of Chinese pilgrims is relatively low, at approximately 11,500 people, the Hajj nonetheless allows China to cultivate an aura of "tolerance" and support for Islamic practices. As part of China's "Hajj diplomacy," the state-owned China Railway Construction Corporation built a $1.8 billion railway from Jeddah to the holy sites Mecca and Medina to provide transportation to the two million pilgrims who visit every year.
These overtures to the Islamic community stand in sharp contrast, however, with China's domestic policies in Xinjiang. In recent years, China's leadership has initiated an extensive campaign of repression across Xinjiang, involving widespread surveillance, family separations, and the forced internment of over one million Uighur Muslims in "re-education" camps, where they are often forced to renounce Islam. In spite of international condemnation of these activities, China has been able to leverage close relationships in the Middle East, and with Saudi Arabia in particular, to minimize opposition from other Muslim-majority nations.
During a closed-door meeting on a recent trip to Beijing, Saudi Crown Prince Mohammed bin Salman even told Xi that Saudi Arabia supports "China's rights to take counterterrorism and de-extremism measures to safeguard national security." More recently, Ambassadors from Bahrain, Kuwait, Oman, Qatar, Saudi Arabia, and the UAE joined 31 other nations in signing an open letter of support for China's activities in Xinjiang. The letter praised China's protection of human rights in the province, and its "counter-terrorism and de-radicalization measures."
Section Six
Conclusion
There is no doubt that China's presence and influence in the Middle East is increasing. This trend is unlikely to change, given the immense incentives both sides have in a closer economic partnership. China is now the top trading partner and source of FDI for many countries in the Middle East, making Beijing an important partner in the region's modernization plans. For Beijing, the sheer size and growth of its fossil fuel needs will continue driving it to invest more deeply in the region. As China continues expanding its Middle Eastern partnerships into new sectors beyond energy, particularly both physical and digital infrastructure, its strategic interests in the Middle East will grow.
There is nonetheless a fair degree of uncertainty about China's future role in the region. China may be emerging as a central economic partner, but there is little indication Beijing has any desire to take over the role of security guarantor that the United States has played for decades. Yet its preferred model of neutral engagement is likely to prove challenging, creating potential friction points for both Chinese and Middle Eastern leaders. Leaders in Riyadh, Abu Dhabi, and Jerusalem have thus far been willing to tolerate Beijing's close partnership with Iran, for example. But with Iranian provocations once again on the rise, China's political, economic, and military support for Tehran may generate growing ire in the Gulf.
Similarly, although Beijing may not want to play a larger strategic role in the region, it may begin to see a need to more directly shape political developments. With a growing stake in the Middle East's economy, and with sizable energy and infrastructure investments in the region, China will have a vested interest not only in regional stability, but also in seeing friendly regimes remain in power. The Syria example is case in point. Beijing's choice to support the Assad regime reflects its own preference for secular, stable regimes, and fears about religiously-motivated ethnic uprisings. But this has also placed it directly at odds with many Arab states. Leaders in Riyadh and elsewhere voiced their frustration over China and Russia's opposition to a 2012 UN resolution that would have forced Assad out of power. Regardless of its "non-interference" rhetoric, Beijing's own strategic and economic interests will likely drive it to a more political interventionist approach in the region.
One of the most significant question marks in looking at China's future in the Middle East is whether these growing political interests are likely to translate into a more significant military role. Chinese leaders have no desire to replace the U.S. military involvement in the region, and have thus far proven more than willing to free ride on the U.S. security guarantee. Beijing is likely to sustain this approach for as long as possible, leaving Middle Eastern partners faced with a conundrum that Asian nations have grappled with for the past two decades: how to balance their reliance on U.S. security ties and Chinese economic ties.
However, China's base in Djibouti and rumors of potential bases in locations including Cambodia and Pakistan suggest the day is coming sooner rather than later when China will have a much more substantial global military presence. Given ongoing piracy in the Horn of Africa and the vulnerability of its Middle Eastern energy supply routes to the U.S. Navy, it would be logical for China to focus a significant portion of this presence in the Indian Ocean region, and around the Middle East. This will present the United States, and its partners such as India, with a more difficult set of choices. On the one hand, if it chose to, China could play enhanced positive role in responding to regional emergencies or protecting civilian shipping from attacks. On the other hand, increased Chinese military presence would afford China a much greater ability to undermine or threaten the security interests of the United States and its partners. The issue of China's potential military role highlights a central question for China, the United States, and Middle Eastern partners. Will the Middle East, a region well accustomed to being the battleground of empires, emerge as a new arena of competition — or cooperation — for the United States and China? China's expanding presence across the region suggests that both countries may confront this question sooner rather than later. 
Explore the
Country Briefs
(ADDITIONAL COUNTRIES COMING SOON)