Asian Perspectives on Policy Toward Burma/Myanmar
Task Force Report on Burma/Myanmar Launched in the Philippines
QUEZON CITY, PHILIPPINES, April 6, 2010 - With the ongoing detention of opposition leader Aung San Suu Kyi, national elections scheduled for 2010, and continued reports of human rights violations, Burma/Myanmar remains in a state of political turmoil. As the Obama administration leans toward a more flexible foreign policy of engagement, a new Asia Society Task Force report recommends possible policy initiatives that take Asian perspectives on Burma/Myanmar into account.
Asia Society Philippines trustee and member of the Asia Society Burma/Myanmar Task Force Advisory Group Dr. Carolina Hernandez presented the report, entitled Current Realities and Future Possibilities in Burma/Myanmar: Perspectives from Asia to a select group of diplomats, civil society representatives, and members of the academe at the University of the Philippines' Bahay Kalinaw.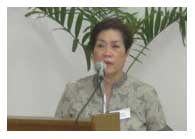 Dr. Hernandez focused on issues raised at a roundtable convened by her organization, the independent think tank Institute for Strategic and Democratic Studies, for the Philippine report. The report noted a consensus among government, academe, and civil society concern for the release of Suu Kyi, with varying degrees of interest in other issues such as diplomatic relations and human rights.
Unlike other ASEAN members, the Philippines has untroubled bilateral relations with Burma/Myanmar. In fact, the roundtable discussion shows that government views RP-Burma/Myanmar relations as generally "okay"; the Philippines have some business investments in Burma/Myanmar without interference from the government. That said, the country's interests and official policy in relation to Burma/Myanmar are undefined, though the government shares the concerns of the ASEAN regarding Burma/Myanmar's political situation and its impact on the country's neighbors. As such, ASEAN should take the lead in championing diplomatic efforts and solutions towards securing democracy in Burma/Myanmar.
The Philippine government, however, is ambivalent about the need for Suu Kyi to participate in the upcoming elections—a position that local civil society disputes. Philippine civil society representatives also support exerting political pressure and sanctions on the regime, and developing the country's civil society movement. On the other hand, members of the academe take the middle ground, but question the capability of the ASEAN, given the weak legal authority of the charter. 
An open forum immediately followed the presentation, and discussion turned toward creative strategies for engaging Burma/Myanmar nationals, and finding a common definition of democracy for all modern societies. Representatives of the Free Burma Movement/Initiatives for International Dialogue also shared the movement's conditions for democratic conduct of the elections: 1) the release of Suu Kyi and other political prisoners to enable their participation in the 2010 elections; 2) the cessation of hostilities against ethnic minorities and political activists; and 3) an all-inclusive review of the 2008 Nargis Constitution.
Reported by Patricia Vega