Asia Society Announces 2013 Asia 21 Young Leader Awardees
Asia-Pacific region's top leadership program identifies and brings together region's top leaders under 40
New York (November 6, 2013) — Asia Society is pleased to announce the Class of 2013-2014 Asia 21 Young Leaders, a prestigious group of the region's emerging leaders under 40 in fields including government, business, policy, education, and arts. This is Asia Society's 8th class of Asia 21 leaders chosen for their outstanding achievements, their promise for the future, their commitment to public service, and their desire to make the world a better place by collaborating with counterparts across the Asia-Pacific region.
"The selection process was extraordinarily competitive this year and the new class brings together a group of truly dynamic and outstanding individuals," said Asia Society, Global Leadership Initiatives Executive Director Dr. Michael G. Kulma. "We are very excited about this new class and we look forward to meeting and engaging everyone in Zhenjiang, and welcoming all to the Asia 21 Family."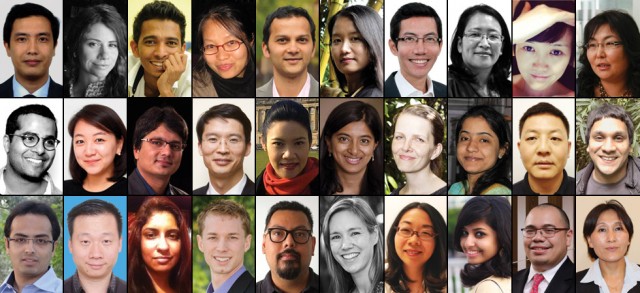 This year's winners include: Humaira Bachal, Founder of the Dream Foundation Trust, which works for girls' right to education in Pakistan; Ibrahim 'Ibba' Bernardo, Founder and CEO of Sari Software Solutions, which aims to leverage technology to empower the underserved socio-economic sectors of society; Van-Nguyet Do, Founder and Director of Live & Learn for Environment and Community, a Vietnam-based NGO; Shoaib Iqbal, founder and Director of The Little Art, a non-profit arts education organization in Pakistan; Winston Wenyan Ma, Managing Director of China Investment Corporation, the sovereign wealth fund of China; and Sangwon Yoon, New York-based diplomatic correspondent for Bloomberg News.
To see this year's full list of 30 winners and learn about their backgrounds click here.
The Class of 2013 will be committed to:
Attend the Class of 2013-14 Forum (December 4-5) and the 2013 Asia 21 Young Leaders Summit (December 6-8) in Zhenjiang, China.
Participate in monthly teleconferences with classmates in the time leading up to the Forum and Summit, and as needed
Work together with other members of their class to select an organization to receive the 2013 Asia 21 Public Service Award, to be presented at the Summit in December. In addition, the spring 2014 meeting of the class will be a visit to the Public Service Award winning organization to determine how their class can work together with them to advance their work.
Actively lead and engage in Asia 21 online activities, public service projects, and efforts to develop Asia 21 satellite programs in their home countries.
This year's summit will play host to over 100 of the region's most accomplished young leaders, representing over 20 countries and both the past and present of the Asia 21 program.  With the theme From Passion to Action: Asia 21 Innovating for the Future, participants will delve deeply into a vision for social innovation in Asia, assess their roles as civic-minded leaders in the rapidly changing Asia-Pacific landscape, and explore ways to enhance and sustain their collective capacities.
Asia Society's Asia 21 Young Leaders Initiative is the Asia-Pacific region's top next generation program for emerging leaders under the age of 40 to build relationships, engage in interdisciplinary dialogue and cultural exchange, and develop cooperative responses for addressing shared challenges. With close to 800 members, active chapters across the region, and robust collaborations that bring leaders together from across borders and boundaries, the network comprises of young leaders from various sectors. Acceptance as an Asia 21 Young Leader not only makes the individual a part of this powerful network; it also makes the young leaders responsible for strengthening the Asia 21 community, presenting innovative solutions to our shared challenges, and activating the collective brain trust to take action.
Former Asia 21 participants include Academy Award winning filmmaker Sharmeen Obaid-Chinoy, mayor of Los Angeles Eric Garcetti, Philippines Senator Paolo Benigno "Bam" Aquino IV, head of TOLONews TV Afghanistan Lotfullah Najafizada, Founder and President of the Bangladesh Youth Leadership Center (BYLC) Ejaj Ahmad, and President & Director,  PT Saratoga Investama Sedaya and Asia Society Trustee Sandiaga Uno.
The Asia 21 Young Leaders Summit is supported by Founding International Sponsor, Bank of America Merrill Lynch. Other support comes from Medtronic Philanthropy, Asia Society's Richard C. Holbrooke Fellowship for Next Generation Policy Leaders, and Kathwari Family Foundation.
For more information about Asia 21, please visit www.AsiaSociety.org/Asia21 or contact Ms. Kathryn Cárdenas at KCardenas@asiasociety.org.
About the Asia Society
Asia Society is the leading educational organization dedicated to promoting mutual understanding and strengthening partnerships among peoples, leaders and institutions of Asia and the United States in a global context. Across the fields of arts, business, culture, education, and policy, the Society provides insight, generates ideas, and promotes collaboration to address present challenges and create a shared future.
Asia Society is headquartered in New York, with centers in Hong Kong and Houston, and offices in Los Angeles, Manila, Mumbai, San Francisco, Seoul, Shanghai, Sydney, and Washington, D.C.
Asia Society is on the web at www.AsiaSociety.org