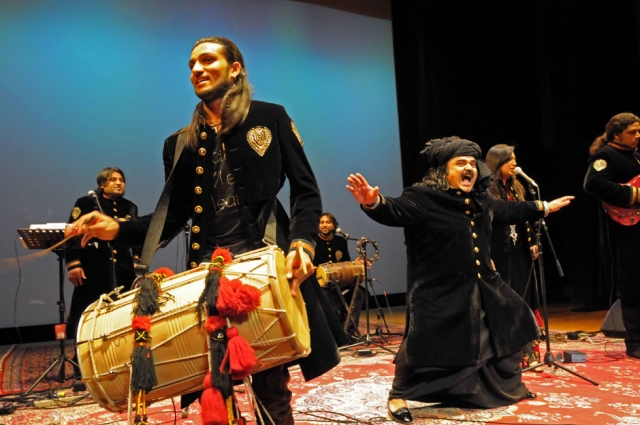 Punjabi singer Arif Lohar sold out two concerts at Asia Society New York on April 27 and 28, 2012. (Elsa Ruiz/Asia Society)
A distinguished international group of individuals devoted to the richness and importance of Asia, the Society's Patrons receive exceptional access and benefits that extend far beyond basic membership levels. Patron members truly experience the impact of Asia Society's mission and connections worldwide. Through a deep commitment to preparing Asians and Americans for a shared future, these diverse groups offer vital support to the institution as a whole. Discover the right group for you.
All patron members enjoy the following benefits:
Unlimited free admission to the Asia Society Museum
Discounted admission to all public programs, including performances, films, lectures
10% discount at AsiaStore and the Garden Court Café
Members-only holiday shopping
Reciprocal admission at over 650 other institutions in North America
Reciprocal admission at ten other Asia Society centers worldwide, including Hong Kong, Los Angeles, Manila, Mumbai, San Francisco, Shanghai, Seoul, Sydney, Texas, and Washington, D.C.
Priority mailing of calendar of events and subscription to weekly email
Ways to Join Today:
Select a membership level below to purchase online.
Contact the Patron office at 212-327-9302 or [email protected]
Download the membership form.
Please note that Memberships are not refundable or transferable. Categories and benefits are subject to change.
---
President's Circle
Through a close relationship with the President of Asia Society, President's Circle members enjoy an important connection with the Society's activities and leadership. Members can expand their networks through exclusive events with prominent political dignitaries, business leaders, and cultural figures.
Supporter $1,500 - $2,499
$35 not tax-deductible
∨ Show full benefits
Benefits for two adults
Invitations to a series of Patron events including activities and programs in Asian arts and culture, business, education, and policy
Invitation to the Fall Patron Reception and the Annual Patron Meeting and Reception, with a briefing from Asia Society's President
Invitations to spring and fall VIP exhibition previews with private, curator-led tours
Discounted admission to all New York public programs
Invitations to Asia Society's Annual Dinner and Celebration of Asia Week Gala
A one-year complimentary Dual/Family gift membership for a friend or family member
---
Contributor $2,500 - $4,999
$150 not tax-deductible
∨ Show full benefits
All benefits at Supporter level for two adults plus...
All the benefits of Friends of Asian Arts membership at the Supporter level
Invitations to Asian art and culture programs including visits to private collections
Invitations to fall and spring gallery walks
Invitations to select business-related luncheons and receptions
Invitations to education-related events featuring Asian and American leaders in the field
Invitations to policy briefings with experts on current issues in the news
One copy of an Asia Society publication published during the year
Six free admission passes to visit the Asia Society Museum
---
Sustainer $5,000 - $9,999
$180 not tax-deductible
∨ Show full benefits
All benefits at Contributor level for two adults plus...
Invitatins to an Asia Society Signature Salon Dinner with senior government, business, and civil society stakeholders from Asia and who are involved in Asia
Priority access to view private collections where space is limited
Invitations to select exhibition opening dinners
Priority registration for President's Circle activities
Complimentary admission for two to select New York public programs with prior registration
One copy of an exhibition catalogue published during the year
Plus all the benefits listed above
---
Chairman's Circle
An association of some of the Society's highest-level patrons, Chairman's Circle members have ready access to Asia Society's Chairman of the Board of Trustees. This special relationship allows members to play a key role in shaping the future of Asia Society.
Sponsor $10,000 – $24,999
$180 not tax-deductible
∨ Show full benefits
All benefits at Sustainer level for two adults plus...
Invitations to special events with Asian world leaders and dignitaries during United Nations General Assembly Week
Invitations to Asia Society Signature Salon Dinners with senior government, business, and civil society stakeholders from Asia and who are involved in Asia
Opportunities to meet with Asia Society leadership team to discuss topics of interest in arts and culture, business, education, and policy
Private curator-led tour of an Asia Society exhibition for 10 guests
Listing as an Asia Society donor on printed materials at New York programs for the year
One copy of one of two exhibition catalogues published during the year
---
Benefactor $25,000 and above
$180 not tax-deductible
∨ Show full benefits
All benefits at Sponsor level for two adults plus...
Invitation to cocktail reception with Asia Society Board members
Invitations to attend select events at Asia Society Centers worldwide
Assistance with introductions to Asian policy, arts, and business dignitaries
Listing as an Asia Society donor on the wall signage in the Garden Court Café
One copy of all exhibition catalogues published during the year
Additional benefits tailored to the individual
---
Friends of Asian Arts
A fascinating group passionate about Asian art, from the visual to the performing and from traditional to contemporary. Members enjoy exclusive access to the Society's extensive resources including curators, scholars, and art experts. The Friends are vital to the success and growth of Asia Society's artistic and cultural programming.
---
---
---
---
Contemporary Art Council
This exclusive group of collectors enjoys special access to information and resources that are currently scarce on contemporary cutting-edge Asian art. With a specific focus on collecting, members learn more about contemporary art in Asia through special private lectures, studio visits with artists, and curator-led trips to Asia.
For more information on this special group, please call 212-327-9349.