Special Events
Support Asia Society by joining us for events throughout the year to celebrate Asian culture and arts and to build awareness of issues centered on business, policy, diversity, and education affecting the global and local Asian community.
Proceeds from New York Special Events provide critical funding that helps support Asia Society's operations and programs, and may provide tax-deductible benefits for donors and sponsors.
UPCOMING EVENTS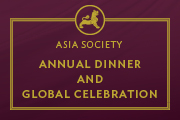 2014 New York Annual Dinner and Global Celebration
Thursday, October 16, 2014
6:00-9:30 pm
United Nations Delegates Dining Room and Terrace
New York City
An evening honoring people who are changing Asia — and the world — in business, arts, policy, education and philanthropy.
For tables, tickets and inquiries, please email: [email protected]
Or call: 1-212-327-9335
RECENT SPECIAL EVENTS

2013 New York Awards Dinner
October 17, 2013
The Pierre, a Taj Hotel
New York City
Videos, slideshow and related coverage
Previous Years
2012 New York Awards Dinner
2011 New York Awards Dinner
2010 New York Awards Dinner

Celebration of Asia Week 2013
March 18, 2013
The Pierre, a Taj Hotel | New York City
View the slideshow
Summary and related coverage
Previous Years
2012 Celebration of Asia Week
2011 Celebration of Asia Week