Garden Court Café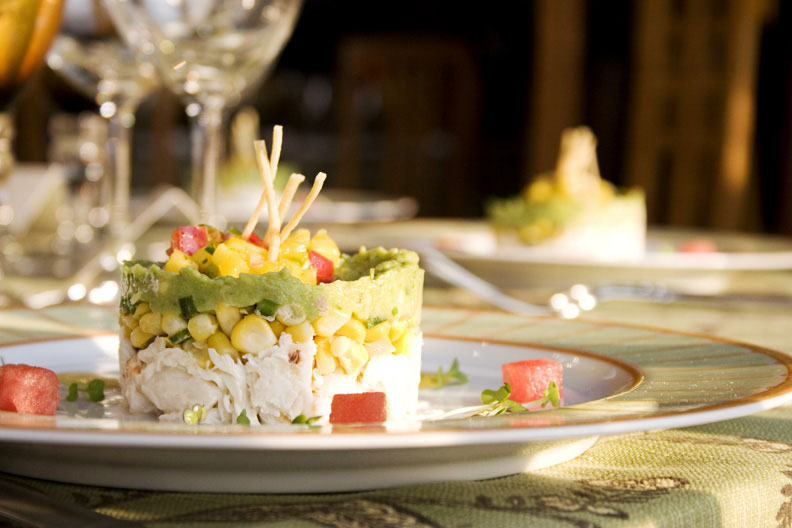 "Culinary Shangri-La secreted inside the Asia Society and Museum building on Park Avenue."
— "All-Star Eateries In New York," Forbes magazine
Michelin Guide to New York City recommendation, 2009 and 2010
---
Our glass-enclosed, sky-lit Garden Court floods the lobby with light and has art installations, flowering vines and trees, and a café. The Garden Court also serves as a venue for informal performances, readings, discussions with artists, and other special events.
Reservations are highly recommended. To make reservations, please call the Café Manager 24 hours in advance at 212-570-5202.
The Café is operated by Gracious Thyme. Executive Chef: Mark Cummings.
Location
The Garden Court Café is located in the lobby of the Asia Society and Museum at 725 Park Avenue at 70th Street in New York City.
Hours
Lunch is served Tuesday through Sunday from 12:00 noon until 3:00 pm. (Last seating at 3:00 pm.) Closed Mondays. Please call 212-570-5202 for reservations and updated hours, particularly on holiday weekends. PLEASE NOTE: The Cafe is closed on Memorial Day Weekend: Saturday, May 25 through Monday, May 27, 2013.
Summer Hours
Between July 1 and Labor Day, summer hours for the Café are Tuesday through Sunday, 12:00 noon until 2:00 pm (subject to change).
---
Rental Space
The Garden Court is a beautiful setting for almost any type of event, from elegant receptions and dinners to artistic salons and corporate soirées.
For more information about space rental, click here.
---
Menu
Appetizers
Edamame
Spiced Hawaiian Pink Sea Salt
Thai Chicken Soup with Shrimp and Snow Peas
Garden Court Salad
Butter Lettuces, Asian Pears, Maytag Blue, Candied Cashews, Sesame Rice Vinaigrette
Spring Rolls with Mango and Grilled Asparagus
Honey Chili Sauce
Green Apple and Thai Curry Crab Cake
Apple-Fennel Salad and Cilantro Aioli
Entrees
Watercress, Endive, Mango and Grilled Shrimp Salad
Citrus Vinaigrette
Breast of Chicken with Garam Masala
Red Lentils with Whole Spices, Sautéed Spinach
Jasmine Rice with Pistachios
Pan Seared Salmon with Tomato Nigella Chutney
Roasted Eggplant
Vegetable Couscous
Chicken Curry Salad
Asian Vegetable Slaw, Chili-Lime Cucumbers and Jasmine Rice
Bento Box
Chicken Curry Salad, Jasmine Rice and Two Chef Selections
Garden Court Turkey Burger with Sriracha Ketchup
Fairview Farms Turkey, Cheddar and Grilled Red Onion
Vegetable Tofu Stir Fry with Roasted Cashews
Jasmine Rice
Desserts
Cappuccino Crème Brulee
Warm Chocolate, Banana Bread Pudding
Homemade Vanilla Bean Ice Cream
Lemon Pound Cake with Black Pepper Lemon Curd
Homemade Vanilla Bean Ice Cream
Chocolate Mousse Pyramids with Raspberry Puree
Warm Caramel Pecan Cake
Homemade Vanilla Ice Cream
Orange Cardamom Panna Cotta
Assorted Homemade Cookies
Homemade Ice Creams
Served with Shortbread Cookies
Select Long-Leaf Loose Teas
Ruby Sipper ~ Tisane
The flavor of Blood Orange softened by a medley of fruity sweetness
Naturally caffeine free
ZZZ ~ Tisane, organic
Made with Egyptian Chamomile and fragrant French Lavender
Naturally caffeine-free
Once Upon a Tea ~ Tisane
Chocolate, Mint, Vanilla and Rooibos
Naturally caffeine free with traces of dairy
Snow White ~ White Tea, organic
Organic White Tea blended with apples and a touch of nuttiness
Mao Jian ~ Green Tea
Sweet Green Tea with hints of fruit (China)
Fiji ~ Green Tea
Luscious Green Tea combined with Papaya and wild Pineapple
Jasmine Apple ~ Green Tea
Fusion of Green Apple and Jasmine Flower
Darjeeling ~ Black Tea, organic
Nutty notes, pronounced greenness with strong character (India)
Earl Grey ~ Black Tea, organic
Flavor from Oil of Bergamot (Sri Lanka)
Siam ~ Black Tea and Herbal Blend
Aromatic combination of Mint, Clove, Cardamom, and Cinnamon (Siam)
Vanilla Orchid ~ Black Tea
Black Tea infused with the sweetness of Vanilla
Iced Tea
Black Tea Fruit Blend
Lili'uokalani "Simply Luscious"
Iced Tea of the Day
(Ask servers for today's selection of homemade iced tea)
Juice/Soda
Coca Cola, Diet Coke, Sprite, Ginger Ale
Pomegranate Spritzer
Orange, Apple, Cranberry Juice
Water
San Pellegrino
Coffee and Tea Drinks
Coffee
Espresso
Latte
Cappuccino
Chai
Tea
Wine
Chardonnay, Louis Latour
Pinot Noir, Louis Latour
Pommery POP champagne, 187 ml
Pommery POP champagne, Pink Rose 187 ml
Beer
Tsingtao, China
Stella Artois, Belgium
Amstel Light, Holland
* * *
Tables of six or more will be charged a 20% gratuity.
This café is operated by Gracious Thyme (click on link for more information).



For questions or concerns regarding the Garden Café, please call Hesh Sarmalkar, Director of Events and Visitor Services, at 212-327-9322.
Photo: Gracious Thyme.