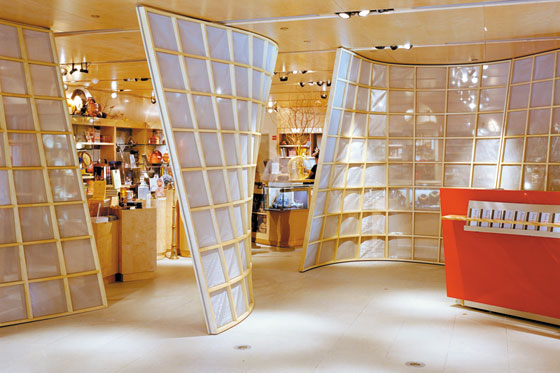 AsiaStore at Asia Society and Museum
Rated one of the top museum shops by Zagat's New York City Shopping Guide, AsiaStore at Asia Society and Museum offers a stunning selection of Asian-inspired gift items. With a commitment to featuring the luxury brands of Asia and promoting Asian and Asian American design talent, AsiaStore is at the forefront of presenting the best in Asian design.
Some may already be familiar with the Asia Society's world-renowned collection of books on Asia. AsiaStore continues to satisfy bibliophiles with scores of titles on art, culture, politics and religion in Asia. With inspiration from our current exhibitions, AsiaStore's offerings have been expanded to include hundreds of unique gift items from all over Asia, including a wide selection of jewelry, decorative accessories, teapots and tableware, textiles, stationery and novelty items in a variety of price ranges.
"AsiaStore is a unique and dynamic retail environment that showcases the creative works of Asian and Asian American artisans," said Anne Godshall, AsiaStore's Chief Merchandising Officer. "Special outreach, such as designer calls, has enabled AsiaStore to promote exciting new designers, many of whom are being shown exclusively at the Asia Society. AsiaStore's efforts to offer a venue for the works of Asian and Asian American artisans goes hand in hand with the Museum's efforts to bring traditional and contemporary Asian and Asian American art to a broader audience."
Visit our website and Facebook page to discover more about AsiaStore products and designers.
---
Location
AsiaStore at Asia Society and Museum
725 Park Avenue (at 70th Street)
New York, NY 10021
Hours of Operation
Monday through Sunday, 11:00 am to 6:00 pm; Fridays until 9:00 pm.
Holiday hours 2014
AsiaStore will close early, at 4:00 pm, on Wednesday, December 24 and Wednesday, December 31. The store is closed on Thursday, December 25 and Thursday, January 1, 2015.
Please note: AsiaStore will be closed Mondays from January 5 through February 10, 2015.
Contact Us
Customer Service and Product Information
Phone: (212) 327-9217
Customer Service

Shipping and Delivery
Phone: (212) 327-9277
Shipping