Since taking office, President Donald Trump's most pressing international security challenge has been the acceleration of the North Korean nuclear program. In April 2017 alone, North Korea's leader Kim Jong-un showcased the advances in its missile technology during an ostentatious military parade and conducted two missile tests on April 16 and April 28. Though both missile tests failed, they raised concerns in the United States and across the Asia-Pacific region about North Korea's growing capabilities and aggression.
The Trump Administration has responded with tough talk of its own, with Vice President Mike Pence declaring during a visit to South Korea that "the era of strategic patience" toward North Korea is over. Secretary of State Rex Tillerson has indicated that all options are on the table, emphasizing more than past U.S. administrations that, if necessary, the United States would consider taking military action to stop the North's nuclear program. This has alarmed countries in the region, especially South Korea and Japan, about an impending crisis on the Korean Peninsula.
South Korean elections on May 9 have added additional complexity to the picture. New leader President Moon Jae-in has called for diplomatic talks with the North at a time when the United States and others want to step up pressure on Kim Jong-un. This could make it difficult for the international community to reach consensus on how to deal with North Korea.
As these developments occurred in real time, Asia Society Policy Institute staff, including President Kevin Rudd, Diplomat in Residence and Senior Fellow Daniel Russel, and Director of Asian Security Lindsey Ford provided analysis on the real dangers of the North Korean nuclear program, the policy options available to President Trump and China, and what the implications of a full-blown crisis on the Korean Peninsula would be for the United States and the region. See their contributions below.
(The below compilation was updated on May 24, 2017.)
---
Kim Jong-un is 'Determined to Have a Nuclear Capability'
On WNYC's The Takeaway on April 13, Lindsey Ford discusses North Korea's determination to obtain a nuclear weapon and the challenges Japan, South Korea, and the United States face in constraining it. (7 min.)
---
Focus on North Korea's Capabilities, Not Its Military Parade
On Fox's America's News HQ on April 15, Kevin Rudd argues that the United States should ignore North Korea's bluster and focus on working with China for a solution in the Korean peninsula. (8 min., 11 sec.)
---
U.S. Needs a New Combined Diplomacy with China on North Korea
In a CNN interview on April 15, Kevin Rudd addresses North Korea's military parade and what it means for U.S.-North Korea tensions. (7 min., 28 sec.)
.@MrKRudd tells @CNN don't focus on optics, but technical progress of North Korea nuclear program. https://t.co/OeLpALlh2m

— ASPI (@AsiaPolicy) April 17, 2017
---
The Risks and Rewards of President Trump's North Korea Strategy
In an explainer interview on Asia Blog, Lindsey Ford discusses how the U.S. and China might resolve the current crisis in North Korea.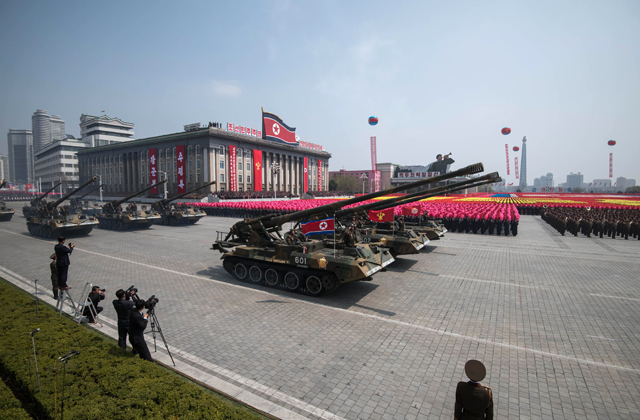 ---
Trump's North Korea Policy Not New or Different Thus Far
Lindsey Ford lays out Donald Trump's North Korea strategy and options for MSNBC's Ali Velshi. (7 min., 8 sec.)
---
Chinese Leverage Key to U.S. North Korea Policy
On April 23, Kevin Rudd explains to CNN Today that the international community must use Chinese leverage to change North Korea's nuclear behavior. (7 min, 46 sec.)
Fmr. #Australian PM @MrKRudd talks #NorthKorea @cnntoday w/@holmescnn & @AmaraCNN #Nuclearweapons #KimJongUn https://t.co/R7p50IfCuk

— CNN Today (@cnntoday) April 24, 2017
---
Diplomatic Solution Still Possible on Korean Peninsula
On the BBC's Briefing Room podcast on April 27, Daniel Russel argues that it would be a mistake to think that war with North Korea is inevitable or that a diplomatic solution isn't possible. (28 min, 9 sec.)
---
North Korea: Keep Cool and Carry on?
On CNBC's "Squawk Box" on May 1, Kevin Rudd warns politicians against engaging in any "incidents" in North Korea that could have harsh consequences. (2 min., 41. sec.)
---
With South Korean Elections Approaching, North May Behave Badly Again
After another failed North Korean missile test and with elections imminent in South Korea, Kevin Rudd discusses Donald Trump's North Korea strategy with the BBC on May 1. (4 min., 34 sec.)
---
Turnbull and Trump to Focus on North Korea
On MSNBC on May 4, Kevin Rudd discusses the long-standing U.S.-Australia alliance and the common challenge both countries face from North Korea. (4 min., 2 sec.)
---
North Korea a Shared Strategic Concern for the U.S. and Australia
Kevin Rudd tells CNBC's Squawk Box on May 4 that Donald Trump and Australian Prime Minister Malcolm Turnbull will find a way to work together on challenges like North Korea. (4 min., 39 sec.)
---
Chinese Oil Key Point of Strategic Leverage Against North Korea
On May 14, 2017, Kevin Rudd spoke to Fox News about North Korea's latest ballistic missile test, how to pressure Kim Jong-un, and whether a missile defense system in the Western United States was a solution to the problem. (4 min., 53 sec.)