Asia Rising — No. 3, July/August 2015
A Monthly Letter from ASPI President Kevin Rudd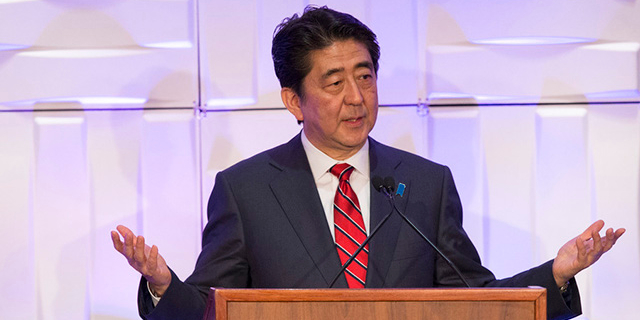 Japan's Economic and Foreign Policies Under Shinzo Abe
Last month, during a visit to Japan, I had the privilege of meeting with a number of senior government officials, business leaders, and policy analysts in order to gain further insight into Prime Minister Shinzo Abe's policy aims for Japan's economy, foreign relations, and national security future.
Prime Minister Abe has dedicated his second term in office to an ambitious economic reform agenda, known as "Abenomics." The strength of Japan's economy — the second largest in Asia — has a significant influence on the economic vitality of the Asia-Pacific region. Asia is watching closely whether the "third arrow" in his economic armory — structural reform — will be fired or will remain in the quiver.
In the international arena, Prime Minister Abe has pushed for Japan to assume a stronger leadership role in regional affairs and strengthen its commitment as an ally of the United States. Japan's unfolding foreign and security policy under Prime Minister Abe has wide regional implications for China, the United States, and the Republic of Korea. Japan's security policy also dovetails with security policy deliberations in Southeast Asia and South Asia, given the particular nature of the strengthening India-Japan relationship, as well as Japan's relationships with the Philippines and Vietnam.
National Security and Foreign Relations
It is difficult to overemphasize the significance of the Japanese government's decision to reinterpret Japan's right to use force under its postwar constitution. The relevant provision of Article 9 of Japan's postwar constitution reads that "the Japanese people forever renounce war as a sovereign right of the nation and the threat or use of force as means of settling international disputes." The government's reinterpretation of this provision brings about changes concerning the definition of collective self-defense. First, under the proposed reinterpretation, if a foreign ship were to attack, for example, a United States ship in Japanese waters, Japan would come to the aid of that United States vessel, although under the new security policy, it would still not be empowered to retaliate against that third country's attacking vessel.
Second, and perhaps more significantly, the Japanese Self-Defense Force, with parliamentary support, would now have the right to respond to attacks on third countries, not just the United States, and thereby aid American allies that are also in close association with Japan — provided that those attacks directly affect Japanese security and that the country or countries in question specifically request Japanese assistance.
In April 2015, the United States and Japan also agreed to new defense guidelines which enable Japan to participate in broader humanitarian peacekeeping operations. Furthermore, these new guidelines enable Japan to cooperate with the United States in cyberspace for the first time, and they deal more extensively with intelligence, surveillance, reconnaissance, air and missile defense, maritime security, asset protection, training exercises, logistic support, and the use of facilities. These major sub-agreements all occur within the framework of the reinterpretation of the Japanese peacetime constitution.
Putting these various factors together, we are seeing a decisive shift in the way in which Japan, under Prime Minister Abe, sees its future national security posture, and its future national security flexibility in terms of its operations regarding not just the United States, but also allies of the United States in the Asia-Pacific region.
Japan's new national security posture is worth keeping in mind as we reflect on the statement made by Prime Minister Abe on August 15 to mark the 70th anniversary of the conclusion of the Pacific War. Japanese custom calls for the prime minister to make a statement every 10 years to the Japanese people, and the world at large, on his understanding of Japan's involvement in World War II. Most commentary on this most sensitive of subjects begins with the Murayama Statement of 1995, in which then Prime Minister Tomiichi Murayama said that Japan formally apologized for its mistaken national policy of advancing along the road to war and for causing, through its colonial rule and aggression, tremendous damage and suffering to the people of many countries.
Prime Minister Abe's August 15 statement was rejected immediately by China, which described the speech as "diluted" and constructed with a series of deliberate "linguistic tricks." The China-Japan relationship remains buried beneath layers of strategic mistrust. This is also reflected in Japan's annual defense report for 2015, released in late July, which suggests that from Tokyo's perspective, the principal strategic challenge it faces for the future is China. The report says, "China, particularly over conflicting maritime issues, continues to act in an assertive manner, including coercive attempts to change the status quo, and is poised to fulfill its unilateral demands high-handedly and without compromise. Japan is strongly concerned about China's actions, and we need to keep watching closely."
Abenomics
Much has been written and said about Prime Minister Abe's "three arrows" policy, often described more broadly as Abenomics. This consists of the following elements.
The first is a decisive policy of fiscal expansion that has generated more than US$240 billion in additional government spending since the early part of 2013.
The second has been the Japanese government's decision, under the new governor of the Central Bank of Japan and supported by Prime Minister Abe, to engage in a U.S.-style policy of quantitative easing, up to 57% of GDP. Quantitative easing in Japan has had the direct effect of lowering the value of the Japanese yen on currency markets, which in turn has provided a boon to Japanese exports.
The third arrow, often described as the missing arrow, has been a major program of structural reform to the domestic economy. The heart of these reforms lies in taxation, agriculture, trade liberalization, and the role of women in the workplace.
An increase in the consumption tax from 5% to 8% is meant to bolster the capacity of the Japanese government to deal with past debt as well as future calls on the budget in defense, retirement income, and health costs. On agricultural reform, Prime Minister Abe is using trade policy agreements (including the upcoming Trans-Pacific Partnership, or TPP) to force domestic policy changes in Japan's highly protected farm sector, which punishes Japanese customers and diverts investment capital from other sectors. The third arrow also calls for greater inclusion of women in the Japanese workforce. I've seen many figures pointing to the impact on Japanese growth if Japan were to achieve female workforce participation rates comparable to most other OECD economies. On this question, Abe is going against centuries of Japanese tradition. Nonetheless, he has a high level of political resolve and has sought to lead from the front by appointing a record number of women to the Japanese cabinet, and by insisting that public company boards in Japan include more women.
Abe's agenda across domestic and international policy is ambitious. For the Asia Society Policy Institute, I see promising opportunities to engage Japan in a number of our regional policy initiatives. We are honored to have the Hon. Yoriko Kawaguchi as a member of ASPI's Policy Commission for the "Securing Peace in Asia" initiative, which seeks to build stronger regional institutions in the Asia-Pacific. I will also be engaging other Japanese practitioners, policy experts, and thought leaders in other upcoming ASPI policy commissions.
---
Update on ASPI Initiatives
India and APEC: Charting a Path to Membership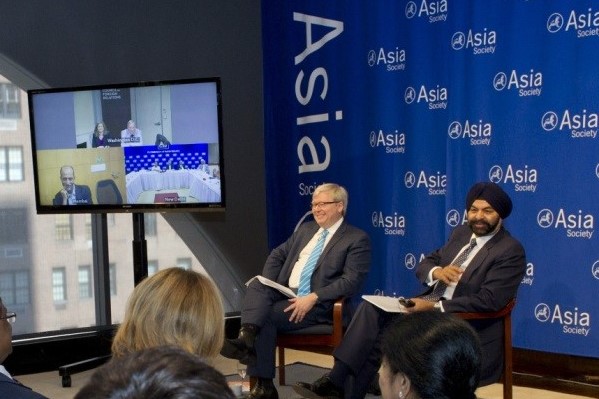 On July 20, ASPI launched its new initiative on India's future accession to APEC with a successful event at Asia Society's New York headquarters. Task Force Co-Chairs Ajay Banga, President and CEO of MasterCard Worldwide and Chairman of the U.S.-India Business Council, and Amb. Shyam Saran, former Foreign Secretary of India, joined me for a roundtable discussion on the prospects and challenges for India to join the Asia-Pacific Economic Cooperation (APEC) forum. We were pleased to also have with us Fred Bergsten, Director Emeritus and Senior Fellow at the Peterson Institute for International Economics; Sunil Kant Munjal, Chairman of the Confederation of Indian Industry's International Policy Council; and Alyssa Ayres, Senior Fellow at the Council on Foreign Relations.
Supporting Myanmar's Political and Economic Transition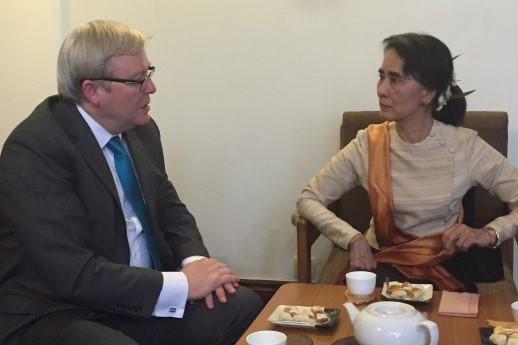 In late July I traveled to Myanmar to discuss the country's coming parliamentary elections and the need for a free, fair, and credible process; to gain better understanding of Myanmar's overall development; and to explore new ways forward for ASPI's Myanmar Initiative, which has engaged in policy analysis and dialogue throughout the past six years. During the trip, I met with President Thein Sein; Parliamentarian and National League for Democracy Chair Aung San Suu Kyi; Parliamentary Speaker Thura Shwe Mann (who was abruptly removed from his ruling party leadership only last week); cabinet ministers charged with economic development, the country's national ceasefire process, and the conduct of the upcoming election; and other civil society and ethnic group leaders. ASPI will remain directly engaged with the political transformation process.
I welcome your interest in our projects as they develop in the months ahead. I also look forward to your engagement in ASPI's upcoming events this fall — particularly around the UN General Assembly here in New York.
I'll see you then.
Kevin Rudd
President, Asia Society Policy Institute
26th Prime Minister of Australia
"It is difficult to overemphasize the significance of the Japanese government's current exercise in the reinterpretation of Japan's postwar constitution," says Kevin Rudd.


ASPI initiative, led by a high-level Policy Commission, to strengthen regional security institutions in Asia.

This ASPI initiative aims to accelerate India's entry into the Asia-Pacific Economic Cooperation (APEC) forum.

Since 2009, ASPI's Myanmar Initiative has sought to strengthen relations between Myanmar and other countries and to support Myanmar's transition to democracy.