MANILA, Philippines – As the Philippines faces a rekindled interest in its economic prospects while dealing with pervasive governance issues, the principles and outcomes of sustainable development and "inclusive growth" underpin these challenges and opportunities.
Asia Society Philippines, INCITEGov and The Open Budget Partnership sought to face these head on by organizing the forum, "Transparency 2.0: Good Governance Systems for Inclusive Development." Last September 17, 2013, over 120 attendees from government, civil society, business, academe and diplomatic mission took part in the discussion on critical reforms and programs vital to improving transparency and achieving inclusive development.
Doris Ho, Chairperson of Asia Society, opened by giving a brief recap on last year's Philippine Transparency Forum and emphasizing the importance of this annual forum. MAP President Melito Salazar, Jr. spoke about the initiatives of MAP to level the playing field for business. After both remarks, Professor Ronald U. Mendoza, Executive Director of the AIM Policy Center, then stepped in to moderate the discussion.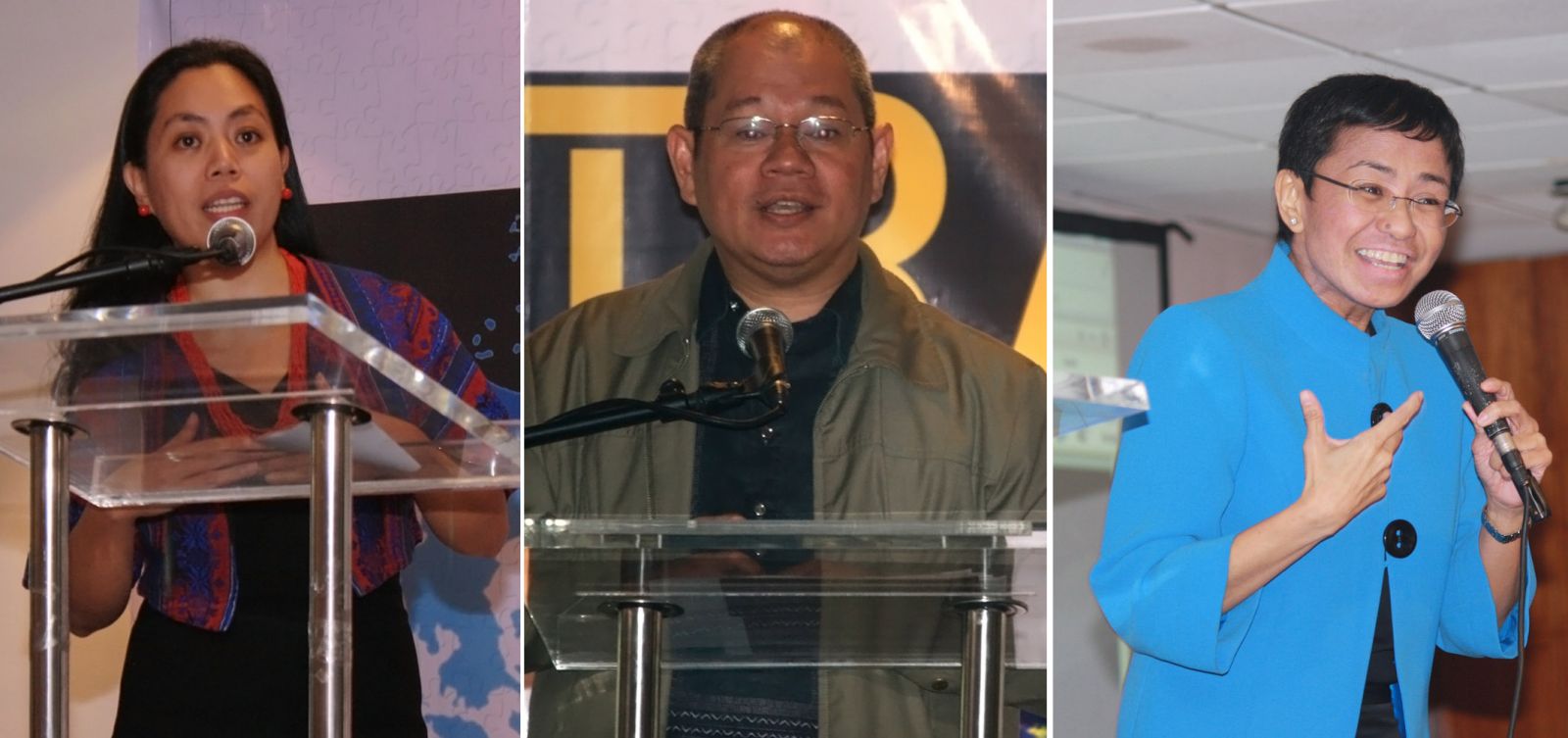 L-R: INCITEGov Executive Director Tanya Hamada, DBM Undersecretary Richard Bon Moya, Rappler CEO Maria Ressa
Information Transparency
Maxine Tanya Hamada, Executive Director of INCITEGov, led the discussion on Information Transparency by sharing the possibilities of citizen engagement and its utilization in the Open Budget Partnership. The Open Budget Partnership (OBP) is a collaborative initiative between the government, civil society organizations, professional organizations, finance organizations, academic institutions, and international development agencies that aim to bring good governance to the Philippine government budget process. Hamada implored the need for ordinary citizens to ultimately understand and engage in the future national budget preparations.
Following Tanya Hamada's presentation on citizen engagement, was the energetic Usec. Richard Bon Moya, Chief Information Officer of the Department of Budget and Management. Usec. Moya, presented the steps that the current administration has taken towards the goal of making the Philippines a model of Open Data Initiative (ODI). With the ODI, full public disclosure of government data will be made possible, in congruence to the Freedom of Information Bill which will be put to a vote in the 16th Congress. The Open Data Initiative, is a major project that seeks to transform all government data into information that is understandable and visually engaging. Mr. Moya, in closing his talk, said that "even if we create these systems, the people themselves must have the initiative to seek data that is already present at the moment, before even asking us for new data."
Maria Ressa, CEO of Rappler and a household name in the world of journalism, focused on the aspects of media integrity and an innovative concept called "Big Data". With the use of social media and "mood meters" in the website of Rappler, Maria Ressa and her team were able to "map" the emotions of the people and to observe how certain issues affect these emotions. She emphasized that no matter how logical a decision of a human being is, people are essentially emotional, thus affecting the decision-making process of an individual. She pointed out that with these technologies can be used in various applications and fields of study.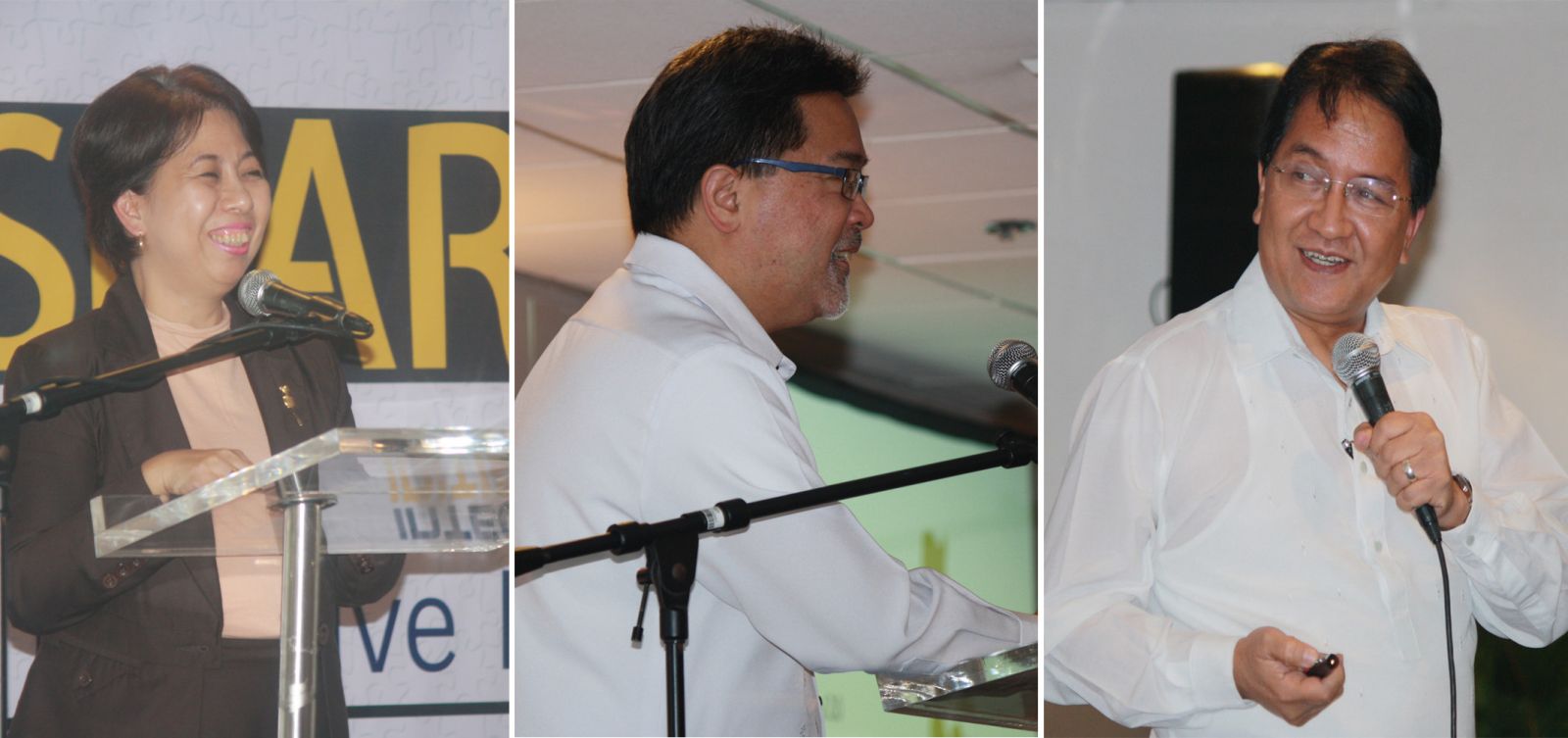 L-R: DOF Asst. Secretary Teresa Habitan, NCC Private Sector Co-Chairman Bill Luz, Former NEDA Secretary Dr. Ciel Habito
Economic Transparency
For the 2nd session on Economic Transparency, Assistant Secretary Teresa Habitan of the Department of Finance, discussed the aspects of revenue transparency through the Extractive Industries Transparency Initiative (EITI). EITI, launched on a global stage by former UK Prime Minister Tony Blair in September 2002, is a global standard that ensures transparency and better governance of natural resources. With the Philippines participation in the EITI, Asst. Sec. Habitan pointed out that this is a huge step forward to taking care of the rich natural resources that we have in our country. This is to ensure that all parties within the Philippine economic arena has a level playing field.
Guillermo "Bill" Luz, the Private Sector Co-Chairman of the National Competitiveness Council, on the other hand, presented the steps that are being implemented in order to level the playing field in terms of local businesses and investments. One of these is the "simplification and streamlining" of government procedures (i.e. business permits, registering a property, paying taxes, getting electricity, etc.) With the BPLS (Business Permits and Licensing System) Streamlining Project , municipalities like the San Fernando City of Pampanga declared an increased revenue from the Q1 which is 113.3 million pesos, to Q2 which is 127.6 million pesos (12.6% increase). With these observations, Mr. Luz and his team aims to implement the BPLS Streamlining Project to all 1,634 local government units by 2016. Mr. Luz also emphasized the need for sincere and devoted officials, and the Filipino people's responsibility in voting for these people.
Former Senator Leticia Ramos-Shahani posing a question during the open forum
The last speaker, former NEDA Secretary Dr. Cielito Habito, shared his experience on competition policy, which is essential for industries to sustain their benefits to Filipino consumers and citizens. Mr. Habito said that a strong competition policy would promote a more open environment for investment, innovation, and appropriate pricing. In order to reduce the gap between the rich and the marginalized, the Philippine government should focus on reforms towards a greater competition policy.
The forum was closed by the Executive Director of the Makati Business Club, Mr. Peter Perfecto. Transparency Forum 2.0 is part of the month-long celebration of the Integrity Initiative. It was presented by Metro Pacific Investments and supported by SEAOIL Philippines.

For more information, you may refer to the following presentations:
Download Open Budget Partnership by Tanya Hamada
Download Open Data Philippines by Usec. Richard Bon Moya
Download EITI in the Philippines by Asec. Teresa Habitan
Download Leveling the Playing Field by Bill Luz
Download Competition Policy by Dr. Ciel Habito