Asia Society announces 2013 Class of Asia 21 Young Leaders
Ibrahim Bernardo and Brian Gonzales among the prestigious group of this year's Asia 21 Young Leaders.

MANILA, Philippines — Asia Society is pleased to announce that IBRAHIM BERNARDO and BRIAN GONZALES are both part of the Class of 2013-2014 Asia 21 Young Leaders, a prestigious group of the region's emerging leaders under 40 in fields including government, business, policy, education, and arts. This will be Asia Society's eighth class of Asia 21 leaders for a program that identifies and brings together young leaders based on their outstanding achievements, commitment to public service, and desire to make the world a better place by collaborating with counterparts across the Asia-Pacific region.
"The selection process was extraordinarily competitive this year and the new class brings together a group of truly dynamic and outstanding individuals," said Asia Society Global Leadership Initiatives Executive Director Dr. Michael G. Kulma. "We are very excited about this new class and we look forward to meeting and engaging everyone in Zhenjiang, China, and welcoming all to the Asia 21 Family."
2 Filipinos chosen
Ibrahim 'Ibba' Bernardo is the founder and CEO of Sari Software Solutions, a platform, systems, and mobile applications company that aims to leverage technology to empower the largest, underserved socio-economic sectors of society known as the base of the pyramid (BOP). His passion lies in bringing technology to the BOP with projects like the Solar Energy Foundation's Ride for Light which brought solar energy to far-flung off-grid areas, E-Dalaw which enabled virtual visit of inmates by their indigent families, and Buhayko.org for teaching blogging to underprivileged students living in slum areas. Ibba also wears other hats as a technology and motorcycle journalist, entrepreneur, social media consultant, and IT lecturer. He represented the Philippines as an ASEAN Young Leader at the 2012 World Economic Forum in Bangkok.
"I am very honored to be part of the Asia Society as an Asia 21 Young Leader awardee. I hope this can help spread the awareness of the need to develop technology for the underserved and sectors belonging to the base of the pyramid. I'm really looking forward to working with other young leaders from the region and get their unique perspective on bringing technology for those who need it the most," says Ibba.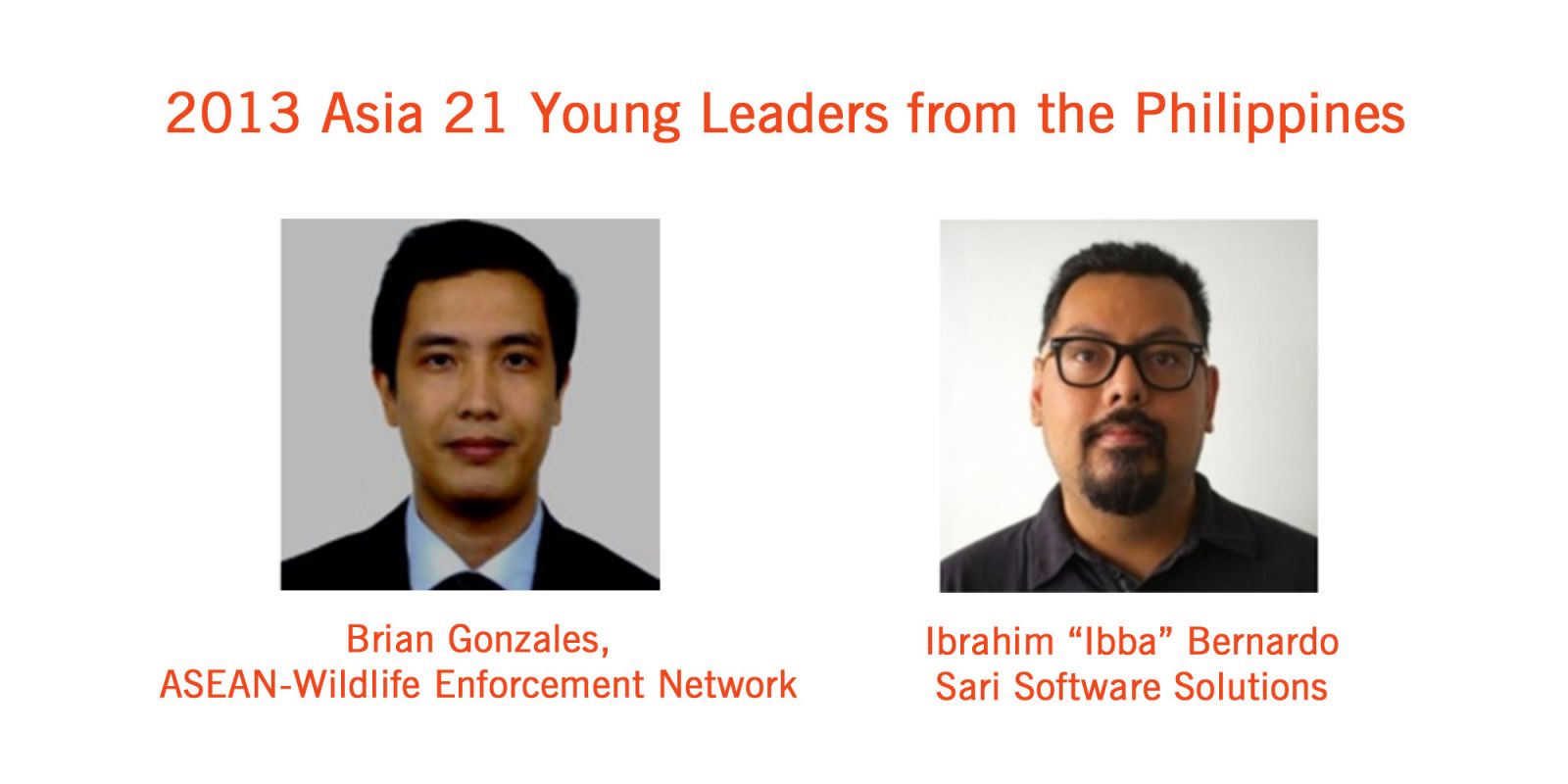 Brian Gonzales is Team Leader for Research, Monitoring, Evaluation and Development, and Program Liaison Officer to the ASEAN-Wildlife Enforcement Network of the USAID-funded ARREST Program (Asia's Regional Response to Endangered Species Trafficking) implemented by FREELAND. Based in Bangkok, he works closely with the intergovernmental ASEAN-WEN and the national task forces on policy development, program management, sustainability strategy and partnership development. He developed new strategic partnerships for ARREST by initiating several innovative ventures, including a partnership with the ASEAN Inter-Parliamentary Assembly, an organization of top ASEAN parliamentary leaders to enhance regional legislative responses to combat wildlife crime; academic institutions and think tanks; direct support to efforts in upgrading wildlife crime onto the agenda of ASEAN's transnational crime body; and involvement in "greening" the judiciary by supporting judicial awareness raising initiatives on combating wildlife crime in Asia. He is a graduate of De La Salle - College of Saint Benilde in Manila.
"My work entails rigorous policy and enforcement interventions in the conservation field. Recent APEC recognition of wildlife crime as a non-security threat to Asia Pacific is a solid testament to the urgency of broadening our knowledge of and commitment treat wildlife crime as a regional security issue. Partnerships and strong political commitments are essential in delivering impacts to combat this threat," says Brian. "I am honored to be part of the 2013-2014 Class of Asia 21 Young Leaders. This recognition assures for me a stronger foothold into a prestigious network of emerging leaders in Asia, which will directly benefit and impact my continuing commitment to combating wildlife crime in Asia through policy and innovative partnerships."
2013 Class of Asia 21 Young Leaders
To see this year's full list of 30 winners and learn about their backgrounds visit Asia Society's Asia 21 website here: http://sites.asiasociety.org/asia21summit/class-of-2013/.
The Class of 2013 will be committed to:
• Attend the Class of 2013-14 Forum (December 4-5) and the 2013 Asia 21 Young Leaders Summit (December 6-8) in Zhenjiang, China.
• Participate in monthly teleconferences with classmates in the time leading up to the Forum and Summit, and as needed
• Work together with other members of their class to select an organization to receive the 2013 Asia 21 Public Service Award, to be presented at the Summit in December. In addition, the spring 2014 meeting of the class will be a visit to the Public Service Award winning organization to determine how their class can work together with them to advance their work.
• Actively lead and engage in Asia 21 online activities, public service projects, and efforts to develop Asia 21 satellite programs in their home countries.
Now in its 8th year, the summit will play host to over 100 of the region's most accomplished young leaders, representing over 20 countries. With the theme From Passion to Action: Asia 21 Innovating for the Future, participants will delve deeply into a vision for social innovation in Asia, assess their roles as civic-minded leaders in the rapidly changing Asia-Pacific landscape, and explore ways to enhance and sustain their collective capacities. Asia Society's Asia 21 Young Leaders Initiative is the Asia-Pacific region's top next generation program for emerging leaders under the age of 40 to build relationships, engage in interdisciplinary dialogue and cultural exchange, and develop cooperative responses for addressing shared challenges. With close to 800 members, active chapters across the region, and robust collaborations that bring leaders together from across borders and boundaries, the network comprises of young leaders from various sectors. Acceptance as an Asia 21 Young Leader not only makes the individual a part of this powerful network; it also makes the young leaders responsible for strengthening the Asia 21 community, presenting innovative solutions to our shared challenges, and activating the collective brain trust to take action.
Among the prominent Filipinos who are part of the Asia 21 Young Leaders Initiative are Philippine Senator Paolo Benigno "Bam" Aquino IV; Arnel Casanova, President and CEO of Bases Conversion and Development Authority, Philippines; Lesley Cordero, Undersecretary of the Office of the Cabinet Secretary of the Philippines; and Ivan Henares, President of Heritage Conservation Society.
The Asia 21 Young Leaders Summit is supported by Founding International Sponsor, Bank of America Merrill Lynch. Other support comes from Medtronic Philanthropy, Asia Society's Richard C. Holbrooke Fellowship for Next Generation Policy Leaders, and Kathwari Family Foundation.
For more information about Asia 21, please visit www.AsiaSociety.org/Asia21 or contact Ms. Kathryn Cárdenas at [email protected].