Staying at a Tokyo Micro-Hotel
A Few Winks
Refreshed from the hot bath, I sat upright on the bed and did some reading before sleep beckoned. For privacy, I pulled down the wooden curtains that served as the capsule's "door", and was thankful that while the adjacent capsules were mostly occupied, there weren't any noisy or inebriated guests about. Maybe that only happens on week nights, with all the alcohol-fueled socializing by businessmen.
Deep sleep eventually came, and the night passed uneventfully. If anyone did snore, either the soundproofing was first-rate, or I was in too deep a slumber to notice. Being the first person to awake at 5am, I gingerly climbed out of the capsule and gathered the few items I had inside, fearful of disturbing the other guests. All set to leave, I started walking down the hallway, then turned around to take one last long look at capsule #3219 before shuffling towards the locker room.
A Little Piece of Advice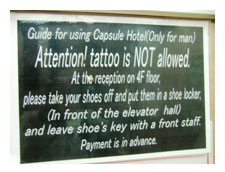 The capsule hotel experience, even just for one night, turned out to be one of the most fun and memorable highlights of my Japan trip. Friends' reactions upon seeing the pictures bordered on the extreme. Some people enviously said "How cool! Wish I could do that", while others were aghast and exclaimed "You couldn't pay me to stay there!". At the very least, it's a sure-fire conversation starter.
If you're considering following in my footsteps (gasp!) and staying at the Green Plaza or another capsule hotel, here are a few things to keep in mind.
1. Guests with tattoos, even small decorative ones, are not permitted. The reception staff ask guests upon check-in if they sport any body art.
2. Most capsule hotels are male-only, though a few have wings for female guests. Couples traveling together cannot stay in one capsule together.
3. Tall guests (over 6 feet tall) might be more comfortable staying elsewhere given the length of the capsule, unless they don't mind their legs dangling outside.
4. All capsules are non-smoking.
5. Big pieces of luggage cannot fit in the lockers and are stored in a cloak room. You have to present the claim stub whenever you want to get something from your luggage, which can be a pain. To minimize inconvenience, I suggest taking a change of clothes and other essential items and putting them in a daypack which can fit inside the locker.
6. Guests who wish to stay multiple/consecutive nights are required to check out every morning at 10am, and go through the check-in process AGAIN from 3pm onwards. Not quite tourist-friendly, but that's not the target market.
Hotel Info
Green Plaza Capsule Hotel
1-29-2 Kabukicho,
Shinjuku, Tokyo Prefecture 160-0021
Directions: From JR Shinjuku Station, take the EAST Exit. Walk for 5 minutes towards the north, until you see the distinctive Shinjuku Prince Hotel on your left. The hotel is across the street from Seibu Shinjuku station.
When not traveling, Eric enjoys working on his tennis ground strokes and salsa dance moves. His ineptitude at both hobbies is quite alarming.
Related Links