Asia Society Hong Kong Center Mobile App is BACK!
Now available on iTunes and Goggle Play app store!
In order to enhance visitors' experience in Asia Society Hong Kong Center, we are introducing a new version of the Asia Society Hong Kong Center App that is now available on iTunes and Google Play app stores.
The best part about this app is that it doesn't only provide information- it also acts as a personal guide. It provides and entertains visitors with historical background about many different site locations at the Asia Society Hong Kong Center. Visitors no longer have to wait for assigned site tours during the weekend for a personal and verbal description of the Center, but simply do with our app now! The app also acts as an excellent Gallery Docent. It provides elaborate information about the Current Exhibition and all exhibit items with descriptions, images, and audio clippings in English, Cantonese, and Mandarin.
Its rich multimedia experience strongly enriches audience's experience and knowledge inside and outside of the Center. 
Asia Society Hong Kong app includes:
Asia Society's mission
Opening hours, admission fees, and address of Asia Society Hong Kong Center
Program calendar and details
Past, Current, and Future exhibition description
On-view exhibits description and audio guide
Public artwork descriptions
Site descriptions and different tour routes
QR code scanner to scan QR codes placed throughout the site for visitor's easy navigation and information
---
Download
Feel free to use the Center's free Wi-Fi (ASHK_Guest) to download the app or borrow an iPod Touch from the Chantal Miller Gallery (formerly Asia Society Gallery) for free.
---
App's basic navigation
Here is a step-by-step guide on how to use the app. 
Select language:
Select your preferred language in "Settings" from the "Menu" tab. Choose English, Cantonese (Traditional Chinese), or Mandarin (Simplified Chinese) for your User Interface and Audio Language.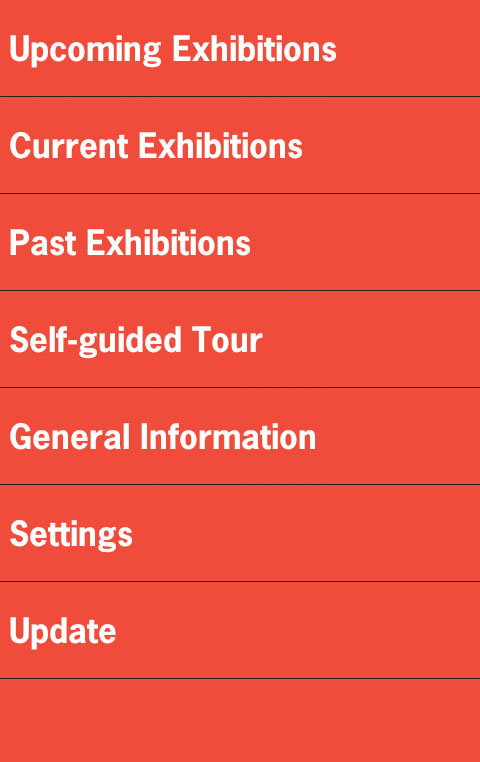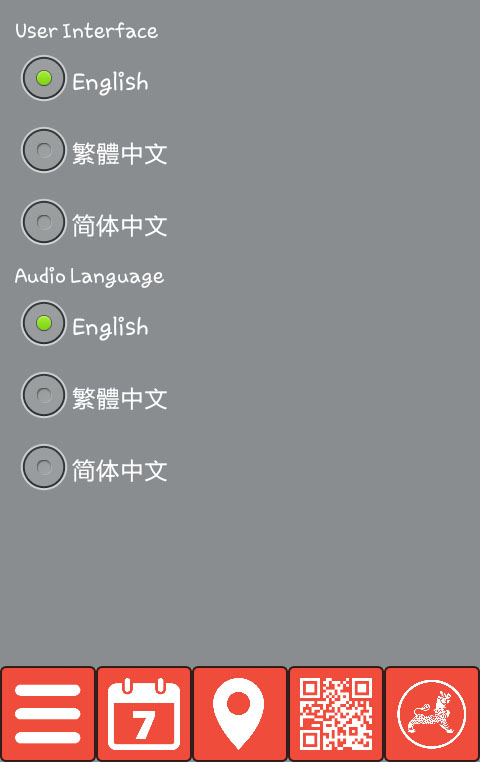 Center Information:
Center Information can be found through the following icon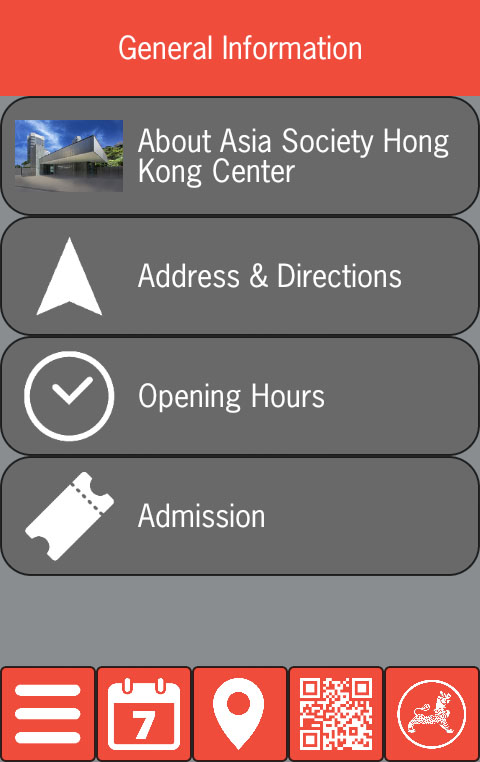 Program Calendar:
User can access the program calendar though the following icon. Click into the date to check out what programs are being hosted in Asia Society Hong Kong Center, and click into the program tab to see program details.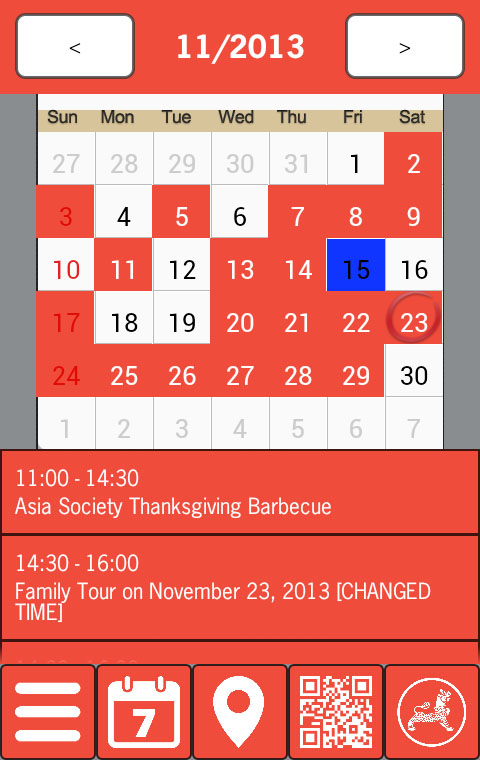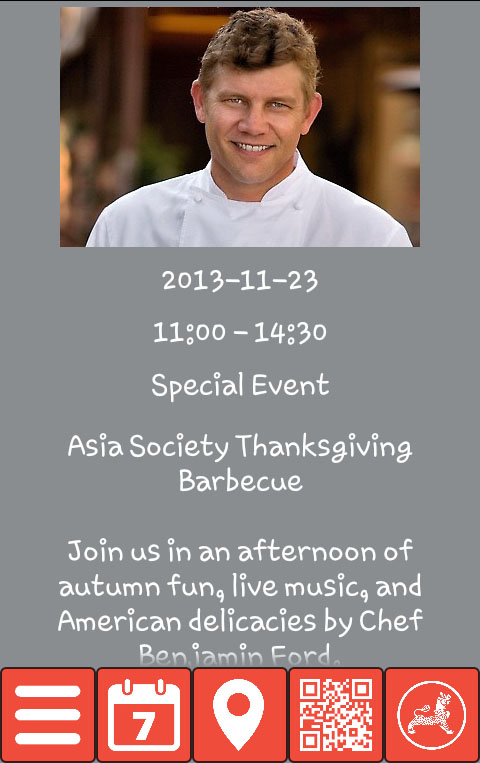 Exhibition Audio Guide:
Please kindly note that audio guide is only available for current exhibition, therefore click into "Current Exhibition" and see "Audio Guide" below the exhibition description. This will lead to a page of artworks, select an artwork to find its description, image, and audio clip. (Audio clip language can be changed in "Settings"; please see instructions above).
The audio guide also works outside the Center so please feel free to listen to it whenever and wherever you are!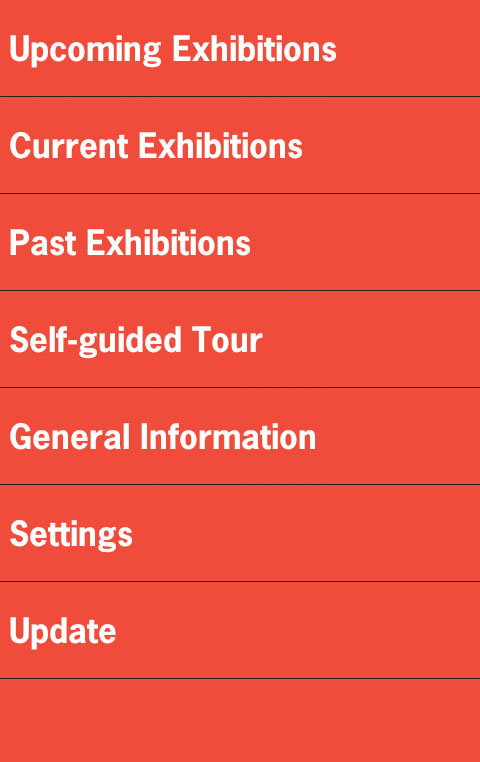 Site Navigation:
Viewers can see descriptions of our heritage sites and public artworks around the center. Click into "Self-guided Tour" and choose either "Public Arts" or "Heritage".
Click into "Location" at the top right corner to open a map and find out the site's location.
*Recommended tour routes will be available shortly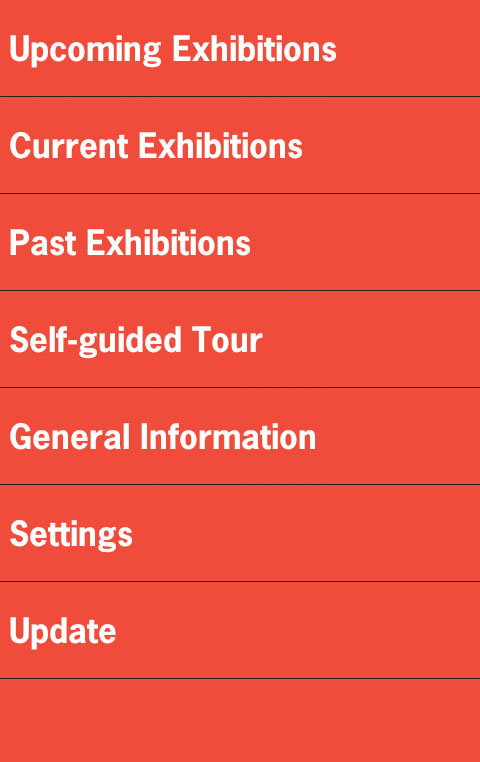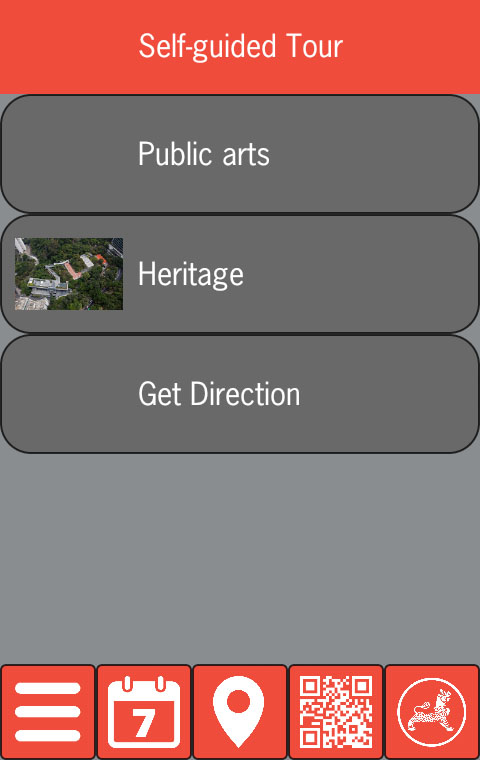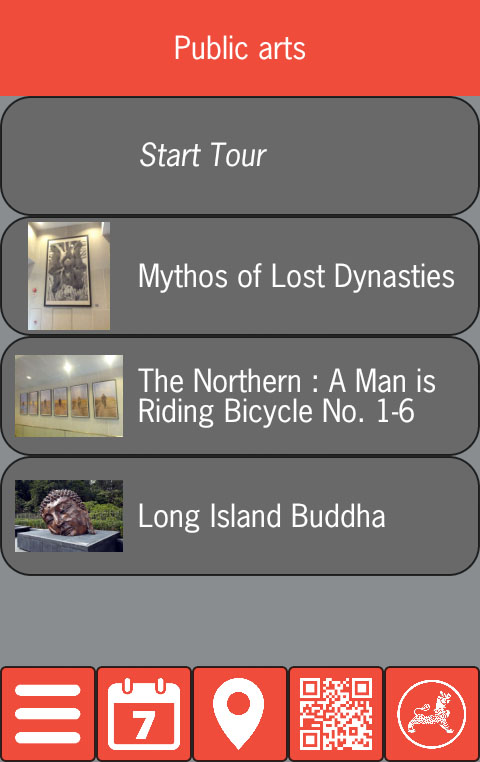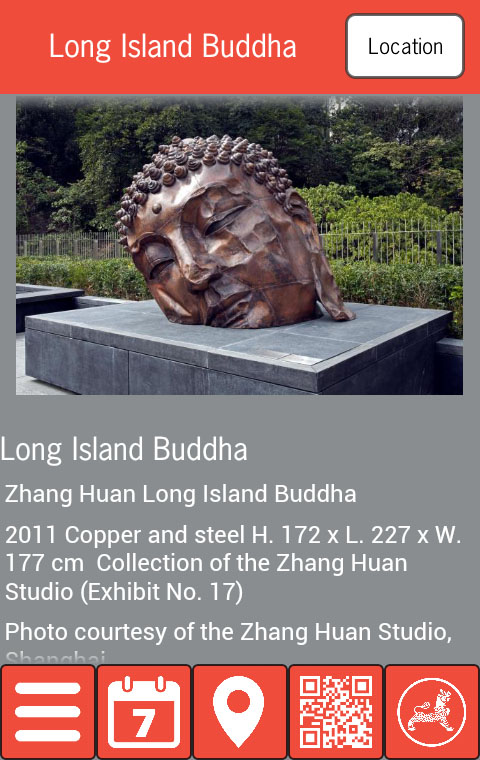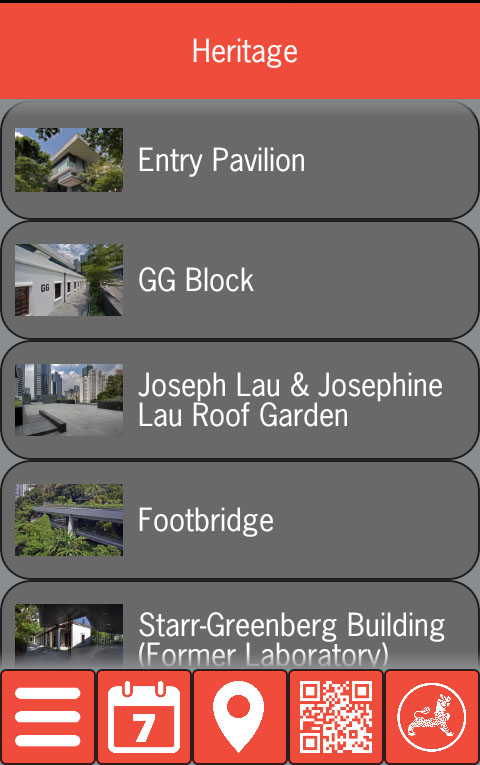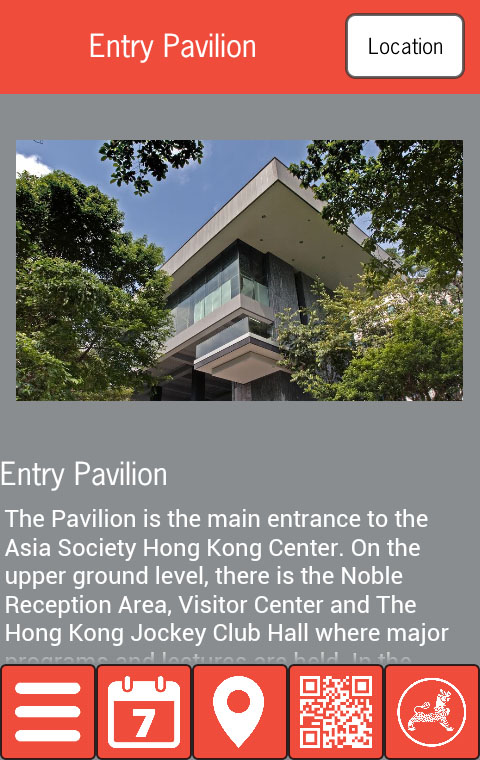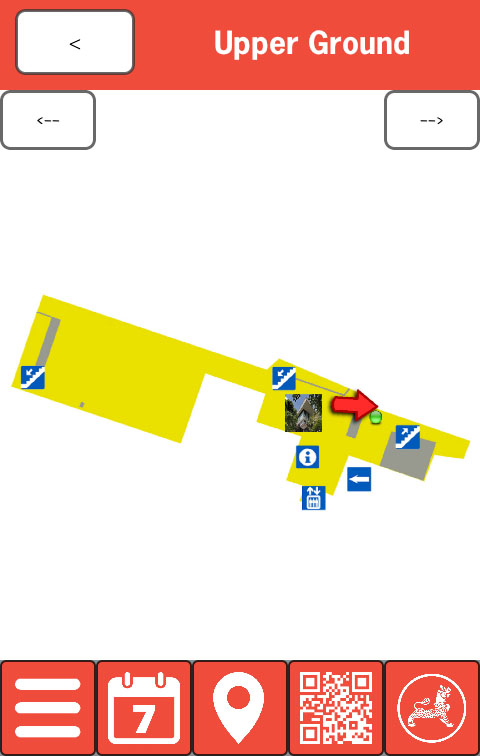 QR Code:
QR Codes are placed at key heritage sites around Asia Society Hong Kong Center. Visitors can use the "QR Code scanner" function available in the app to find out their location and more information about the site.