Leading with the World in Mind
A Survey of Global Leadership in the U.S., China, and India
The capacity to lead in complex global contexts is increasingly synonymous with adaptability, competitiveness, and entrepreneurial creativity. In a multipolar world, information, capital, products, and people reach across borders.
Increasing interconnectivity is causing senior business executives the world over to call for greater global leadership in their organizations. KPMG's 2014 High Growth Markets Outlook Survey lists "culture and language" as the #1 market entry challenge for high growth markets and "cultural adeptness and sensitivity" as the #1 driver for success in these markets; similarly, IBM's 2012 Global CEO Study highlighted a global mindset as one of the key drivers of career success. These surveys show the need for leaders who understand the effects of growing global interdependence on business and society, and who enable companies to take full advantage of opportunities around the planet. Despite this visible demand, contemporary conceptualizations of global leadership stem either from traditional leadership studies or from cross-national comparisons more typical of a less globalized world.  

In this paper, Asia Society and Harvard's Project Zero share the results of a study of global leadership as defined by individuals heading international business initiatives in India, China, and the United States. Our goal is to advance the definition of global leadership in these three regions that can inform practice in the future and to drive a better understanding of how cultures and markets can work together. Two questions guide our study:
How do established global leaders working in the Asia-Pacific context define global leadership, the competencies required to succeed, and the conditions that enable them to lead across cultures?
In what ways do informants' views of global leadership vary depending on the cultural contexts in which their lives and work unfold?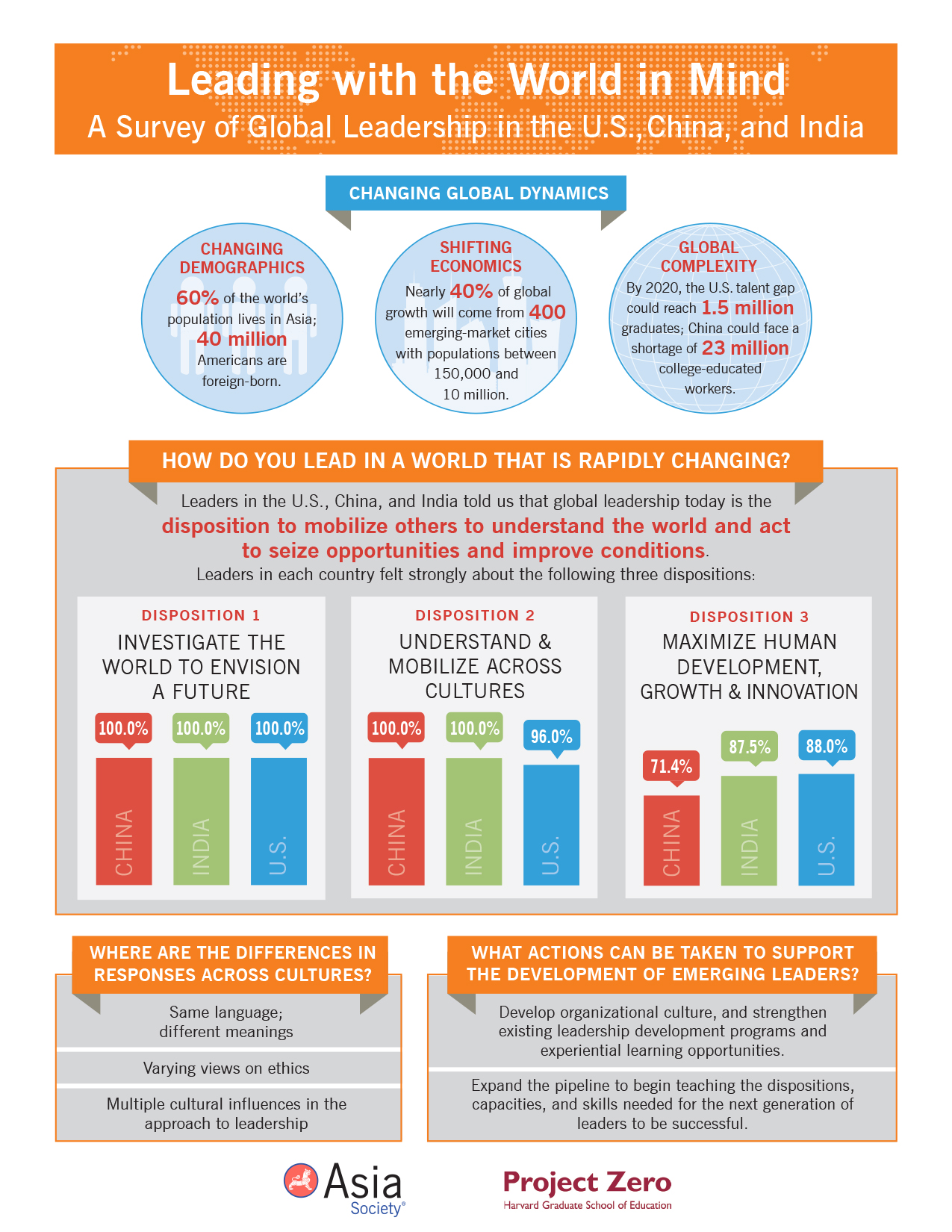 Click to download infographic.