Staying at a Tokyo Micro-Hotel
By Eric V. So
As the Shinkansen sped through the countryside on its way to Tokyo, the bullet train's smooth ride and plush seats should have lulled me to sleep 30 minutes into the journey. However, I was in fact wide awake, my mind tortured by the same nagging questions since early morning. "What if I find it claustrophobic?" "What if I hate it and have to find accommodations elsewhere?"
So what was the cause of this stress and trepidation that made me feel uneasy instead of looking forward to a full day of sightseeing in Tokyo? Well, "it" was no other than the prospect of spending a night in one of Tokyo's capsule hotels.
Background
Capsule hotels are a type of hotel where instead of getting a room, guests stay in small, coffin-like "capsules." They cater primarily to Japanese businessmen who toil long hours at their desks or engage in all-night drinking sessions with their co-workers, and then suddenly realize the last train to the 'burbs has left the building. Thus, all they need are a quick change of clothes, a small space to catch some sleep, and a locker to store their briefcase.
Small is the operative word here. The capsules measure roughly 2 meters in length, and 1 meter in both width and height. Moreover, these metallic coffins, er, capsules are stacked on top of each other, akin to filing cabinets. If you have any trouble visualizing this, next time you visit the laundromat, take a closer look at the rows of front-loading dryers. Now that this mental image has been burned into your brain, are you still daring enough to stay at a capsule hotel?
Saving Some Dough
Well, I initially wasn't deterred, for two different reasons. First, finding cheap accommodations in one of Tokyo's busiest and most expensive areas, Shinjuku, was almost impossible. The budget traveler inside me was desperate to control costs by any means. Priced at only 3,500 yen ($40) per night, no greater bargain can be had. Second, experiencing this unique, quintessentially Japanese type of lodging appealed to me, adventurous and culturally curious traveler that I fancied myself to be. (I had already stayed eight nights at various ryokans, with an aching back to prove it). And of course, bragging about my daring adventure was but a Facebook status update away.
My Web search led me to the Green Plaza Shinjuku capsule hotel located just a few minutes walk from Shinjuku station. The Green Plaza is situated on the edge of one of Tokyo's infamous red-light districts, Kabuki-cho, home to numerous entertainment clubs, massage parlors, and bars. Kabuki-cho's luster had faded in recent years, and nowadays its streets were lined with mainstream restaurants and retail stores that co-exist happily alongside the adult establishments. The ever-present touts accosting passers-by with their prurient offerings are unavoidable, although a firm "No, thanks" and a swift stride are sufficient to keep them at bay.
Love at First Sight
After check-in at reception and storing my daypack in the locker room, I went down to the third floor in search of my designated capsule. As I roamed the semi-darkened hallways and passed by rows upon rows of them, mostly unoccupied on this quiet Sunday night. From time to time I'd glance at the number printed on the plastic wristband that adorned my wrist, and then following the signs that led to its location.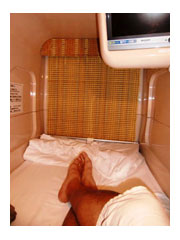 Finally, capsule #3219 came into view. It was a "bottom", as I had requested at check-in. Excitedly, I turned on the light, and simply stood there for a couple of minutes and stared. And stared. So, this was my bed for the night, this rectangular box with a bare, cold metallic interior. I climbed in on all fours and lay down for a few minutes, taking note of the small overhead TV, the radio/alarm clock, and the printed instructions (in Japanese) for operating these devices. I rolled over to my left, then to the right, and realized the capsule was much more spacious than expected. No, it didn't feel claustrophobic at all, and whatever doubts had dissipated. I breathed a huge sigh of relief, and chuckled at my earlier anxiety.
Shedding Inhibitions
After a long travel day, I was looking forward to a nice shower and a dip in the Japanese-style hot bath. Problem was, although each floor in the capsule hotel had immaculate toilet facilities and a small lounge, a shower would have to be taken in the "big bathing room" on the sixth floor. In the buff, as Japanese custom dictates. Not quite relishing the thought of parading naked in public, I normally would have drawn the line there and said "No way!" But still feeling a little euphoric about my capsule, I simply shrugged and reminded myself, "When in Rome ..." as I climbed the stairs.
The "big bathing room" was simply that. At the center of the room was a huge hot bath, enough for 30 or so people to soak in while watching the local sporting event on the overhead flat-screen TV. I encountered about 15 Japanese men doing exactly that, while an equal number were seated on low stools washing themselves at the shower stalls along the perimeter of the room. Others had finished showering and were either shaving, brushing their teeth, or preparing to descend into the hot bath. (Here's a tip: Do it very very slowly). No one batted an eyelash at all the uncovered flesh jiggling past them. Thus emboldened, I discarded the hotel-issued pajama set in the changing area and made my way to a vacant shower stall.
Guidebooks state that walking around the common bath area with a small washcloth covering your private parts is considered good etiquette, and that once you've submerged your body into the hot bath, the washcloth can be folded and put on top of your head. None of the mostly middle-aged and older Japanese men appear to spend much time reading guidebooks. The sole patron heeding this piece of advice was the only other gaijin among the other customers—a tall, lean, long-haired Caucasian in his 30s. I observed his movements for a few minutes, and thought of striking up a conversation. Almost immediately I nixed the idea, and left him alone to enjoy this authentic cultural experience without intrusion, much the same way that I was.
Related Links