'You Must Say It Loudly' and Other Quotes from Taiwan's Lung Yingtai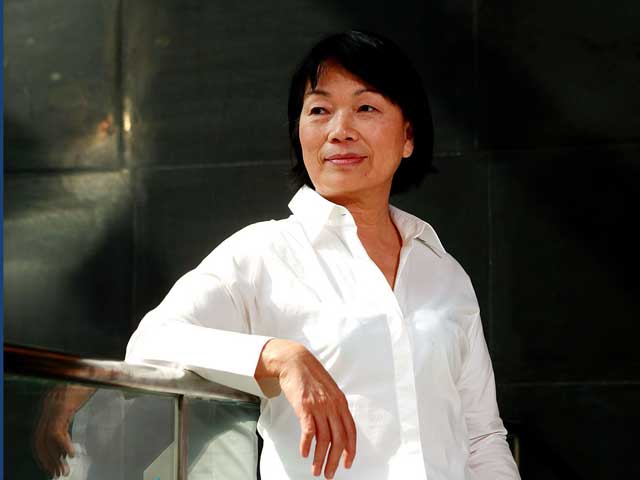 Lung Yingtai, Taiwan's Minister of Culture.
The traditional Chinese intellectual is forever tormented by an old dilemma: whether to "enter the world" (rushi) — i.e., be a public figure and participate in social change, or to "withdraw from the world" (chushi) — be a poet and retreat to a personal and creative life. But in the case of Lung Yingtai, culture critic and the first Culture Minister of Taiwan, whether she is writing in Europe, teaching in Hong Kong, giving a speech in Peking University, or sitting in her office in Taipei, she is always an active force attempting to shape the political consciousness of the Chinese-speaking world.
Asia Society audiences, both online and in New York City, will get a sense of that force, along with Lung's wide-ranging intellect, when she appears tonight in a sold-out program at Asia Society New York. If you haven't got a ticket, don't despair: the program will also be a free live video webcast on AsiaSociety.org/Live tonight from 6:30 to 8:00 pm ET. (The complete video will also be available on AsiaSociety.org beginning Thursday, August 23.)
Following are six memorable quotes from Lung's prolific three-decade career as a writer and public intellectual.
Do not think that since you are a university professor, doing research is more important; do not think that you are just a butcher so no one will listen to you; and do not think that you are just a college student so you are not eligible to take part in public affairs. If you don't get angry today, if you don't stand up and speak out now, tomorrow — you, I, and our next generation will become victims of your silence! If you have conscience and the guts, you go now and tell your legislators, tell the Department of Health, tell the Environmental Protection Agency: you've had enough, you are very angry! And you must say it loudly.
— "Chinese People, Why Aren't You Angry?" in The Wildfire Collection, 1985
 

The Shanghai man is so lovely. He will not feel it is beneath him if he buys groceries, cooks, and cleans the floor. He will not feel low even if he washes his woman's underwear. He speaks softly without thinking that he lacks manly mettle. He will not feel weak if his woman is strong. He can enjoy his wife's success without thinking himself a failure. The Shanghai man does not need to beat his chest like a chimpanzee or show off his chest hair to prove his value as a man. Ah, this is truly an enlightened man! A gentle and magnanimous man who is freed from the hero syndrome, isn't this what we liberated women of the 20th century dream of?
— "Ah, Shanghai Men," in Ah, Shanghai Men, 1997
 

The point is not Tuantuan and Yuanyuan, do you know that? The point was never about the Democratic Progressive Party, do you understand?

The point is about specific incidents like Freezing Point. Simply stated, Mr. Jintao, whether you allow the media to be independent, whether you respect intellectuals, how you face China's history, how you deal with Chinese people ... the word "civilization" is revealed in every little decision you make. We have been through barbarity, that is why we have to care about civilization. Please use civilization to convince me. I am willing to listen in all earnestness.
— "Please Use Civilization To Convince Me — An Open Letter To Hu Jintao"
January 24, 2006
 

If our families, schools, society and political parties never once saw integrity as a key component of education and upbringing, if our government never once treated the decency of our citizens as a principal goal of education, if we have a democratic system but all of the people within it are a group who couldn't care less about integrity, and they ended up electing a president who is not only incompetent and ignorant, but seriously lacks a sense of shame, why are we surprised by it?
— "Today's Class: Integrity," June 27, 2006
Written in support of a recall motion to remove Chen Shui-bian from power
 

Too many, too much injustice, for six decades, there was never a "sorry" spoken to these people. I do not care which battlefield you belong to, I do not care which country you represent, I do not care to whom you pledged your allegiance, or whom you have betrayed, I do not care whether you are a winner or a loser, I do not care how you interpret justice or injustice, can I say this to you: all those who have been trampled, insulted, and hurt by this era are my brothers and sisters?
— Big River Big Sea: Untold Stories of 1949, May 1, 2010
 

The Taiwanese have a duty as world citizens to contribute to the progress of China, not just in terms of its economic prosperity, but also in how to help China become an open and civilized society.
— "Lung Ying-tai: 1911 Anniversary 'Awkward' for China"
Wall Street Journal, October 10, 2011