Vishakha Desai: 'Senseless' Sikh Temple Shooting Shows 'We Have a Long Way to Go'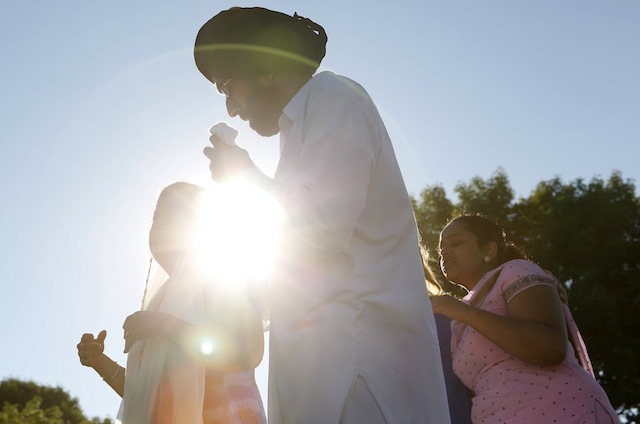 People console each other at the command center near the Sikh Temple of Wisconsin on August 6, 2012. Yesterday a gunman fired upon people at a service in Oak Creek, Wisconsin, killing at least six. (Darren Hauk/Getty Images)
Sunday morning, as the congregation was filing in for worship at the Sikh Temple of Wisconsin in the Milwaukee suburb of Oak Creek, 40-year-old Wade Michael Page fired a 9mm semi-automatic pistol into the crowd. Page killed at least six people before he was shot down by police. Asia Society President Vishakha Desai has released the following statement:
The tragic shooting over the weekend at a Sikh temple reminds us of violent attacks against South Asians, especially Sikhs, directly after the 9/11 attacks. During that period, many men of South Asian origin cut off their beards and shortened their hair, just to be safe.  For many observant Sikhs, this was not a casual issue, as wearing a turban and keeping the beard is an integral part of their religious belief system. We all thought things would get better as the initial anger around the 9/11 attacks quieted down. 
This senseless attack on the Sikh temple once again reminds us that we have a long way to go to truly achieve our goal of being a multicultural nation with mutual respect for all.
Sikh-American leaders have wisely called for people of all faith to come together to pray for our still fragile experiment in developing a society that can respect diverse views on religion and culture. Our hearts go out to the families of the victims and our prayers are with our Sikh colleagues who have shown the courage to be calm without being vindictive.