#TBT: In 2012, Singapore's Prime Minister Discusses China's Rising Influence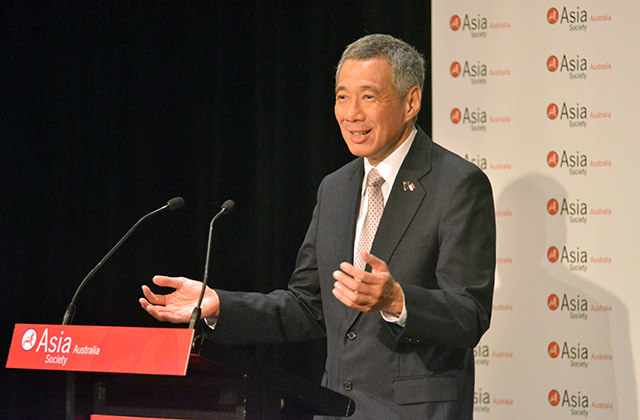 Singapore Prime Minister Lee Hsien Loong speaking at Asia Society in Sydney, Australia, on October 12, 2012. (Asia Society)
In October 2012, Singapore Prime Minister Lee Hsien Loong spoke at Asia Society in Sydney, Australia, on a multitude of topics related to Asia, ranging from Singapore-Australia ties to Myanmar's burgeoning democracy. Still emerging from the Global Financial Crisis, he said that many countries — including Singapore — were experiencing "social stresses" like job insecurity, income inequality, and divisive politics. One topic he focused on extensively was China, which he said was a necessary participant in solving any global problem. "I'm often asked, 'Do you know what will happen to the Chinese economy?'" Lee said in his remarks. "I say I don't know what the stock market will close at in Shanghai tomorrow, or whether it will be a hard or soft landing, but I do have confidence over the medium to long term that China's trajectory will be upwards, because the dynamism, the drive, the determiniation to improve their lives and create that affluence and better future is palpable and pervades the entire society."
"I'm convinced that China's success will be positive for the region and the world," Lee added. "But managing this strategic shift will be a major challenge for the international system. It's a major change that's happening not so slowly and it will need restraint and wisdom — both from China, as well as other countries, and especially from the United States." 
Each week for "Throwback Thursday" (#TBT), we'll reach into our archives to find a photo from the organization's nearly 60-year history. Some photos will feature important moments, some will feature important people, and others still will just be photos we love. Do you have an Asia Society photo you'd like us to consider including in this series? Please email the photo and any related details to photos@theasiablog.org (we regret that we won't be able to respond directly to each inquiry).