The Scholar-Spy Who Saw Tibet's Densatil Monastery in All Its Glory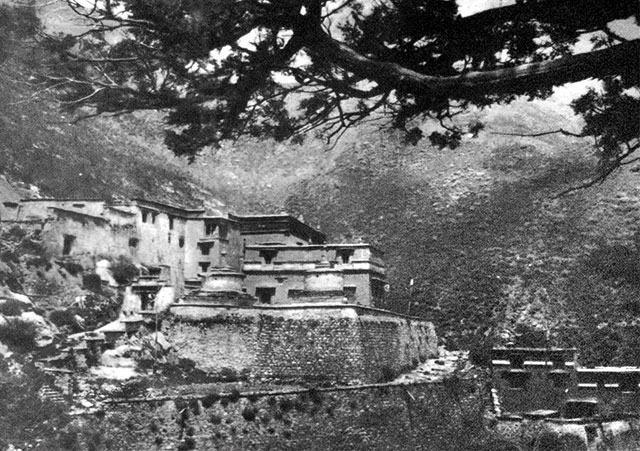 A historic photograph of the Densatil Monastery taken by an anonymous photographer at an unknown date. Image courtesy of David Holler.
"There's Nirvana to be glimpsed in much of the art here," is how The New Yorker recently described Asia Society Museum's exhibition Golden Visions of Densatil: A Tibetan Buddhist Monastery, on view in New York City through May 18. Co-curated by Olaf Czaja and Adriana Proser, Asia Society Museum's John H. Foster Senior Curator for Traditional Asian Art, the exhibition explores the history, iconography, and extraordinary artistic production associated with the central Tibetan Buddhist monastery called Densatil until its destruction during China's Cultural Revolution (1966—1978).
Below, Adriana Proser introduces one of the two foreign observers whose descriptions of the Densatil Monastery became a critical resource for later generations of art historians and scholars of Tibetan Buddhism. A fuller version of this chapter in the Densatil story appears in the official Golden Visions of Densatil exhibition catalogue.
---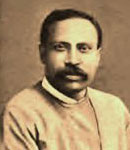 Sarat Chandra Das
Sarat Chandra Das (1849–1917) was born in eastern Bengal and began to learn the Tibetan language during his appointment as headmaster of Bhutia Boarding School in Darjeeling. He first traveled to Tibet with the school's Tibetan language teacher, lama Ugyen-gyatso, and studied there for six months in 1879. He made a second visit in 1881, also accompanied by Ugyen-gyatso, and stayed for another 14 months.
Das became a prolific Tibetan scholar, but his exploits in Tibet were not limited to academic study. He also played a role in what became known as the Great Game, the imperial struggle between Victorian Britain and Tsarist Russia for supremacy in regions from the Caucasus to China. Tibet was one of the places the British wished to explore and chart, in the hopes of preventing the Russians from finding alternate access to India that avoided the difficult Khyber Pass route. Disguised as an explorer, Das aided the British in this covert mission. Along with his descriptive notations about the places where he traveled, he included what might serve as strategic details about geography, distances, and altitudes.
While making his way through central Tibet, Das noted the following about Densatil Monastery:
At the village of Jong we began the ascent of the steep hill on whose summit is the old lamasery of Densa-til, the principal building nestled amidst frowning crags, on which grow here and there a few firs and juniper trees.…Of all the monasteries in Tibet, this is perhaps the richest in religious treasures, and the Government of Lhasa takes particular care of it. Among the curious objects placed before the images of the gods in the principal temple, I saw some bowls filled with various kinds of seed and some fossils, among which some grains of barley.
— From Sarat Chandra Das, Journey to Lhasa and Central Tibet. Edited by William Woodville Rockhill. Published by J. Murray, London, 1902.
The official catalogue for Golden Visions of Densatil: A Tibetan Buddhist Monastery is available from AsiaStore.