Required Reading: 2012 Bernard Schwartz Book Award Finalists
August 9th, 2012 by Sherley Wetherhold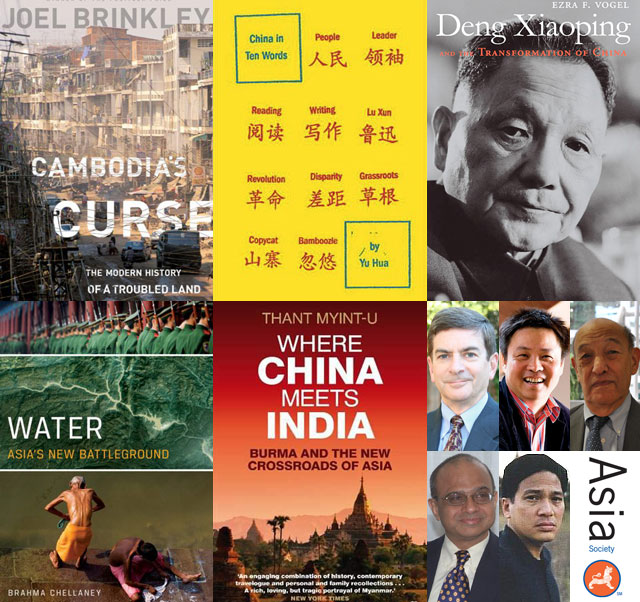 Recognized for their outstanding contributions to the understanding of contemporary Asia, five nonfiction books have been chosen as the finalists for the 2012 Asia Society Bernard Schwartz Book Award. The finalists were selected from nearly 90 titles submitted by U.S.- and Asia-based publishers for books published in 2011.
"It is now an accepted premise that Asia — with more than half of the world's population, along with half of world trade and half the global economy — will play a central role in shaping the future of our world," said Suzanne DiMaggio, Vice President of Asia Society's Global Policy Programs. "The five finalists for the 2012 Bernard Schwartz Book Award each, in different ways, shed light on important trends, challenges, and opportunities taking place in Asia. They are required reading for all who want to better understand this dynamic region."
Following is a brief overview of this year's finalists.
Thirty years after reporting on the fall of the Khmer Rouge, Joel Brinkley returned to find the Cambodian people still among "the most abused in the world."
"Pulitzer Prize–winning journalist Brinkley takes on the pricey pitfalls of nation building and the labyrinth of centuries-old political corruption in this riveting piece of literary reportage... a rare look inside a country beleaguered by poverty and imprisoned by patronage and venal leadership since the 13th century."
Brinkley's exhaustive examination of Cambodia's checkered past takes into account the geographic, social, political, economic, and cultural causes of calamity and bring to light the problems of the Khmer today. Cambodia lost nearly a quarter of its population, (1.7 million by conservative estimates) between 1975 and 1979 and about half of the country lives with Post-Traumatic Stress Disorder — an affliction some say is being passed on to the next generation, darkening the entire nation's personality.
"If you think you know China, you will be challenged to think again. If you don't know China, you will be introduced to a country that is unlike anything you have heard from travelers or read about in the news."
Framed by ten phrases common in the Chinese vernacular — "people," "leader," "reading," "writing," "Lu Xun", "disparity," "revolution," "grassroots," "copycat," and "bamboozle" — China in Ten Words reveals as never before the world's most populous yet oft-misunderstood nation. Yu Hua tells the story of the Chinese experience over the last half-century, through personal stories and astute analysis that sharply illuminate the country's meteoric economic and social transformation.
Characterized by Yu Hua's trademark wit, insight, and courage, China in Ten Words is a refreshingly candid vision of the "Chinese miracle" and all its consequences, from the singularly invaluable perspective of a writer living in China today.
Perhaps no one in the 20th century had a greater long-term impact on world history than Deng Xiaoping, and no scholar of contemporary East Asian history and culture is better equipped than Ezra Vogel to disentangle the many contradictions embodied in the life and legacy of China's boldest strategist.
"Vogel has a monumental story to tell."
Once described by Mao Zedong as a "needle inside a ball of cotton," Deng was the driving force behind China's radical transformation in the late 20th century. Confronting the damage wrought by the Cultural Revolution, Mao's cult of personality, and the economic and social policies that had stunted China's growth, Deng opened trade relations with the West, which lifted hundreds of millions of his countrymen out of poverty.
Water stress is set to become Asia's defining crisis of the 21st century, creating obstacles to continued rapid economic growth, stoking interstate tensions over shared resources, exacerbating long-time territorial disputes, and imposing further hardships on the poor.
"A formidable interdisciplinary book... Despite the vast scope of the book, the writing is clear and lively. Its main contribution is in synthesizing the many trickles of the international discussion on Asia and water into one single current."
Asia is home to many of the world's great rivers and lakes, but its huge population and exploding economic and agricultural demand for water make it the most water-scarce continent on a per capita basis. Many of Asia's water sources cross national boundaries, and as less and less water is available, international tensions will rise.
"The book possesses a heartfelt and welcome optimism, giving voice to a desire for connections that exceeds all notions of foreign policy, geopolitics or business and becomes, instead, about people encountering each other in all their glorious difference."
From their very beginnings, China and India have been walled off from each other: by the towering summits of the Himalayas, by a vast and impenetrable jungle, by hostile tribes and remote inland kingdoms stretching a thousand miles from Calcutta across Burma to the upper Yangtze River.
Soon this last great frontier will vanish — the forests cut down, dirt roads replaced by superhighways, insurgencies crushed — leaving China and India exposed to each other as never before. This basic shift in geography — as sudden and profound as the opening of the Suez Canal — will lead to unprecedented connections among the three billion people of Southeast Asia and the Far East. What will this change mean? Thant Myint-U is in a unique position to know.
The winning author of the 2012 Asia Society Bernard Schwartz Book Award, who will be awarded a $20,000 prize, and two honorable mentions, each receiving a $2,000 prize, will be named in September. A special event in their honor will be held at Asia Society's New York City headquarters in late fall 2012.
---