Long-Awaited 'Art of Gandhara' Exhibition Draws NY Times Rave
Asia Society Museum's latest exhibition, The Buddhist Heritage of Pakistan: Art of Gandhara, which opened August 9 after a delay of several months, receives a gratifying burst of publicity with a rave review in today's New York Times.
After acknowledging the "geopolitical roadblocks" that held up the exhibition's opening (and which were detailed in an earlier Times account), critic Holland Cotter asks, "Is the show worth all the diplomatic headaches it caused?"
His emphatic answer:
"With its images of bruiser bodhisattvas, polycultural goddesses and occasional flights into stratosphere splendor, it is."
After providing some historical background on the exhibition, and attempting to convey its wide-ranging stylistic diversity, Cotter concludes, "It pulses with human warmth. That's one of the things we go to great art for, though in this case, and against very long odds, some of that great art has come to us. "
The Buddhist Heritage of Pakistan: Art of Gandhara is on view at Asia Society Museum through Oct. 30, 2011.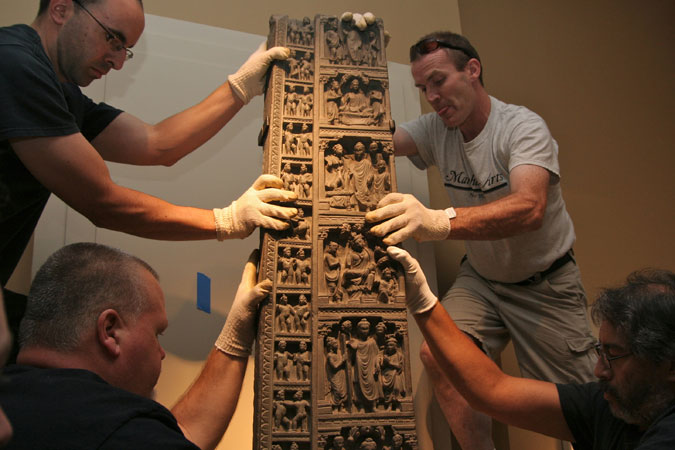 Art handlers work with Asia Society Museum staff to install a stele depicting scenes from the Buddha's life, in preparation for the opening of the exhibition The Buddhist Heritage of Pakistan: Art of Gandhara, in August 2011. (Bill Swersey/Asia Society)
Exhibition website
Museum location, hours, and other information