Desai: New Indian President Could Play 'Vital Role'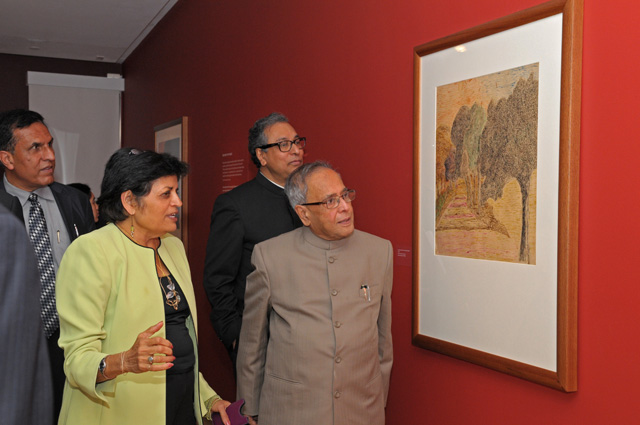 Asia Society President Vishakha Desai with Pranab Mukherjee at Asia Society Museum's Rabindranath Tagore exhibition in New York City in September 2011. (Elsa Ruiz/Asia Society)
India's newly elected president, Pranab Mukherjee, could be a decisive factor in shaping India's government in 2014 in the event of a hung parliament, says Asia Society President Vishakha Desai.
"A seasoned politician, Mr. Mukherjee brings a wide range of experience to his new post," Desai said. "And depending on the results of the 2014 elections, he could have a vital role in deciding who forms the new government in the world's largest democracy."
Although the Indian presidency is largely ceremonial (much like the British monarchy), if there is no clear winner in the 2014 elections — a distinct possibility — the president  may pick which party tries first to form a coalition.
A veteran of the reigning Congress Party, Mukherjee was elected as India's 13th president over the weekend. He most recently visited Asia Society due to his interest in art.
"I was honored to host Mr. Pranab Mukherjee at the Asia Society in 2008 and then again in 2011 when he came to see our exhibition on Rabindranath Tagore," Desai said. "A passionate advocate of the arts, Mr. Mukherjee was the honorary chair of the global celebration of Tagore's 150th birth anniversary. He took time from his round of meetings with the business leaders and U.N. officials to savor the visual art legacy of the great Nobel laureate."
During his first visit to Asia Society in 2008, as India's Minister of External Affairs, Mukherjee shared the country's stance on climate change and energy security.
Mukherjee succeeds Pratibha Patil, India's first female to assume that role. He will take office on Wednesday, July 25.
After defeating Purno Sangma, who was backed by the opposition Bharatiya Janata Party (BJP), Mukherjee thanked his supporters and promised to make every effort to uphold the Constitution of India:
"I have deep gratitude and appreciation for the people of this great country for conferring this distinction by electing me to the high office. … Now they have entrusted me with the responsibility to protect, to defend and to preserve the Constitution as President of the Republic. I will try to justify in a modest way as I can, to be trustworthy to the people. … I received much more than I have given them."
A familiar face in Indian politics for several decades, Mukherjee began his political career in 1969 under Prime Minister Indira Gandhi. Since then he has held many influential positions in the government, including defense, foreign and most recently the finance minister position. He has also served on the boards of the International Monetary Fund (IMF) and The World Bank.