China's impact is growing but the trajectory is unclear
Recapping our four-part conversation on China with Australia's leading opinion-makers
Throughout the winter of 2015, Asia Society Australia convened a four-part conversation on China and Australia-China ties with some of our leading thinkers and practitioners – Ambassador Frances Adamson, Tom Switzer, Stephen Joske and Professor Michael Wesley.
Our guests dissected China from different angles and experiences presenting a nuanced and insightful view of China's present and future and Australia's engagement with its number one trading partner.
Ambassador Frances Adamson emphasised that Australia needs to continue to broaden and deepen engagement with China across the economic, political and people-to-people domains. Both countries need to capitalise on the remarkable progress already made in the bilateral relationship in the last forty years to overcome challenges. These challenges include China's "profound transition" as a growing power with great economic strength, bringing with it the issues of competition and shifting power balance in its relationships with other countries, especially in the Indo-Pacific region. Australia and China share regional interests in pursuing peace and prosperity, and Australia must therefore work with China to ensure that the region evolves consistently with the shared interests of both countries.
One of the leading Australian economists on China, Stephen Joske in examining what China's "new normal" economic growth means for the Australian and global economy, suggested that China has already made a rapid transition to growth led by consumption and the service sector. Looking ahead the challenge is to continue deflating the credit bubble while maintaining a mild deceleration in economic growth. A likely correction in the stock market will not derail growth, but raises questions about the pace of financial reform.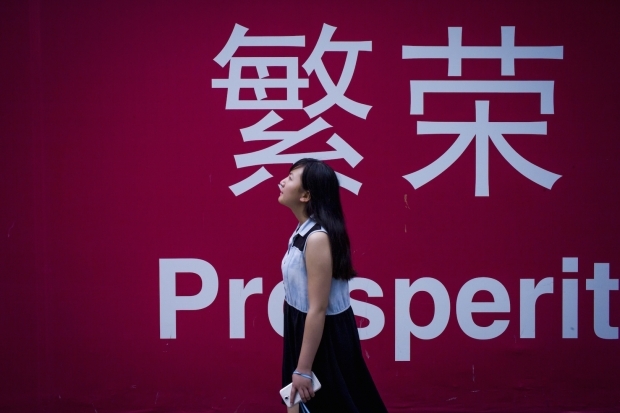 Fred Dufour—AFP/Getty Images
Tom Switzer spoke about the increasingly complex triangle of the United States-Australia-China relationship. He contested the popular notion of 'China's rise – U.S. decline', as history has shown that the changes in relative power are rarely a zero-sum equation. U.S. decline is not guaranteed, and neither is an unstoppable ascendancy of China. Australia's debate on China is largely driven by two camps - 'Containers' and 'Engagers' with both either understating (Engagers) or overestimating (Containers) China's capabilities to disrupt and shape the global order. In the U.S.-Australia-China triangle Australia rides two horses and will have to be progressively more agile, ambiguous and flexible in its diplomacy.
Professor Michael Wesley challenged the notion that China's economic growth will ultimately make it a traditional Western-style capitalist nation. He argued that China is inventing its own form of capitalism, with inherently Chinese characteristics. Its foundations are: state control, personal relationships (or petty capitalism), China's national champions (successful enterprises supported by the state) and state-owned enterprises. To China, the market is unpredictable and chaotic and needs to be managed through central control and 'guanxi' (relationships). Since 1979, China grappled with the challenge of maintaining state control while encouraging economic dynamism. Professor Wesley concluded that despite the perceptions of the current Chinese leadership as 'reformist', their ultimate objective is to ensure economic stability will not be sacrificed for the sake of economic rebalance, which will further strengthen the Chinese capitalism model.
---
This 4-part series was proudly supported by Asia Society Australia corporate members – King and Wood Mallesons, EY, Norton Rose Fullbright and UNSW.  We sincerely thank them for their support of our work to promote an open, multidimensional and informed debate on China and Australia-China relationship.