Join the Asia Society Family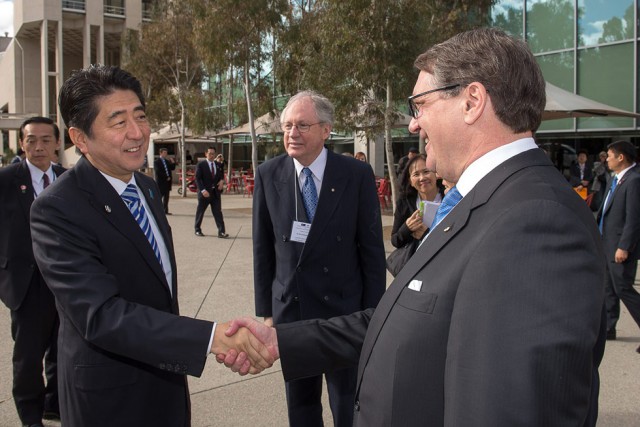 Shinzo Abe (L), Prime Minister of Japan, greets Warwick Smith (R), Chairman of Asia Society Australia, as Sir Rod Eddington, President of the Australia-Japan Business Co-operation Committee and Asia Society Australia board member, looks on in this photo taken July 8, 2014, in Canberra. (Irene Dowdy)
Asia Society Australia welcomes members to share in our joint interest in the richness, diversity and growing importance of Asia to Australia.
Through your membership you will be supporting the work of Asia Society Australia and will have access to a wide range of intellectually and culturally stimulating programs. You will have the opportunity to meet and talk with many of Asia's business and political elite, share insights with world thought leaders and gain an intimate and knowledgeable insight into this increasingly important region.
There are many ways that you can become a part of the Asia Society Australia family and these are outlined below.
Please contact Philipp Ivanov at [email protected] to discuss in further detail which membership level best suits you and your organisation's needs. Customised membership solutions are available.
---
Corporate Membership
Asia Society Australia membership offers business, government, education and cultural communities unique opportunities to interact closely with leaders, policymakers, business visionaries, entrepreneurs and game changers from the Indo-Pacific Asia and Australia.
Corporate members benefit from our unique program, high-quality insights and unprecedented access to the region and Australia's thought leaders across policy, business, education and the arts on the themes that are shaping a shared future of Australia and Asia in the twenty-first century.
Through the Asia Society Australia's corporate membership, you will be joining the nation's premier and most active network of Australia and the region's leading companies, education, government and cultural institutions dedicated to strengthening Australia's relations with Asia. See our current corporate members >>

---
President's Circle Membership
Individual membership is available through the President's Circle category. President's Circle members enjoy an important connection with the Society's activities and leadership. Members can expand their networks through exclusive events with prominent political and business leaders, and cultural figures.
---
Individual Membership
Individual membership provides you with the opportunity to learn more about Asia and become engaged with the activities of Asia Society Australia.
Single: A$220
Couple: A$330
Each membership is for 12 months: July - June or January - December.
Benefits of an Individual Membership include:
Access to Asia Society seminars and lectures, providing expert analysis of a range of issues affecting Australia and the region.
Invitation to Asia Society public corporate programs to attend at membership rates where applicable.
Asia Society Australia Centre Annual Dinner - invitation to attend.
Asia Society Regional Conference. Invitation to participate at membership rate.
Discounted entry to a variety of Asia-focused event throughout the year, including films, theatre and music events.