2009 Bernard Schwartz Book Award
2009 Bernard Schwartz Book Award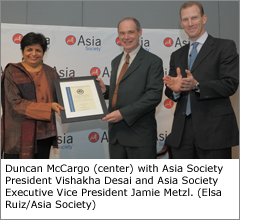 Asia Society announced the winner of the first annual Asia Society Bernard Schwartz Book Award. The jury selected Duncan McCargo's Tearing Apart the Land: Islam and Legitimacy in Southern Thailand (Cornell University Press, 2008) from among five finalists. Professor McCargo received a $20,000 prize, and was honored at an Asia Society event on November 6, 2009 in New York.
Jury co-chairs Professor Carol Gluck and Ambassador Tommy Koh praised the jury's selection of this book, chosen from a pool of over 65 books considered for this year's prize. "This vivid on-the-ground account of the Thai insurgency shows how national politics, rather than minority religion, drives the violence that is too often ascribed either to ethnicity or Islam. This is a lesson that applies not only to Southeast Asia but to many parts of the world," said Professor Gluck. Ambassador Koh called the book a "worthy winner based on solid research about an insurgency with global implications."
Written by one of the world's leading scholars on Thailand today, Tearing Apart the Land examines the violent separatist insurgency that has raged in southern Thailand since 2004 and has resulted in more than three thousand deaths. Duncan McCargo is Professor of Southeast Asian Politics at the University of Leeds.
In addition to the winner, four books received honorary mentions and $2000 each:
William W. Grimes:
Currency and Contest in East Asia: The Great Power Politics of Financial Regionalism (Cornell University Press)
David M. Lampton:
The Three Faces of Chinese Power: Might, Money, and Minds (University of California Press)
Philip P. Pan:
Out of Mao's Shadow: The Struggle for the Soul of a New China (Simon & Schuster)
Ahmed Rashid:
Descent into Chaos: The United States and the Failure of Nation Building in Pakistan, Afghanistan, and Central Asia (Penguin Group USA)

Watch video of the complete program


Read the program summary


Article: 'Blood Flows in Thailand's Deep South'

About the Bernard Schwartz Book Award